Google Map
Posted by Pamela Fox, Google Geo APIs Team There's four big Geo events in the San Francisco Bay Area this month, and Mano and I will be at all of them. Here's the details:
Google Maps API Official Blog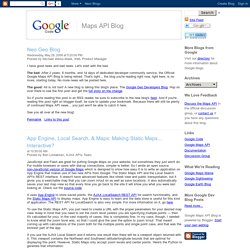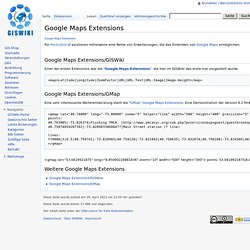 Google Maps Extensions - GISWiki
Für MediaWiki existieren mitlerweile eine Reihe von Erweiterungen, die das Einbinden von Google Maps ermöglichen. Google Maps Extensions/GISWiki Einer der ersten Extensions war die "Google Maps Extensions", die hier im GISWiki das erste mal vorgestellt wurde. <map>Latitude|Longitude|ZoomFactor|URL|URL-Text|URL-Image|Image-Height</map> Google Maps Extensions/GMap
The Boston Globe has published an interesting photo that uses the Leaflet mapping platform to provide an interactive graphic of survivors of the bombing of the Boston Marathon. One year after the tragic bomb explosion at the Boston Marathon, The Boston Globe invited survivors, police, firefighters, EMTs, doctors, nurses and runners back to the finish line on Boylston Street to pose for a group photo. The resulting One Year, One City photo is a powerful testimony to the resilience of the people of Boston. By using the Leaflet mapping platform the Boston Globe has created an interactive photo which you can pan around and in which you can zoom in on individuals in the picture.
About CentOS: The Community ENTerprise Operating System (CentOS) is an Enterprise-class Linux Distribution derived from sources freely provided to the public by a prominent North American Enterprise Linux vendor. CentOS conforms fully with the upstream vendors redistribution policy and aims to be 100% binary compatible. (CentOS mainly changes packages to remove upstream vendor branding and artwork.) The CentOS Project is the organization that builds CentOS.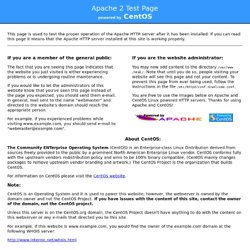 Google Maps API Version 2: 05/18/2006
Maps API Version 2 Reference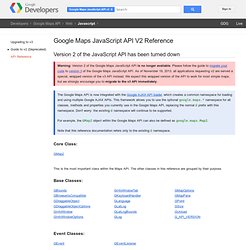 Version 2 of the JavaScript API has been turned down Warning: Version 2 of the Google Maps JavaScript API is no longer available. Please follow the guide to migrate your code to version 3 of the Google Maps JavaScript API. As of November 19, 2013, all applications requesting v2 are served a special, wrapped version of the v3 API instead. We expect this wrapped version of the API to work for most simple maps, but we strongly encourage you to migrate to the v3 API immediately.
Maps API