Google Map
Maps StreetView. MapsViews Explorer Se connecter AngkorTemple of Bayon ©2014 Google - Conditions d'utilisation.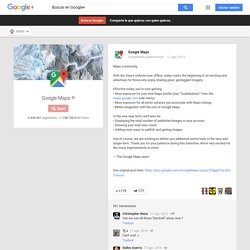 Google Maps API Official Blog. Google Maps Extensions - GISWiki. Für MediaWiki existieren mitlerweile eine Reihe von Erweiterungen, die das Einbinden von Google Maps ermöglichen.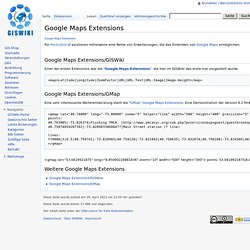 Google Maps Extensions/GISWiki Einer der ersten Extensions war die "Google Maps Extensions", die hier im GISWiki das erste mal vorgestellt wurde. <map>Latitude|Longitude|ZoomFactor|URL|URL-Text|URL-Image|Image-Height</map> Google Maps Extensions/GMap. Map Maker: Create Google map. Google Maps Mania. Let's describe the whole Earth! Google Maps API Version 2: 05/18/2006.
Maps API Version 2 Reference. Version 2 of the JavaScript API has been turned down Warning: Version 2 of the Google Maps JavaScript API is no longer available.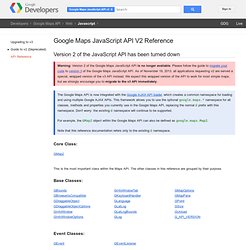 Please follow the guide to migrate your code to version 3 of the Google Maps JavaScript API. As of November 19, 2013, all applications requesting v2 are served a special, wrapped version of the v3 API instead. We expect this wrapped version of the API to work for most simple maps, but we strongly encourage you to migrate to the v3 API immediately. Features. Maps API.
---