Organic Garden
Heirloom Tomatoes - Organic Heirloom Tomato Seeds - Rare Tomato Seeds - TomatoFest
Rivenrock Gardens Edible Organic Cactus, organic nopal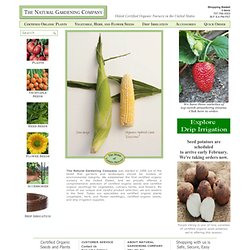 The Natural Gardening Company was started in 1986 out of the belief that gardens and landscapes should be models of environmental integrity.
Natural Gardening Company, Certified Organic Seeds and Certified Organic Plants. Tomatoes are our specialty.
Organic @Johnny's Selected Seeds
Organic @Botanical Interests
Organic @Burpee
T&J Enterprises_ Affordable Organic
Planet Natural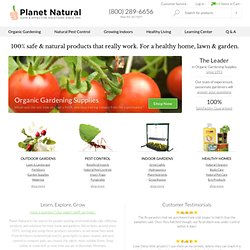 Welcome to Planet Natural : Since 1991, we've been providing quality organic products for the home, lawn and garden.
DirtWorks
GardensAlive!
Lighten the Strain on the Earth and Your Budget MOTHER EARTH NEWS is the guide to living — as one reader stated — "with little money and abundant happiness." Every issue is an invaluable guide to leading a more sustainable life, covering ideas from fighting rising energy costs and protecting the environment to avoiding unnecessary spending on processed food.
Mother Earth News