Organic Garden
Heirloom Tomatoes - Organic Heirloom Tomato Seeds - Rare Tomato Seeds - TomatoFest
Rivenrock Gardens Edible Organic Cactus, organic nopal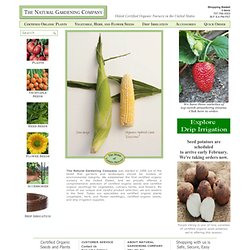 The Natural Gardening Company was started in 1986 out of the belief that gardens and landscapes should be models of environmental integrity.
Natural Gardening Company, Certified Organic Seeds and Certified Organic Plants. Tomatoes are our specialty.
Organic @Johnny's Selected Seeds
Organic @Botanical Interests
Organic @Burpee
T&J Enterprises_ Affordable Organic
Planet Natural
GardensAlive!
By Barbara Pleasant Many seed companies come out with their new catalogs around now, making it a great time to think about what you're going to grow this spring. Browse this article to learn about some of our favorite seed companies. Know Just When to Plant By MOTHER EARTH NEWS
Mother Earth News