Organic Garden
Heirloom Tomatoes - Organic Heirloom Tomato Seeds - Rare Tomato Seeds - TomatoFest. Rivenrock Gardens Edible Organic Cactus, organic nopal. Natural Gardening Company, Certified Organic Seeds and Certified Organic Plants. Tomatoes are our specialty. The Natural Gardening Company was started in 1986 out of the belief that gardens and landscapes should be models of environmental integrity.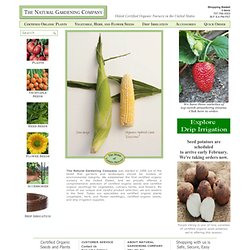 We established the first certified organic nursery in the United States, and we proudly offered a comprehensive selection of certified organic seeds and certified organic seedlings for vegetables, culinary herbs, and flowers. By virtue of our unique and careful product selection, we are leaders in the field. Today our specialties are certified organic plants (vegetable, herb, and flower seedlings), certified organic seeds, and drip irrigation supplies. Organic @Johnny's Selected Seeds. Organic @Botanical Interests. Organic @Burpee. Seeds of Change. T&J Enterprises_ Affordable Organic. Planet Natural. DirtWorks. GardensAlive! Mother Earth News. By Linda A.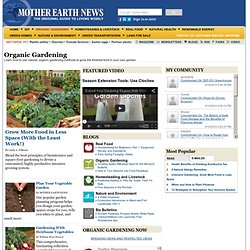 Gilkeson Blend the best principles of biointensive and square-foot gardening to devise a customized, highly productive intensive growing system. Plan Your Vegetable Garden By MOTHER EARTH NEWS Our popular garden planning program helps you design your garden, spaces crops for you, tells you when to plant, and much more.
---