Chemistry
Get flash to fully experience Pearltrees
Chemical Ed Digital Library
ACD/ChemSketch 12 Freeware .
Use these worked examples problems to help solve related problems in your own chemistry homework or to better grasp chemical concepts. These are general & introductory chemistry problems, with links to related resources. This is a one-page index of all of the worked chemistry problems on the site, arranged alphabetically and also arranged according to the order in which they are (typically) presented in a general chemistry text.
We would like to invite you to suggest other items for inclusion in the chemsoc timeline.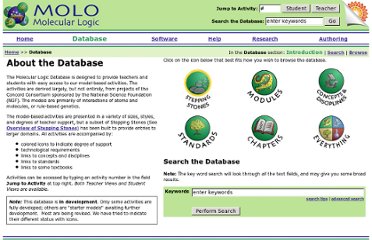 The Molecular Logic Database is designed to provide teachers and students with easy access to our model-based activities. The activities are derived largely, but not entirely, from projects of the Concord Consortium sponsored by the National Science Foundation (NSF).