Chemical Ed Digital Library
ChemEd DL Biographies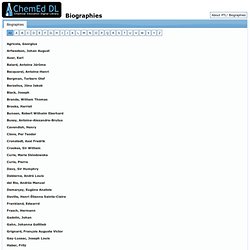 Agricola, Georgius Arfwedson, Johan August Auer, Karl
This is a freely available general chemistry textbook. The original content was taken from Chemistry by Moore, Davies and Collins, but as you'll find, we've made a number of improvements! From interactive molecules to videos of reactions and experiments, you'll find that the chemistry comes alive within this pathway. The navigation for this book is identical to every other pathway on the ChemPaths site.
CEDL General Chemistry Textbook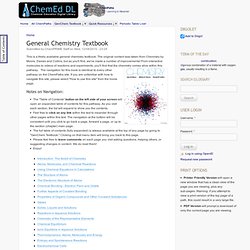 absolute configuration The spatial arrangement of the atoms about a chiral center. absolute zero The minimum possible temperature: 0 K, -273.15 °C, -459.67 °F. absorbance A measure of the quantity of light that does not pass through a sample. Absorbance is the negative lograrithm of the transmittance. Transmittance is the fraction of incident light that passes through a sample. In the visible region of the spectrum, absorbance occurs when a material uses the energy from light to change the energy level of the material's electrons.
CEDL Glossary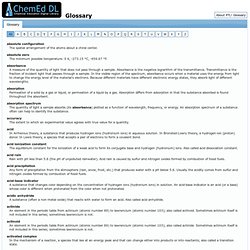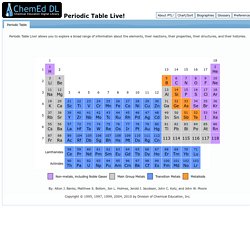 CEDL Interactive Periodic Table
Periodic Table Live! allows you to explore a broad range of information about the elements, their reactions, their properties, their structures, and their histories. Required Components Apple QuickTime is required to view videos on this site. Suggested Browsers
CEDL Interactive Periodic Table Graph