Atheist Organisations
Atheists have always been at the forefront of rational thinking and beacons of enlightenment, and now you can share your idealism by being part of the OUT Campaign. Atheists are far more numerous than most people realize. COME OUT of the closet! You'll feel liberated, and your example will encourage others to COME OUT too.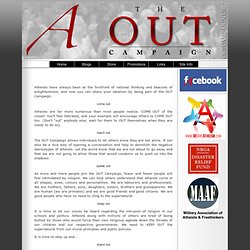 The Out Campaign - Welcome
Secular Student Alliance: Atheists, Humanists, Agnostics & Others |
Sometimes, a school's administrators do everything right. About two weeks ago, the Secular Student Alliance was contacted by Adam, a student at Central High School in Aberdeen, South Dakota. Adam told us that, while forming a secular group on his campus, teachers complained and the principal told the group they needed to disband. So, we reached out to Principal Jason Uttermark to find out more. There was allegedly district policy in place to not allow religious-oriented clubs or meetings to take place.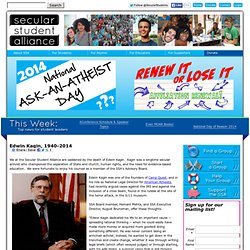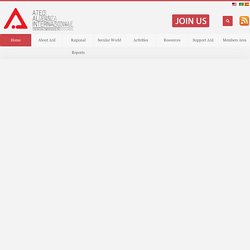 Created on Friday, 04 April 2014 13:10 The situation of a British woman who has been locked up in Iran for five months over claims she posted derogatory comments about the country's government on Facebook is "very worrying", her local MP has said. Roya Saberi Negad Nobakht, 47, from Stockport, Greater Manchester, was arrested in the south-western city of Shiraz last year for "insulting Islamic sanctities", a crime which can be punishable by death. According to her husband, who is also British, she made a series of statements online about life in Iran before being detained. Read more... Created on Wednesday, 02 April 2014 21:59
From performing blockbuster shows on the Vegas Strip to the adventures of fatherhood, from an ongoing dialogue with proselytizers of the Christian Right to the joys of sex while scuba diving, Penn Jillette's self-created Decalogue invites his reader on a journey of discovery that is equal parts wise and wisecracking. God, No! is a roller coaster of exploration as Penn shows that doubt, skepticism, and wonder—all signs of...