Atheist Organisations
Americans United for Separation of Church and State
Atheists have always been at the forefront of rational thinking and beacons of enlightenment, and now you can share your idealism by being part of the OUT Campaign. Atheists are far more numerous than most people realize. COME OUT of the closet! You'll feel liberated, and your example will encourage others to COME OUT too.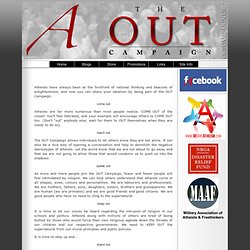 The Out Campaign - Welcome
Secular Student Alliance: Atheists, Humanists, Agnostics & Others |
Sometimes, a school's administrators do everything right. About two weeks ago, the Secular Student Alliance was contacted by Adam, a student at Central High School in Aberdeen, South Dakota. Adam told us that, while forming a secular group on his campus, teachers complained and the principal told the group they needed to disband. So, we reached out to Principal Jason Uttermark to find out more. There was allegedly district policy in place to not allow religious-oriented clubs or meetings to take place.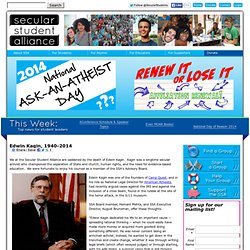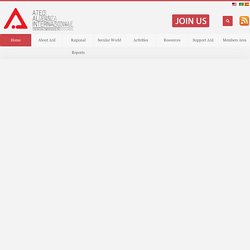 Among other things, the proposed charter of values emphasizes the separation between religion and government in Quebec. For instance, public sector workers would not be permitted to wear overt religious symbols while at work under the proposed charter. According to a report compiled by the government and released today by Bernard Drainville, the architect of the charter, 68 percent of Quebecers are mostly in favour of it (with 47 percent in complete support), while only 18 per cent were mostly against it. Drainville explained that 47 per cent of Quebecers who participated in the consultation said they completely supported the charter, while 21 per cent said they were in favour of the charter, with modifications. The most popular modification requested by 21 percent of those who "mostly" supported the proposed charter was to remove the crucifix from the national assembly. The second most popular modification was to revoke the rule of exemption.
So ends the first chapter of this brilliantly readable counterfactual novel, reminding us that America's Christian fundamentalists have been consistently clear about their vision for a "Christian Nation" and dead serious about acquiring the political power to achieve it. When President McCain dies and Sarah Palin becomes president, the reader, along with the nation, stumbles down a terrifyingly credible path toward theocracy,...