Podcasts
Wordplay Podcast | For readers and writers of all ages. Litopia Writers' Colony. Writing Excuses. Writing Excuses 6.6: Cyberpunk. Cyberpunk: What is it?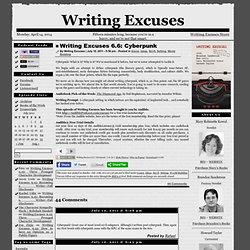 Why is it? We've mentioned it before, but we've never attempted to tackle it. We begin with an attempt to define cyberpunk (the literary genre), which is typically near-future SF, anti-establishment, early dystopian fiction featuring connectivity, body modification, and culture shifts. Writing Excuses 6.7: Brainstorming a Cyberpunk Story. Here's a brainstorming episode in which Brandon throws random concepts from a textbook of his on gods and goddesses, and we attempt to brainstorm a cyberpunk story from these elements.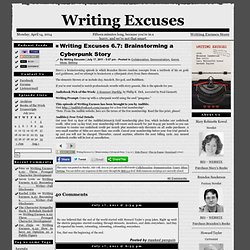 The elements thrown at us include clay, Sanskrit, fire god, and Buddhism. If you've ever wanted to watch professionals wrestle with story genesis, this is the episode for you.
---