Podcasts
Wordplay Podcast | For readers and writers of all ages
Welcome to the Wordplay Halloween Writer's House of Horrors. Do you dare enter? If so, you will be forced to learn secrets to horrible the Wordplay team has kept them locked away for years.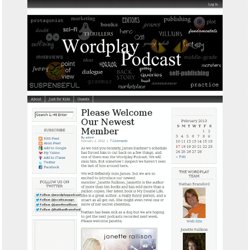 Litopia Writers' Colony
Writing Excuses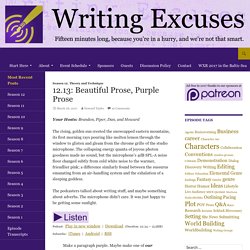 As we announced in November, we are holding the second annual Out of Excuses Retreat this year, September 29 through October 5. Last year's retreat was a huge success, and we're excited to be doing it again, and we're especially excited to be offering another scholarship. Even better, this year's scholarship has a twist: instead of just need and merit, we're also looking for diversity. Why diversity? Isn't it enough to just look for the most qualified applicant, regardless of other factors? No it isn't, and this is why: we make our choice based on merit, but we can only do that within the small, self-selecting group of people who feel comfortable applying.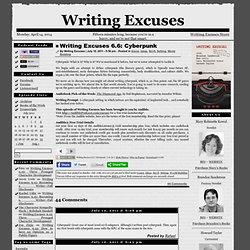 Writing Excuses 6.6: Cyberpunk » Writing Excuses
Cyberpunk: What is it? Why is it? We've mentioned it before, but we've never attempted to tackle it. We begin with an attempt to define cyberpunk (the literary genre), which is typically near-future SF, anti-establishment, early dystopian fiction featuring connectivity, body modification, and culture shifts.
Writing Excuses 6.7: Brainstorming a Cyberpunk Story » Writing Excuses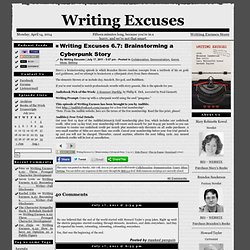 Here's a brainstorming episode in which Brandon throws random concepts from a textbook of his on gods and goddesses, and we attempt to brainstorm a cyberpunk story from these elements. The elements thrown at us include clay, Sanskrit, fire god, and Buddhism. If you've ever wanted to watch professionals wrestle with story genesis, this is the episode for you.