Inspiration
| Demotivational Pics | Funnyism Funny Pictures
The Untold Story of the World's Biggest Diamond Heist
10 Most Amazing Buildings In The World | Interior Design & Decor
Modern architecture has brought many amazing buildings to the world . Quirky shapes, ambitious designs, new materials, and new different styles have come with the modern architecture into construction today. The purpose of the building is not always seen in its design. Futuristic museums and opera houses have become a usual thing.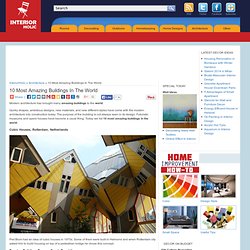 Glow-In-The-Dark Surf Explained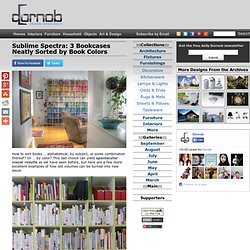 Sublime Spectra: 3 Bookcases Neatly Sorted by Book Colors
How to sort books … alphabetical, by subject, or some combination thereof? Or … by color? This last choice can yield spectacular visual results as we have seen before, but here are a few more excellent examples of how old volumes can be turned into new decor.
Location. Hotel Villa Franca is located in Positano, close to Church of Santa Maria Assunta, Spiaggia Grande, and La Gavitella. Nearby points of interest also include Church of San Gennaro and Faito Mountain. Hotel Features.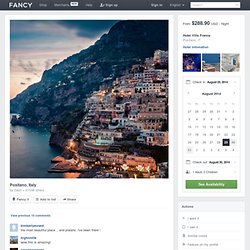 Positano, Italy
La Perla Restaurant at La Concha Resort
W atching a favorite movie outdoors is a fun and special warm–weather activity for kids and parents alike. And all it takes are some simple materials — plus a little creativity — to transform your backyard into an outdoor theatre. Setting Up Your Outdoor Screen What you need: 2 thick, white queen–size ironed flat sheets Top pole 1.5" diameter x 10' long Bottom pole 3" diameter x 10' long Rope — 2 different thicknesses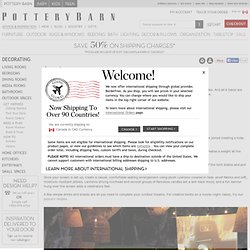 Sasoso | UGH it's like the real life library from Beauty...
Things that make me smile. / reader's paradise// real life Beauty and the Beast library
boopboop.
Colleen Finlayson
Poseidon Undersea Resort
Giving the phrase "Under the sea" a whole new meaning, the Poseidon Undersea Resort ($15,000 and up) lets you rest underneath the waves in a room made mostly of acrylic glass. Located in Fiji, the resort offers guests private plane transport from a Fijian airport to the Poseidon Mystery Island, where they'll enjoy a week's stay — including two nights in the underwater hotel, with a three-passenger Triton 1000 submarine at their disposal. With a coral reef to explore, beach bungalows for above-sea level accommodations, an underwater library, wedding chapel, restaurants, and more, it's an out-of-this-world experience just 40 feet below the surface.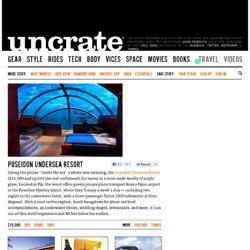 Reactable live! @ SubMixPro studio Torino #03
Times of War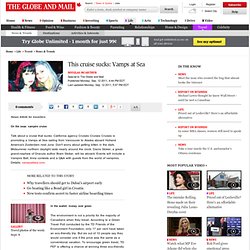 This cruise sucks: Vamps at Sea
News tidbits for travellers On the seas : vampire cruise Talk about a cruise that sucks: California agency Cruises Cruises Cruises is promoting a Vamps at Sea sailing from Vancouver to Alaska aboard Holland America's Zuiderdam next June. Don't worry about getting bitten in the dark. Midsummer northern daylight lasts nearly around the clock.
I have reserved a seat for you, on my face. | Sensacell Interactive dance floor :D Imagine...
Sometimes the orange sun rises first. Sometimes it is the red one, although they are never far apart in the sky and you can see them moving around each other, casting double shadows across the firmament and periodically crossing right in front of each other. Such is life, if it were possible, on the latest addition to the pantheon of weird planets now known to exist outside the bounds of our own solar system. It is the first planet, astronomers say, that has been definitely shown to be orbiting two stars at once, circling the pair — which themselves orbit each other tightly — at a distance of some 65 million miles. A team of astronomers using 's planet-hunting spacecraft announced the discovery on Thursday in a paper published online in the journal Science, in a talk at a conference in Jackson Hole, Wyo., and in a news conference at NASA's Ames Research Laboratory in Mountain View, Calif., Kepler's headquarters.
NASA's Kepler Telescope Finds Planet Orbiting Two Stars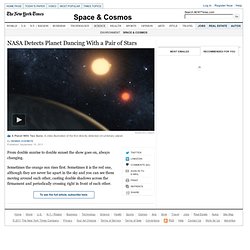 Massimo Vitali's Photographs in Home Interiors | Apartment Therapy New York
We've seen the photographic works of Massimo Vitali appear in many interior design magazine spreads, where his images add life, color, and a sense of modernity to room scenes — and pointed social commentary for those who care to look more closely. All of Vitale's photographs are made in public places where the people captured can't be identified as individuals; rather, the artist comments on the homogeneity he observes and the hints at the more interesting interpersonal connections he imagines between them. People are commodified as bright shapes in a visual composition by the photographer just as they commodify their bodies on the beach, and use branded objects to help them enjoy their time, such as umbrellas, drinks, and hotels. Images: 1-2. Philip Gorrivan at Canadian House & Home ; 3.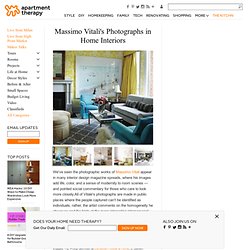 Galley Kitchen Inspirations & Functional Considerations | Apartment Therapy Los Angeles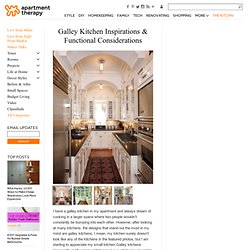 I have a galley kitchen in my apartment and always dream of cooking in a larger space where two people wouldn't constantly be bumping into each other. However, after looking at many kitchens, the designs that stand out the most in my mind are galley kitchens. I mean, my kitchen surely doesn't look like any of the kitchens in the featured photos, but I am starting to appreciate my small kitchen.
There's typically a very fine line that separates successful ultra-romantic design and the slightly over the top variety. This type of whimsy is also subjective so what is perfect to some can be too much for others. Putting that all aside, there's nothing wrong with infusing a splash of romance into everyday design. The bedroom is a good room room to try embrace your more romantic tendencies.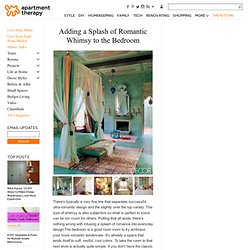 Adding a Splash of Romantic Whimsy to the Bedroom | Apartment Therapy DC
Courtesans and Mistresses - Crossroads Wiki
Simon Says "Girls"
LISTING AGENT Boris Kholodov, Royal LePage Real Estate Services Ltd., Johnston and Daniel Division The Action: More than 20 people booked showings of this one-bedroom-plus-solarium suite in the Harbour Point high-rise complex by the waterfront. What They Got: This roughly 25-year-old unit offers over 850 square feet of living space with southwest views towards the lake, plus ensuite laundry machines, exterior locker and underground parking. Less than a decade ago, a previous owner renovated the four-piece bathroom and kitchen, which has a window, built-in appliances and a peninsula with a breakfast bar. Limestone floors were also installed everywhere, from the master suite to the open solarium off the living and dining areas.
Lakeside condo unit has a size advantage
King condo has Starbucks at the door
LISTING AGENT Julie Kinnear, Royal LePage Real Estate Services Ltd. The Action: Three offers came in for this two-bedroom suite at different times after various open houses and showings. What They Got: On the fourth floor of one of a relatively new high-rise in the DNA complex, this 770-square-foot suite features an unusual floor plate with some rooms set on an angle. The master suite and open living and dining area have sliding doors to a balcony with a gas hookup and cedar decking. Upgraded appointments include nine-foot ceilings, laminate floors, granite counters and sliding barn-style bedroom doors, as well as a moveable kitchen island and stainless steel appliances, including a gas range.
Unusual Russian Illustrations
CG or computer generated graphics is a term commonly used to refer to any form of computer art or digital artwork. Computer generated artwork are mostly the digital paintings of their real-life counter parts but not every time. Recently, CG has come to refer exclusively to 2D digital art – whether inspired by real-life imagery or made from just ideas. The artworks we have collected here are the best ones that are available online. These stunning artworks of girls is no less than a big milestone in the computer generated imagery (CGI).
40 Mind Blowing Computer Generated Girl Artworks
Best Couple Photography by DementiEva
Photography is an art! and couple photography is one of the most exciting part of it. Today we have gathered some really "best couple photographs" that are actually taken by DementiEva. These photographs of loving couples show the real power of life and compassion.
Disney Princess in cartoons and real life
The ice cream you've never seen before (32 pics)
3D Stereoviews of Old Japan (20 pics)
King of Fighters - Explore
'Secret garden' Wrest Park reopens after restoration | Culture
Hong Kong Fashion Geek: Pistol Whipped
Dress with Objects | Fubiz™
Millard House In Pasadena by Frank Lloyd Wright
Special K is special
5 Sexiest Moments From The Victoria's Secret Fashion Show!
Hubble celebrates 20 years in space with a jaw-dropper | Bad Astronomy |...
Topless Robot - The Birds of Prey Have a Theme Song
8 Celebrities You Didn't Know Were Geeks
6 Organizations You Didn't Know Were Secretly Badass
11 Celebrities Who Were Secretly Total Badasses
The 9 Most Badass Bible Verses | Cracked.com
Thursday Tips: Let There Be Light! & Advice & Bow Ties & Bliss |...
a softer world: 680
The Oldest Ceremony in the World | Spitalfields Life
Amazing underground town
Architecture Photography: Ecological Children Activity and Education Center...
Loft Tour: The Cement Factory - LoftLife Magazine - The Loftstyle Guide to...
Dark Roasted Blend: Psychedelic Furniture, Part 2
Casulo: An Entire Apartment's Furniture in One Small Box
Top 5 Hidden World Wonders | Travel List Photo and Resorts
page01
Russian Sexy Twins | Deep Bottle Blog
The famous divas who look twice as young as they are (39 Photos
5 Hidden Facts about Hitler(Second Part) | BlindLoop
Man Designs His Own Car
World Most Beautiful Woman Ever
7 of the most Badass women in history!
10 Best Female Wrestlers of all Time