Art
PHOTOBLOG KU by Paulus Rusyanto :: Browse
Welcome to Ballistic Publishing
ImagineFX Issue 43
This month we're featuring some of Asia's new manga superstars, and who better to start things of than cover artist Stanley Lau with his much loved character Pepper. We talk to Stanley about the Pepper Project and the rise of his Imaginary Friends Studio, then we turn our attention to Chester Ocampo and the art of creating a manga-inspired special effects-attired character. In two of our workshops we focus on colour and light - Trevor Claxton shows us how to take images from black and white to colour with minimum fuss, and Ioan Dumitrescu takes us through the lighting of a night-time sci-fi scene. We then take the plunge with Lucasfilm's Jerome Moo as he creates an aquatic scene using special water effects. The manga-filled DVD will aid you with your own Eastern-style illustration with DELETER ComicWorks, give your comic art a shot of inspiration with Blambot Sound FX fonts, and help you to develop more accurate character poses with a comic reference photo set from 3D.SK.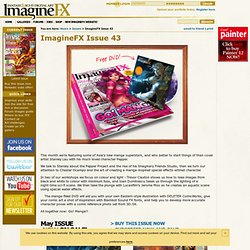 Funnyism - Art with baby
Phenelia's Profile | Stock Photos & Vector Art
Sell on Facebook With a few simple clicks, you can add a full-featured FAA shopping cart directly to your personal page and/or fan page. Your Facebook friends and fans can then browse through your entire portfolio without ever leaving Facebook!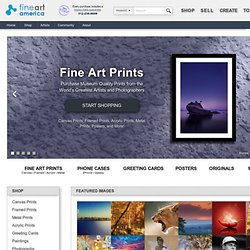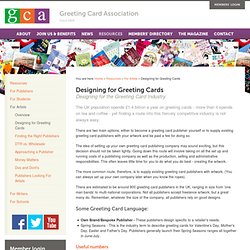 Freelance Artists - GCA: The Greeting Card Association
You are here: Home » Resources » For Artists » Designing for Greeting Cards Designing for the Greeting Card Industry The UK population spends £1.4 billion a year on greeting cards - more than it spends on tea and coffee - yet finding a route into this fiercely competitive industry is not always easy.
Greeting Card Illustration Freelance Jobs - iFreelance.com
Free Pictures, Free Images, Free Stock Photos by FREEPICTURES.me
Revenue in February'14: US$ 6,006.22Total Photos in portfolio: +/- 8000 photosTotal Revenue from Microstock in 2014: US$ 12,141.27 It's now easier than ever to earn extra money from your images by selling them online via micro stock photography sites such as Shutterstock, Fotolia, Dreamstime and many more (please keep reading to find out how much I earn from each stock photography site).. Join Stock Photography Forum on MyShutterspace It goes without saying that to be successful your shots need to be 'good stock photographs' and available in high resolution format. But presuming that all this is in order, how do you maximize sale ability?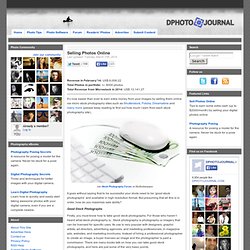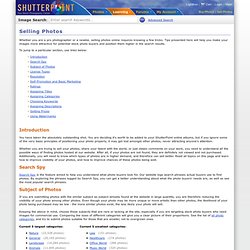 Selling Photos - ShutterPoint Stock Photography
Whether you are a pro photographer or a newbie, selling photos online requires knowing a few tricks. Tips presented here will help you make your images more attractive for potential stock photo buyers and position them higher in the search results. To jump to a particular section, use links below:
Free Online Keywording Tool, IPTC editor, suggestions for photo tags
Welcome to Yuri Arcurs' free keywording tool for editing the IPTC data of your stock images. This tool will suggest keywords based on similar images, and it lets you compare keyword popularity. The site aims to serve the needs of photographers and illustrators in their quest to tag/keyword their images. It helps you to easily find proper keywords that people are actually using in their searching process. If you choose keywords while taking into consideration their popularity among customers, you can significantly increase your income from the sales of your images.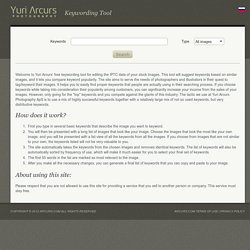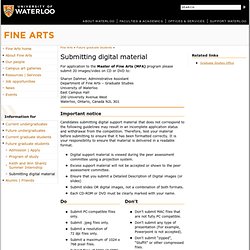 For application to the Master of Fine Arts (MFA) program please submit 20 images/video on CD or DVD to: Sharon Dahmer, Administrative Assistant Department of Fine Arts – Graduate Studies University of Waterloo East Campus Hall 200 University Avenue West Waterloo, Ontario, Canada N2L 3G1 Important notice Candidates submitting digital support material that does not correspond to the following guidelines may result in an incomplete application status and withdrawal from the competition. Therefore, test your material before submitting to ensure that it has been formatted correctly.
Department of Fine Arts | Faculty of Arts | University of Waterloo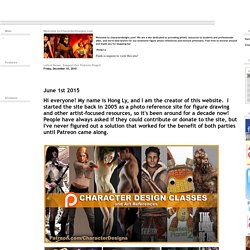 Welcome to characterdesigns.com! We are a site dedicated to providing artistic resources to students and professionals alike, and we're best known for our extensive figure photo references and texture photosets. Feel free to browse around and thank you for stopping by! -Hong Ly Macromedia Flash player plug-in is needed to view this site. Click HERE to download.
King of Kings 3 | PvP & Clan War MMORPG | Free-to-Play Online Game @ gamigo
Characters | 2D Graphics Gallery dot | KOF XII 2D DOT GRAPHICS GALLERY
How would a photographer submit work to an ad agency or magazine? - Yahoo!7 Answers
My advice is to contact someone a little further down the food chain then the head of the art department. Look at magazine mastheads and contact people with titles like "deputy" or "assistant" photography editor. They are more likely to have the time to actually look at your work. A post card or email is the best way to make initial contact. Make sure you have a stellar promo piece or an amazing first image when they click on the link.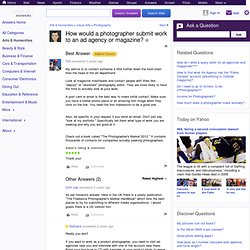 Rosa Bonheur William Hunt Duke of Argyll's son Miss Marsh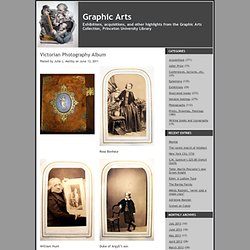 Victorian Photography Album - Graphic Arts
Add Your Seeds
Seed Tapes are an efficient work saver in the garden but they get so expensive sometimes that I have taken to making my own to save money too. This is a fun project for the whole family to get in on, when my kids were too young to handle garden tools they had fun making them and it made them feel that they were an important part of things around the house. I also like to do these at my leisure over the winter months to get ready for spring and summer plantings and get a jump on the growing season..
Colors by Names
Thousands of COLOUR (COLOR)  NAMES for your dog or pet from Chinaroad Lowchens of Australia -
Guu Press | Catalogue
intro