Tori's Crafts
Decorative Paper Lanterns. The lanterns may look intricate, but it takes only half an hour to make one.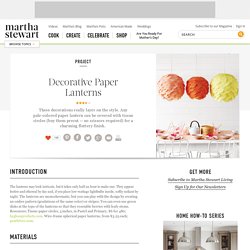 They appear festive and ethereal by day and, if you place low-wattage lightbulbs inside, softly radiant by night. The lanterns are monochromatic, but you can play with the design by creating an ombre pattern (gradations of the same color) or stripes. Easy Button Earrings Tutorial. Did you know...that you can make new earrings with a button and a paperclip?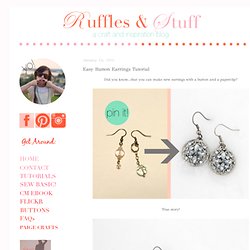 True story! I've been trying to think of a way for us to make some earrings without having to buy supplies. Buying the beads and all the findings can really add up. :o( Sad. Sweet DIY Votives. Here's what you'll need: 1.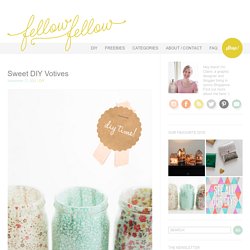 Measure the height and circumference of your jar, and cut strips of fabric to roughly fit (approx. 1cm wide – doesn't have to be perfect). 2. In your small cup, pour in some glue and dilute it with a bit of water (about 1:2), mix well. Make Your Own Confetti Party Ware. Don't throw away or recycle all your glass bottles and jars.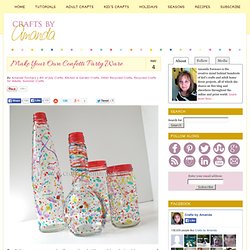 Instead turn some of them into these brightly colored party ware items. I picture these as centerpiece items at a picnic or barbecue with a pretty flower perched inside. Use larger mouthed jars to hold silverware, napkins or straws. This pretty confetti design is easy to create and makes for an impressive table setting. Water Balloon Luminaries.
A fun and easy project with a beautiful payoff.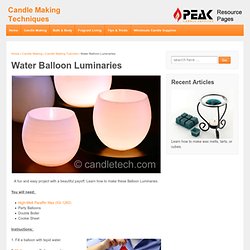 Learn how to make these Balloon Luminaries. You will need: T Shirt Shrug. How romantic.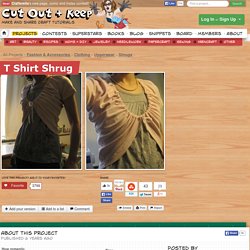 My friend and I went to the arthall in Rotterdam and saw an exhibition called ICON DRESSED designed by Annette Meyer, each garment was made of paper and represented a decade of women clothing from the 1800's till now. I was amazed by a garment which looked exactly like the dress Keira Knightley wore in Pride & Prejudice, I went home got into a romantic state of mind, converted that into creativity and made this. Crayon Hearts. Do-it-Yourself DIY String Wedding Lanterns Yarn Chandeliers - StumbleUpon. Jessica of Wednesday Inc shows us how to make those gorgeous twine chandeliers from the inspiration shoot she shared with us this morning.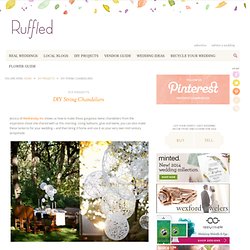 Using balloons, glue and twine, you can also make these lanterns for your wedding – and then bring it home and use it as your very own mid century lampshade. What you will need are: balloons, glue, yarn, tray for glue, corn starch 1/2 cup of Corn starch, 1/4 cup of Warm water, clear fast drying spray paint, hanging lamp cord or fishing line (depending on your desired final product), and a lighting kit if you're looking for a fully functional lantern. Jessica recommends using a sharpie to mark on the inflated balloon how much room you need to leave for the lighting cord. She also recommends coating the balloon with vaseline prior to wrapping the yarn coated with glue so it doesn't stick on the balloon once it's dry. Wednesday - Blog - messiest, merriest and whirliest DIY balls. The weeks leading up to the Everee Wednesday photo shoot were full of some pretty significant messes!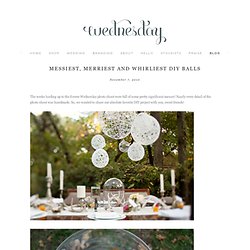 Nearly every detail of the photo shoot was handmade. So, we wanted to share our absolute favorite DIY project with you, sweet friends! Now you can't say we didn't warn you. The level of messiness involved in this project definitely warrants the great outdoors or a tarp covered floor in your home. However, I think you will find that the fun you had along the way and the final product makes the mess completely worth it! Mason Jar Craft Storage! Handmade Tissue Paper Flowers and Pompom Garland. You'd think after making hundreds of these for my wedding, I'd be completely sick of them.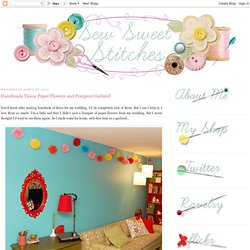 But I can't help it, I love them so much! I'm a little sad that I didn't save a bouquet of paper flowers from my wedding, but I never thought I'd want to see them again. So I made some for home, only this time as a garland...
---