Design et typographie
Bourse Jean-Claude Reynal | Jean-Claude Reynal Scholarship. Calendrier Inscription en ligne au plus tard le 10 avril 2013 (heure de Paris, UTC+01:00).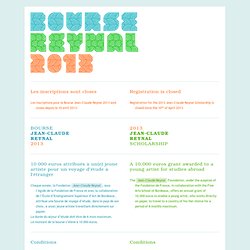 Les résultats de la présélection seront annoncés par e‑mail début juin 2013. Les artistes sélectionnés devront envoyer trois œuvres originales sur papier (dessins ou techniques d'impression) dont les dimensions ne peuvent dépasser 40 × 60 cm. Les œuvres devront être déposées ou postées au plus tard le 20 juin 2013 (cachet de la Poste faisant foi) auprès de :
Lab-elle: albums attentifs aux potentiels féminins. Revue Parole, revue de l'Institut Jeunesse et Médias. R-DIFFUSION, RESEAU DE DIFFUSION DE CREATION CONTEMPORAINE :: ART CONTEM :: DIFFUSION :: DISTRIBUTION. Poursuite Edition. Ausgezeichnete Grafikdesignbücher im Verlag Hermann Schmidt Mainz: Corporate Design, Formulare … Typographic town logos in hiragana/katakana ::: Pink Tentacle.
[Typographic logo for Kamagaya (Chiba) spells town name in katakana] Japanese town logos -- official symbols designed to communicate the identity of each municipality -- come in a vast array of shapes and colors.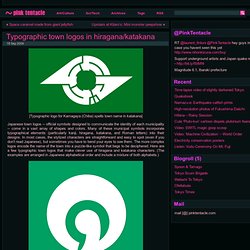 Many of these municipal symbols incorporate typographical elements (particularly kanji, hiragana, katakana, and Roman letters) into their designs. In most cases, the stylized characters are straightforward and easy to spot (even if you don't read Japanese), but sometimes you have to bend your eyes to see them. The more complex logos encode the name of the town into a puzzle-like symbol that begs to be deciphered.
Hopla : Ultra-book. Children's. Little Big Books by R.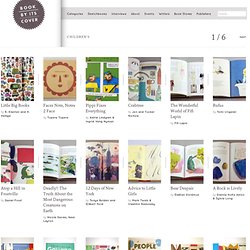 Klanten and H. Hellige. The Book Cover Archive. Modern graphic design inspiration blog + vintage graphics resource. Shapeshifters.
---