To Do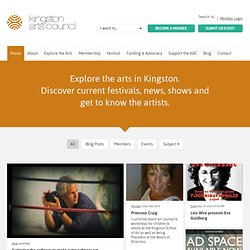 Events - Kingston Arts Council
Kingston Arts Council Events CLICK HERE to post your event to this calendar All postings are moderated but should appear within 24-48 hours.
Centauri Summer Arts Camp. Residential Summer Camp for the Arts for kids and teens.
by Celes on Aug 21, 2010 | ShareThis Email This Post "Your time is limited, don't waste it living someone else's life.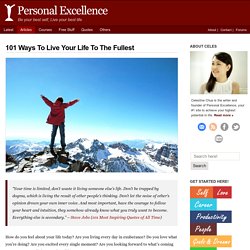 by Celes on Aug 10, 2009 | ShareThis Email This Post "Every man dies – Not every man really lives." ~ William Ross"The only people who fear death are those with regrets." ~ Author Unknown A few days ago, I was surfing online when I came across someone's bucket list.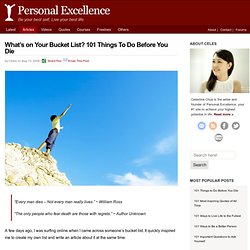 post written by: Marc Chernoff Email Asking the right questions is the answer… It's not the answers you get from others that will help you, but the questions you ask of yourself. Here are 40 thought-provoking questions to help you refresh and refocus your thinking: Please share your thoughts with us in the comments section below.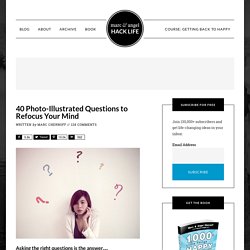 Riding Lessons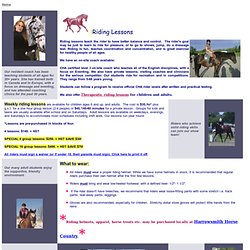 Riding Lessons Riding lessons teach the rider to have better balance and control. The rider's goal may be just to learn to ride for pleasure, or to go to shows, jump, do a dressage test.
Osheaga 2011
Becoming Involved: Starting a New High School Club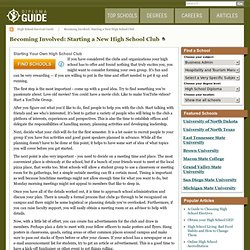 Starting Your Own High School Club If you have considered the clubs and organizations your high school has to offer and found nothing that truly excites you, you might want to consider forming your own group. It's fun and can be very rewarding -- if you are willing to put in the time and effort needed to get it up and running. The first step is the most important - come up with a good idea.
The Mansion - Bar • Restaurant • Live Music • Event Bookings
Mensa, the high IQ society, provides a forum for intellectual exchange among its members. There are members in more than 100 countries around the world. Activities include the exchange of ideas through lectures, discussions, journals, special-interest groups, and local, regional, national and international gatherings; the investigations of members' opinions and attitudes; and assistance to researchers, inside and outside Mensa, in projects dealing with intelligence or Mensa. This is how members see Mensa How to join mensa Membership of Mensa is open to persons who have attained a score within the upper two percent of the general population on an approved intelligence test that has been properly administered and supervised.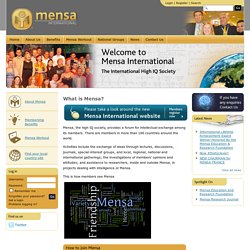 Shakespeare and Company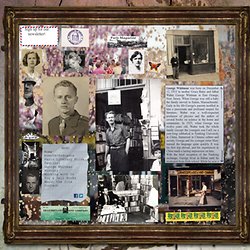 Next Event 7:00pm, Monday 13thJanuary 2014 In collaboration with our friends at NYU, we're delighted to welcome the wonderful Jonathan Lethem to Shakespeare and Company, where he will be reading from and discussing his latest novel, Dissident Gardens. Jonathan Lethem is the author of nine novels, including Motherless Brooklyn (winner of the National Book Critics Circle Award), The Fortress of Solitude, You Don't Love Me Yet, Chronic City, and most recently, Dissident Gardens. He is also the author of numerous collections, including Men and Cartoons, The Disappointment Artist, and The Wall of the Sky, Wall of the Eye.
Printable Word List for Poetry Magnet Craft
How To: Organize a Poetry Slam for Your Cause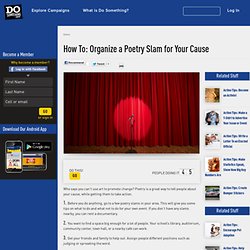 Who says you can't use art to promote change? Poetry is a great way to tell people about your cause, while getting them to take action. Before you do anything, go to a few poetry slams in your area.
There's only one thing we love more than writing, and that's Alan Rickman. It's true! Our list goes: writing, Alan Rickman, cupcakes, fake mustaches, spelling colour with the letter u, and then it just repeats forever. So when we found out about the new Broadway comedy, Seminar, in which Alan Rickman plays Leonard–a celebrity writer who mentors four students by showering them with indignities (and general inappropriateness) before mercilessly tearing their writing apart–we were sold.
The Seminar Contest | Figment Blog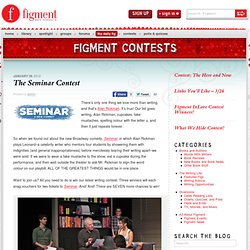 Yes, I'm a Waitress: Why I Have a Great Summer Gig
10 Extracurriculars That Look Awesome On Any Resume
Though picking a major can be tough, sometimes deciding which clubs and activities to sign up for can be just as frustrating. You want extracurriculars to impress your future employers, but what if you don't know who those employers are or what kind of job you're going to want? We know that deciding on a post-grad career path can be stressful, but that doesn't mean choosing your extracurriculars has to be.
Her Campus Contest Rules | Figment Blog
1. Eligibility The Her Campus Contest (the "Promotion") is open only to legal residents of the fifty (50) United States (including District of Columbia) and Canada (excluding Quebec) who are at least thirteen (13) years old as at the time of entry. Void in Quebec and where prohibited by law.
The Vimy Foundation - Home
Free Printable 2012 Calendars