Education resources
Neuroscience: What Neuroimaging Reveals and Doesn't about Reading Difficulties -  Dr. Sally Shaywitz. Point of View: David Boulton: To begin with, help us understand your passion and point of view.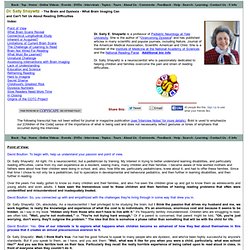 Dr. Sally Shaywitz: All right.
Emotions and Emotional Intelligence (EQ) in Teacher Education. Leading Plagiarism Checker, Online Grading and Peer Review. Inspirational Quotes - Motivational Quotes - Inspirational Stories. Pics4Learning | Free photos for education. Fotopedia. Free Website Builder - Wix - Create a Free Flash Website. NETS for Teachers. Scratch | Home | imagine, program, share.
---