TOTES
THE WEEKENDER. Featured: Lex Trip Bag So this weekend will have you jetting off to the coast for sun & surf?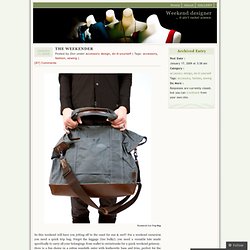 For a weekend excursion you need a quick trip bag. Forget the luggage (too bulky); you need a versatile tote made specifically to carry all your belongings from wallet to swimtrunks for a quick weekend getaway. Here is a fun choice in a cotton waxcloth outer with leatherette base and trim, perfect for the do-it-yourselfer, similar to the Lex Trip Bag from PROPERTY OF. Dimensions: approximately 18″ x 8 x 17″ [45cm x 20.5cm x 43cm]. Sewing Projects: Sewing Projects: Tote Bags and Purses - Martha Stewart. Clothing Fabric Remnants: The Shirt Sleeve Sack. I've had two bright button-up shirts tucked away in my fabric remnant stash for a couple of years now.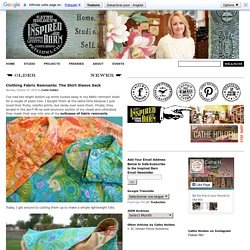 I bought them at the same time because I just loved their fruity, colorful prints, but rarely ever wore them. Finally, they landed in the don't-fit-so-well-anymore section of my closet and ultimately they made their way into one of my suitcases of fabric remnants. Today, I got around to cutting them up to make a simple lightweight tote. I used the two matching shirts, but you can use one shirt and cut regular fabric or other clothing pieces to the same shapes. I won't be offering a pattern in this tutorial as I pretty much winged this one and shot pictures as I went, but hope that it inspires you to look at clothing a bit differently before tossing into the thrift store bag.
Storage Cube TUTORIAL part one -- Assembly! I tried to squeeze all my photos and instructions into one post, but since I like to be extremely thorough with my photos and instructions, I think it will be easier to handle if it's split in two!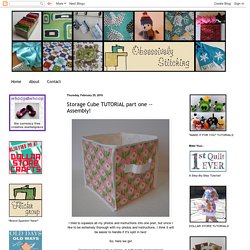 So, here we go! Finished storage cube = approx. 6 1/2" inside measurementUse 1/4" seam allowances throughout NOTE: I tried to come up with a version that didn't involve binding, since I know that is scary to some people, BUT -- trust me when I say it's actually EASIER to do it with a binding! My non-binding attempt was very tricky to put together, and was a HUGE pain to finish. Don't give up on me, though -- read all the instructions. Classic Tote Tutorial. Today we kick off a full month of Summer Sewing with Irene's classic tote tutorial.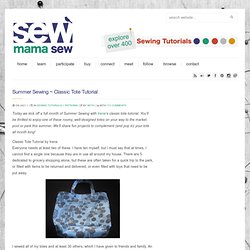 You'll be thrilled to enjoy one of these roomy, well-designed totes on your way to the market, pool or park this summer. We'll share fun projects to complement (and pop in) your tote all month long! Classic Tote Tutorial by Irene Everyone needs at least two of these. I have ten myself, but I must say that at times, I cannot find a single one because they are in use all around my house.
There are 5 dedicated to grocery shopping alone, but these are often taken for a quick trip to the park, or filled with items to be returned and delivered, or even filled with toys that need to be put away. CS0037 Gourmet Grocery Tote. 50+ Reusable Grocery Bags You Can Make: Free Patterns. Earthgirlfabrics.com.au Quick Carrier: Design features short handles that don't require turning and french seams, quick to whip up.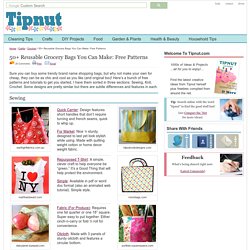 For Market: Nice 'n sturdy, designed to last yet look stylish while using. Made with quilting weight cotton or home decor weight fabric. bijoulovelydesigns.com.
---