Craft
Rachel Denny builds a menagerie « Made In Slant. By Eyeswoon, on November 4th, 2010 Red Buck 2010 polyurethane foam, wool, wood, 28" x 22" x 20" With all the high-tech polyester fleece and padded nylon jackets selling at the malls, it seems that no one today has much reason to be wearing wool.
Not so – look at these animal forms contructed by Rachel Denny. Instructables. Cut glass. Anthropologie Bonheur Necklace Tutorial. Jan12th2010 A few months ago (okay, six), I posted a photo of an Anthropologie-inspired necklace I made on a whim.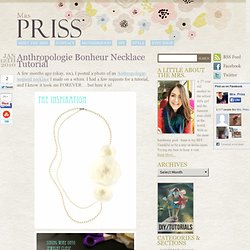 I had a few requests for a tutorial, and I know it took me FOREVER… but here it is! A few things to note: I strung the pearls on one 64″ strand of jewelry wire, folded in half. You can use two completely separate strands of pearls if you don't want to deal with the hassle of figuring out the jewelry clasp and all that.If you aren't familiar with using a lighter to seal the edges of fabric, be extremely careful. DIY: Wine Bottle Light « Wit & Whistle. November 3rd, 2009 This past spring Daniel and I went on a road trip from San Francisco to the Grand Canyon.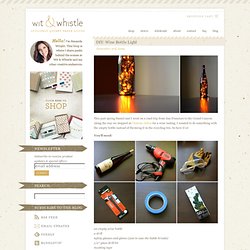 Along the way we stopped at Chateau Julien for a wine tasting. I wanted to do something with the empty bottle instead of throwing it in the recycling bin.
Papie-mache
---