BP Facts
DK Matai:
The Full Price of Oil: Scientific American Podcast
Energy & Sustainability::60-Second Earth::June 13, 2010:: ::Email::Print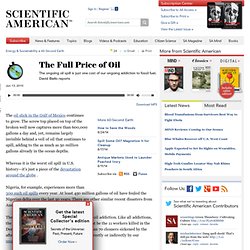 Interior Secretary Ken Salazar frustrated that oil leak has not been stoppedBP official says the oil company is "devastated" by the undersea gusher'Top kill' planned for next week; other options still on the table (CNN) -- Saying BP has "from day one, frankly not fulfilled the mission it was supposed to fulfill," Interior Secretary Ken Salazar expressed frustration Sunday with the delay in stopping an underwater oil gusher 33 days after an oil rig exploded and sank in the Gulf of Mexico.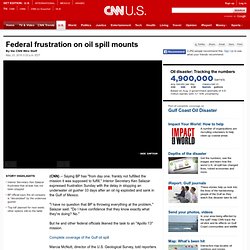 Federal frustration on oil spill mounts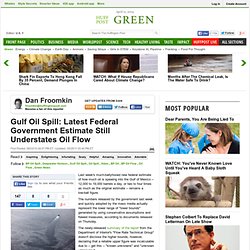 Last week's much-ballyhooed new federal estimate of how much oil is spewing into the Gulf of Mexico -- 12,000 to 19,000 barrels a day, or two to four times as much as the original estimate -- remains a low-ball figure. The numbers released by the government last week and quickly adopted by the mass media actually represent the lower range of "lower bounds" generated by using conservative assumptions and flawed measures, according to documents released on Thursday. The newly-released summary of the report from the Department of Interior's "Flow Rate Technical Group" doesn't disclose the higher bounds, however, declaring that a reliable upper figure was incalculable due to -- get this -- "known unknowns" and "unknown unknowns."
Gulf Oil Spill: Latest Federal Government Estimate Still Understates Oil Flow
Thad Allen: Oil Spill Fight Will Last Into Fall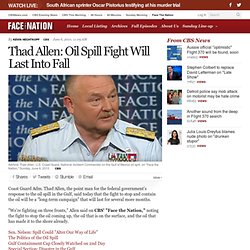 Admiral Thad Allen, U.S. Coast Guard, National Incident Commander on the Gulf of Mexico oil spill, on "Face the Nation," Sunday, June 6, 2010. CBS Coast Guard Adm.
US Coast Guard Admiral Thad Allen, Schema-Root news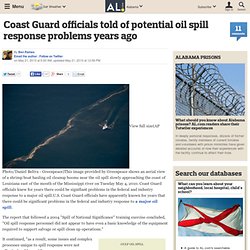 Coast Guard officials told of potential oil spill response problems years ago
U.S. Coast Guard officials have apparently known for years that there could be significant problems in the federal and industry response to a major oil spill.
Homeland Security Declares Oil Spill Is Of 'National Significance' : The Two-Way
Federal frustration on oil spill mounts
The BP Cover-Up
Read full article Continue reading page |1|2|3 Video: Sun spots SUNSPOTS come and go, but recently they have mostly gone. For centuries, astronomers have recorded when these dark blemishes on the solar surface emerge, only for them to fade away again after a few days, weeks or months.
What's wrong with the sun? - space - 14 June 2010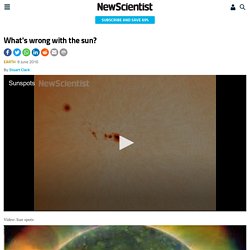 Clean Water Act Module
In Spill's Aftermath, Conflict of Interest Worries
Hundreds of millions of dollars are at stake, since those readings will be used by the federal government and courts to establish liability claims against BP. But the laboratory that officials have chosen to process virtually all of the samples is part of an and gas services company in Texas that counts oil firms, including BP, among its biggest clients.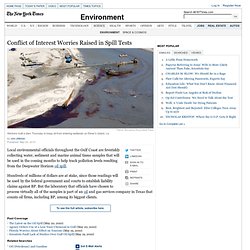 'Whale' superskimmer drops out of Gulf oil spill response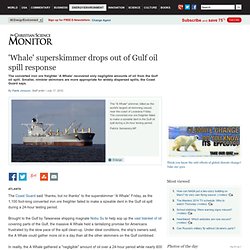 The Coast Guard said "thanks, but no thanks" to the superskimmer "A Whale" Friday, as the 1,100 foot-long converted iron ore freighter failed to make a sizeable dent in the Gulf oil spill during a 24-hour testing period. Brought to the Gulf by Taiwanese shipping magnate Nobu Su to help sop up the vast blanket of oil covering parts of the Gulf, the massive A Whale held a tantalizing promise for Americans frustrated by the slow pace of the spill clean-up. Under ideal conditions, the ship's owners said, the A Whale could gather more oil in a day than all the other skimmers on the Gulf combined.
Posted by Christopher Lagan, Thursday, March 25, 2010
Coast Guard leads intergovernmental disaster response drill « Coast Guard Compass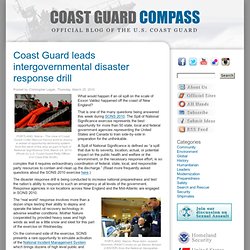 NEW ORLEANS — The gooey oil washing into the maze of marshes along the Gulf Coast could prove impossible to remove, leaving a toxic stew lethal to fish and wildlife, government officials and independent scientists said. Officials are considering some drastic and risky solutions: They could set the wetlands on fire or flood areas in hopes of floating out the oil. But they warn an aggressive cleanup could ruin the marshes and do more harm than good. The only viable option for many impacted areas is to do nothing and let nature break down the spill.
Wetlands cleanup may be impossible - Disaster in the Gulf
BP's Bad Breakup: How Toxic Is Corexit?
Illustration: Matt Mahurin
Mar. 24, 2009 - Portland chosen for nation's largest oil spill exercise
Login to PIER This site is not available to the public at this time. Please log in if you are an authorized user.
Crossposted with TomDispatch.com.
Nick Turse: How Taxpayers Are Subsidizing BP's Disaster Through the Pentagon
Matt Simmons Tells Bloomberg Only Way To Contain Oil Leak Is With Small Nuclear Bombs, "Top Kill" Is Just A Distraction
MIAMI — Facing more than 100 lawsuits after its Gulf of Mexico oil spill killed 11 workers and threatened four coastal states, oil giant BP is asking the courts to place every pre-trial issue in the hands of a single federal judge in Houston. That judge, U.S.
bp-wants-houston-judge-with-oil
Pentagon's "Full-Blown Effort" to Halt Spill
BP Fake Twitter Account: The Most Ridiculous Tweets Yet (PHOTOS)
In Spill's Aftermath, Conflict of Interest Worries
Political Patience Washing Away Fast For BP Execs As Gulf Oil Spill Grows Worse
In Gulf Spill, BP Using Dispersants Banned in U.K.
Report Shows Spill Poses Little Additional Risk
Bomb Designer, Mars Expert Sent by Obama to Fix Oil Spill
Gulf Oil Spill: Markey Demands BP Broadcast Live Video Feed From The Source
spill of national significance 2009