BP Facts
DK Matai: The Full Price of Oil: Scientific American Podcast. The oil slick in the Gulf of Mexico continues to grow.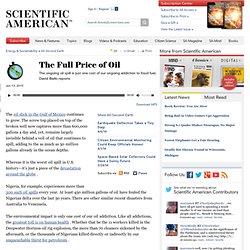 The screw top placed on top of the broken well now captures more than 600,000 gallons a day and, yet, remains largely invisible behind a veil of oil that continues to spill, adding to the as much as 50 million gallons already in the ocean depths. Whereas it is the worst oil spill in U.S. history—it's just a piece of the devastation around the globe . Nigeria, for example, experiences more than 300 such oil spills every year. At least 450 million gallons of oil have fouled the Nigerian delta over the last 50 years. Federal frustration on oil spill mounts. Interior Secretary Ken Salazar frustrated that oil leak has not been stoppedBP official says the oil company is "devastated" by the undersea gusher'Top kill' planned for next week; other options still on the table (CNN) -- Saying BP has "from day one, frankly not fulfilled the mission it was supposed to fulfill," Interior Secretary Ken Salazar expressed frustration Sunday with the delay in stopping an underwater oil gusher 33 days after an oil rig exploded and sank in the Gulf of Mexico.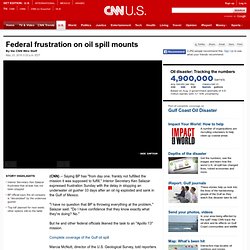 "I have no question that BP is throwing everything at the problem," Salazar said. "Do I have confidence that they know exactly what they're doing? No. " But he and other federal officials likened the task to an "Apollo 13" mission. Gulf Oil Spill: Latest Federal Government Estimate Still Understates Oil Flow. Last week's much-ballyhooed new federal estimate of how much oil is spewing into the Gulf of Mexico -- 12,000 to 19,000 barrels a day, or two to four times as much as the original estimate -- remains a low-ball figure.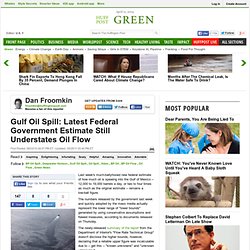 The numbers released by the government last week and quickly adopted by the mass media actually represent the lower range of "lower bounds" generated by using conservative assumptions and flawed measures, according to documents released on Thursday. The newly-released summary of the report from the Department of Interior's "Flow Rate Technical Group" doesn't disclose the higher bounds, however, declaring that a reliable upper figure was incalculable due to -- get this -- "known unknowns" and "unknown unknowns. " Thad Allen: Oil Spill Fight Will Last Into Fall. Admiral Thad Allen, U.S.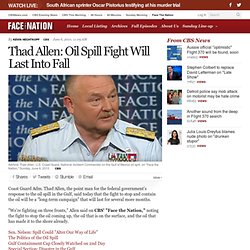 Coast Guard, National Incident Commander on the Gulf of Mexico oil spill, on "Face the Nation," Sunday, June 6, 2010. CBS Coast Guard Adm. US Coast Guard Admiral Thad Allen, Schema-Root news. Coast Guard officials told of potential oil spill response problems years ago. U.S.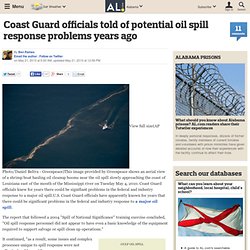 Coast Guard officials have apparently known for years that there could be significant problems in the federal and industry response to a major oil spill. The report that followed a 2004 "Spill of National Significance" training exercise concluded, "Oil spill response personnel did not appear to have even a basic knowledge of the equipment required to support salvage or spill clean up operations. " Warnings ignored Mobile-area scientists warned BP PLC officials and Coast Guard Adm. Thad Allen a week ago that the use of dispersants both on the surface and underwater at the Deepwater Horizon well could have grave consequences for the Gulf ecosystem.
Homeland Security Declares Oil Spill Is Of 'National Significance' : The Two-Way. Federal frustration on oil spill mounts. The BP Cover-Up. What's wrong with the sun? - space - 14 June 2010. Read full article Continue reading page |1|2|3 Video: Sun spots.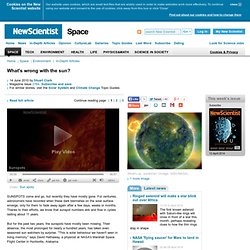 Clean Water Act Module. In Spill's Aftermath, Conflict of Interest Worries. 'Whale' superskimmer drops out of Gulf oil spill response. The Coast Guard said "thanks, but no thanks" to the superskimmer "A Whale" Friday, as the 1,100 foot-long converted iron ore freighter failed to make a sizeable dent in the Gulf oil spill during a 24-hour testing period.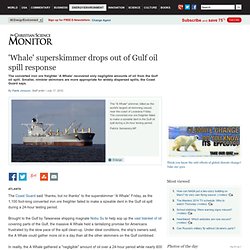 Brought to the Gulf by Taiwanese shipping magnate Nobu Su to help sop up the vast blanket of oil covering parts of the Gulf, the massive A Whale held a tantalizing promise for Americans frustrated by the slow pace of the spill clean-up. Under ideal conditions, the ship's owners said, the A Whale could gather more oil in a day than all the other skimmers on the Gulf combined. Coast Guard leads intergovernmental disaster response drill « Coast Guard Compass. Posted by Christopher Lagan, Thursday, March 25, 2010 PORTLAND, Maine - The crew of Coast Guard Cutter Marcus Hanna work to deploy a vessel of opportunity skimming system from the deck of the ship as part of Spill of National Significance Drill, March 24, 2010.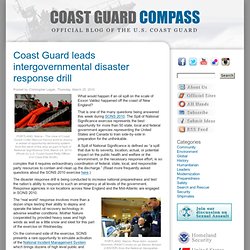 (Photo by U.S. Coast Guard Petty Officer 2nd Class Etta Smith) What would happen if an oil spill on the scale of Exxon Valdez happened off the coast of New England? Wetlands cleanup may be impossible - Disaster in the Gulf. NEW ORLEANS — The gooey oil washing into the maze of marshes along the Gulf Coast could prove impossible to remove, leaving a toxic stew lethal to fish and wildlife, government officials and independent scientists said.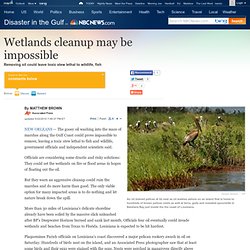 Officials are considering some drastic and risky solutions: They could set the wetlands on fire or flood areas in hopes of floating out the oil. But they warn an aggressive cleanup could ruin the marshes and do more harm than good. The only viable option for many impacted areas is to do nothing and let nature break down the spill. More than 50 miles of Louisiana's delicate shoreline already have been soiled by the massive slick unleashed after BP's Deepwater Horizon burned and sank last month. BP's Bad Breakup: How Toxic Is Corexit?
Illustration: Matt Mahurin Read also: MoJo's complete BP coverage, Julia Whitty on the oil spill cover-up, and the rest of our special report on BP's deep ocean secrets.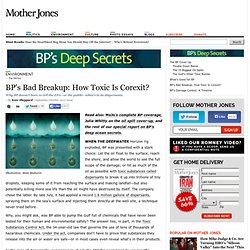 WHEN THE DEEPWATER Horizon rig exploded, BP was presented with a stark choice: Let the oil float to the surface, reach the shore, and allow the world to see the full scope of the damage; or hit as much of the oil as possible with toxic substances called dispersants to break it up into trillions of tiny droplets, keeping some of it from reaching the surface and making landfall—but also potentially killing more sea life than the oil might have destroyed by itself. The company chose the latter. Mar. 24, 2009 - Portland chosen for nation's largest oil spill exercise. Nick Turse: How Taxpayers Are Subsidizing BP's Disaster Through the Pentagon. Crossposted with TomDispatch.com. Residents of Louisiana, Mississippi, Alabama, and Florida are livid with BP in the wake of the massive, never-ending oil spill in the Gulf of Mexico -- and Barack Obama says they ought to be. But there's one aspect of the BP story that most of those angry residents of the Gulf states aren't aware of.
And the president hasn't had a thing to say about it. Matt Simmons Tells Bloomberg Only Way To Contain Oil Leak Is With Small Nuclear Bombs, "Top Kill" Is Just A Distraction. Bp-wants-houston-judge-with-oil. MIAMI — Facing more than 100 lawsuits after its Gulf of Mexico oil spill killed 11 workers and threatened four coastal states, oil giant BP is asking the courts to place every pre-trial issue in the hands of a single federal judge in Houston. That judge, U.S. District Judge Lynn Hughes, has traveled the world giving lectures on ethics for the American Association of Petroleum Geologists, a professional association and research group that works with BP and other oil companies. The organization pays his travel expenses. Hughes has also collected royalties from several energy companies, including ConocoPhillips and Devon Energy, from investments in mineral rights, his financial disclosure forms show.
Hughes, appointed to the bench in 1985 by then-President Ronald Reagan, declined to comment for this report. Pentagon's "Full-Blown Effort" to Halt Spill. A worker secures ropes on a crew boat after departing from the oil skimmer Louisiana Responder, which is assisting in the collection of oil from a leaking pipeline that resulted from last week's explosion and collapse of the Deepwater Horizon oil rig in the Gulf of Mexico near the coast of Louisiana, April 27, 2010.
AP Photo/Patrick Semansky Updated at 7:02 p.m. ET The Navy sent equipment to help with cleanup of the Gulf of Mexico oil spill and the Pentagon said Thursday it stands ready to expand its response to the disaster. BP Fake Twitter Account: The Most Ridiculous Tweets Yet (PHOTOS) In Spill's Aftermath, Conflict of Interest Worries. Hundreds of millions of dollars are at stake, since those readings will be used by the federal government and courts to establish liability claims against BP.
But the laboratory that officials have chosen to process virtually all of the samples is part of an and gas services company in Texas that counts oil firms, including BP, among its biggest clients. Some people are questioning the independence of the Texas lab. Taylor Kirschenfeld, an environmental official for Escambia County, Fla., rebuffed instructions from the National Oceanic and Atmospheric Administration to send water samples to the lab, which is based at TDI-Brooks International in College Station, Tex.
He opted instead to get a waiver so he could send his county's samples to a local laboratory that is licensed to do the same tests. Mr. Political Patience Washing Away Fast For BP Execs As Gulf Oil Spill Grows Worse. In Gulf Spill, BP Using Dispersants Banned in U.K. Report Shows Spill Poses Little Additional Risk. Bomb Designer, Mars Expert Sent by Obama to Fix Oil Spill. Gulf Oil Spill: Markey Demands BP Broadcast Live Video Feed From The Source. Spill of national significance 2009.
---