Jquery
Lets be honest, forms can be a pain in the ass to fill in. And for developers? There an even bigger pain in the ass to build. No one really likes them, as such, the most difficult challenges that a developer has to take on, when it comes to forms, is not only how to build a form that is easy and quick for the user to use, but also make it as accessible and usable as possible. Its not easy.
50 jQuery Plugins for Form Functionality, Validation, Security and Customisation :Speckyboy Design Magazine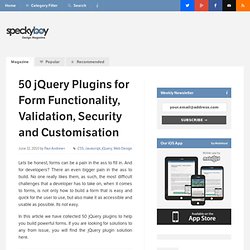 Advertisement Over the last year, Smashing Magazine has evolved. We've been publishing fewer lists and more in-depth articles about design and Web development. We have invited professionals and high-profile developers to write for us.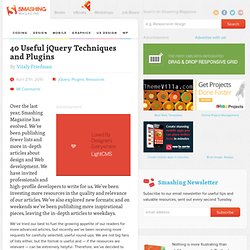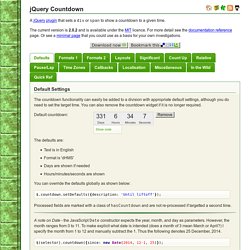 jQuery Countdown
The countdown functionality can easily be added to a division with appropriate default settings, although you do need to set the target time. You can also remove the countdown widget if it is no longer required. Default countdown: 354Days17Hours2Minutes30Seconds The defaults are: