Programming/Computing
Get flash to fully experience Pearltrees
Recently, Google's Sergey Brin made waves—or at least invoked a collective eye-roll—when he termed current smartphone technology " emasculating " and suggested Google glass as an antidote.
Reflections As My Trans-Advocacy Pages Pass into History [See also " Mementos From Trans-Advocacy ] In the early 2000's, this website began providing gender transitioners with information, encouragement and hope for a better future. Among its most popular sections were the " Transsexual Women's Successes " and " Successful Transmen ". Back then, trans women, especially, were considered sexually-deviant and mentally-ill by prejudiced psychiatrists and psychologists. By compiling stories of those who went on to fulfilling lives after transition, the pages undermined the pathologization of gender variance by prominent psychiatric thought leaders – and provided role models and hope for the many people then in transition.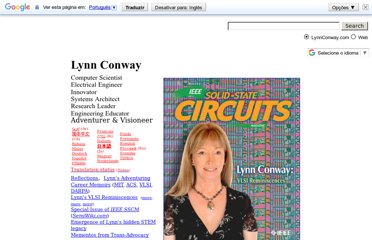 » Columns and Tutorials Read programming articles and access tutorials to help you learn programming on TI graphing calculators. » Resources Browse information and reference material useful to programmers. » Emulators Find out what emulators are available to let you simulate your TI calculator on your own computer and help you program more easily. » Program Ideas Get inspiration for new programs based on ideas submitted by our visitors. » Upcoming Programs Get the latest information on programs still under development, including screen shots, status reports, and more.
Best Course You'll Find by mrfrizzlefry This professor is just a gifted teacher, plain and simple.