Online
When Not to Google: Searches You're Better Off Making Elsewhere. There's an important point here that, I think, a lot of people need to be reminded of, which is: [your search engine of choice] is not the internet; just because you can't find something there doesn't mean it doesn't exist.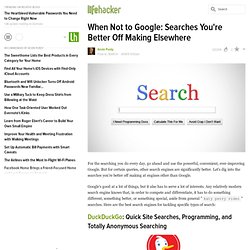 Many people have a tendency to seek a single source of information, whether it be a specific media outlet, search engine, portal (remember the "AOL is not the internet" days), et cetera, because it's just easier that way. Bottom line: General purpose search engines are like duct tape, you CAN use them to do almost anything, but that doesn't mean that you SHOULD. Google Guide Quick Reference: Google Advanced Operators (Cheat Sheet) The following table lists the search operators that work with each Google search service.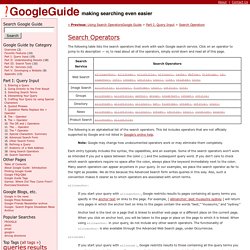 Click on an operator to jump to its description — or, to read about all of the operators, simply scroll down and read all of this page. The following is an alphabetical list of the search operators. This list includes operators that are not officially supported by Google and not listed in Google's online help. Each entry typically includes the syntax, the capabilities, and an example. Turn Your Home Router Into a Super-Powered Router with DD-WRT. Wireless is everywhere and routers are the force that makes it happen, so why not supercharge yours to take proper advantage of it?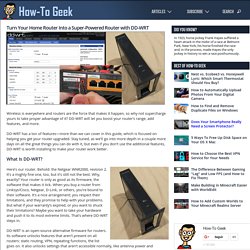 DD-WRT will let you boost your router's range, add features, and more. DD-WRT has a ton of features—more than we can cover in this guide, which is focused on helping you get your router upgraded. Stay tuned, as we'll go into more depth in a couple more days on all the great things you can do with it, but even if you don't use the additional features, DD-WRT is worth installing to make your router work better.
UPDATED – Using Googles Full Capabilities « XBOX, XBOX 360, PS2, PS3, PSP, & MORE! – Your source for the latest in console modding. Here is an updated version of the 'Using Google's Full Capabilities'.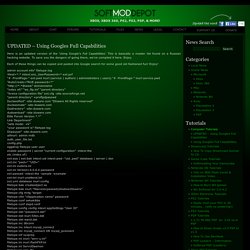 This is basically a master list found on a Russian hacking website. To save you the dangers of going there, we've compiled it here. Enjoy. Each of these things can be copied and pasted into Google search for some good old fashioned fun! Enjoy! 15 Killer Google Chrome Features You Might Not Know About.
---