Presentation Tools
If your students are like me, old-fashioned slideshows put them to sleep. I can remember the days when I would sit in a middle school classroom, bored to tears by projectors and slideshows. All that's going to change. The free (woohoo!) web 2.0 tool Fotobabble is an easy and fun way to turn your images into an enhanced gallery complete with narration. Heck, there's even an option for your Facebook page now .
Fotobabble: A Free Way To Add Some Life To Your Images
Webspiration Classroom Service™ Designed for teachers and students in grades 5-12, Webspiration Classroom™ provides a safe and reliable online learning environment that helps students improve their writing and thinking skills. Proven visual learning methods give students a framework to brainstorm ideas, gather and organize information, build comprehension, and develop written essays, papers and reports. Educator and student resources, including lesson plan ideas and study tips, support curriculum integration, and online access facilitates peer review, collaboration and student-teacher interaction – engaging students, extending learning time and increasing achievement across the curriculum. Click here to learn more, subscribe, or sign up for a free 30-day trial of Webspiration Classroom.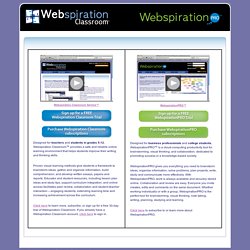 Empressr - The Best Online Rich Media Presentation Application
Socrative - Online Student Response System
If you have a SMART Board in your classroom you may be familiar with the SMART Clicker device that polls student responses to teacher initiated questions. While this is a great way to gauge student understanding quickly, it is a costly solution and relies on familiarity with SMART products. If you're looking for an alternative to purchasing equipment based response tools, check out Socrative.com as an effective student response system. Socrative runs on a variety of devices. Tablets, smartphones, laptops, and desktop computers with an internet browser are all capable of running Socrative – enabling schools to either use their own 1:1 devices or allowing them to take advantage of the technology students come to school with (BYOT) to run the web-based app.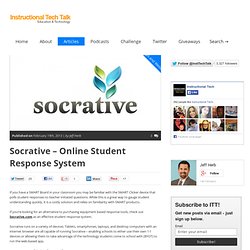 What is myBrainshark?Create online video presentations, then share & track them with ease! Promote yourself or your cause, share your expertise, or browse eLearning content. How It Works...Upload a PowerPoint or other file to create a video presentation, then add your voice using a telephone, microphone, or mp3s! Create Video in Moments...In seconds you can turn your existing static content into powerful, voice-enriched, trackable videos! Simple Podcasting...myBrainshark makes podcasting easy.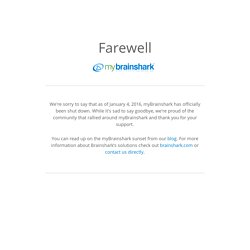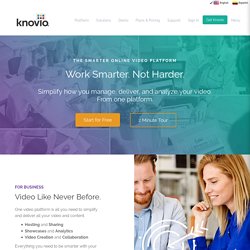 Welcome to Knovio: Create, Track & Share Online Presentations. Quick. Easy. Fun. Free. Hundreds of applications: Explain a concept.