Foodstuffs
Indian Style Spicy Mung Beans (Moong Dal) | Lisa's Kitchen | Vegetarian Recipes | Cooking Hints | Food & Nutrition Articles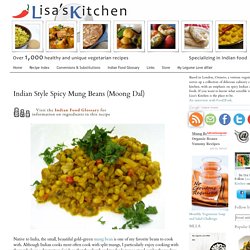 Native to India, the small, beautiful gold-green mung bean is one of my favorite beans to cook with. Although Indian cooks most often cook with split mungs, I particularly enjoy cooking with them whole in a dry texture finish so that the plumb and tender legumes stand out by themselves — besides, they take hardly any longer to cook than the split ones, especially if you soak them ahead of time. Serve this simple but incredibly flavorful curry with vegetables, an Indian rice dish such as simple pulao rice or piquant lemon rice and an Indian flatbread for a complete and satisfying meal. You may also wish to try one of my all time favorite mung bean recipes: mung beans with paneer cheese . It is a flavorful combination of buttery-soft and sweet mung beans, golden-brown fried paneer cheese, tomatoes and spices — a wonderful dish to serve to your dinner guests.
Flavored Butters
Rookie Cookery: Mint Pesto: A Dessert Pesto recipe
Prepare for an experience of olfactory bliss! We have tons of mint growing in our garden, so I finally got around to researching a more adventurous culinary use of this fragrant herb. What I found was a suggestion for this sweet mint pesto that is simple to make and absolutely divine when paired with chocolate.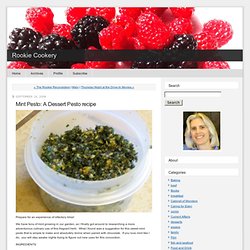 Today's post is about a great little wintertime nutritional powerhouse – the humble, often criticized brussels sprout . Before we delve any further, let's get one thing straight: They are Brussels sprouts. BRUSSEL S.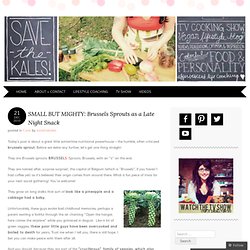 SMALL BUT MIGHTY: Brussels Sprouts as a Late Night Snack | Save the Kales!
Today's post is about a great little wintertime nutritional powerhouse – the humble, often criticized brussels sprout . Before we delve any further, let's get one thing straight: They are Brussels sprouts.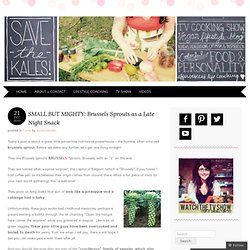 SMALL BUT MIGHTY: Brussels Sprouts as a Late Night Snack | Save the Kales!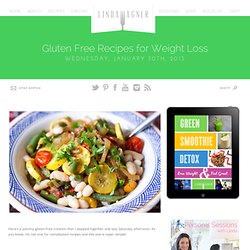 Gluten Free Recipes for Weight Loss |
Here's a yummy gluten-free creation that I slapped together one lazy Saturday afternoon.
Home Made Vitamin Water - Amazing Earth
This is an easy and rather mild South Indian chickpea and vegetable curry — at least according to my standards of mild as regular readers who visit this space know that I do enjoy fiery dishes. It is an ideal addition to meals anytime of year, a delicious solution for using up leftover vegetables, and if you happen to be having it on a winter day, an effective cure for those cold weather chills. This is my idea of comfort food. Poriyal or palya are dry-textured vegetable curries that make for an elegant starter or side dish, usually tempered with aromatic seeds and spices.
Chickpea Mixed Vegetable Poriyal | Lisa's Kitchen | Vegetarian Recipes | Cooking Hints | Food & Nutrition Articles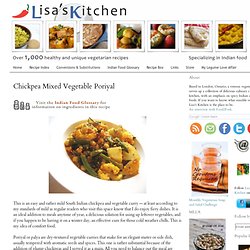 I love bananas foster. The rich, dark, slightly bitter caramel around gooey sweet bananas. Over ice cream, it's perfect.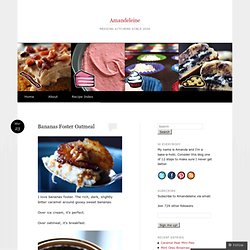 Bananas Foster Oatmeal | Amandeleine
Ultimate Chocolate Chip Cookies
Black Bean White Corn Dip Recipe - Food.com - 86983
Poinsettia Punch Recipe :
Ingredients 2 tablespoons unsalted butter 1 medium white onion, finely chopped 1 cup (8 ounces) cream cheese, softened 2 (10-ounce) boxes frozen spinach, thawed and squeezed dry 1 teaspoon freshly grated nutmeg Kosher salt and ground white pepper Directions Heat the butter in a 12-inch saute pan over moderate heat. Add the onions and cook until soft, about 8 minutes. Whisk in the cream cheese and let melt.
Easy Cheesy Spinach Recipe : Claire Robinson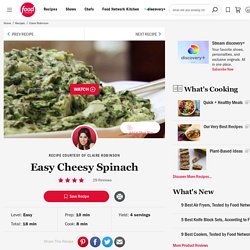 Thomas Jefferson, purportedly a great lover of both cheese and Italian food, brought a macaroni maker back from Italy and served his baked macaroni and cheese at dinner parties. If you have ever managed to have a lucid thought while eating this gooey, delicious dish, it may have been to wonder how macaroni and cheese -- American cheese melted into a traditional British white sauce served over Italian pasta -- came about. It all started during the age of European colonization, when seafaring men transported dried macarone -- one of the few staples that could survive a year aboard ship -- from Italy to Britain and to the American colonies.
Perfect Macaroni and Cheese - Martha Stewart Comfort Foods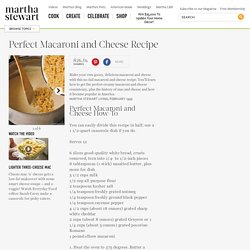 Homemade Marshmallows
Really, what could be better then a nice big mug of hot cocoa on Christmas Morning? How about a nice big mug of cocoa topped with a homemade marshmallow? As willing as I am (once a year) to purchase the dollar a piece marshmallows that they sell at some fine retailers, I thought that it might be a bit more practical to make my own. Not to menion more fun. I am a big fan of marshmallows and don't need much of an excuse to eat one or two whenever I get the opportunity. They're sweet, delicious and fat free, all of which are things that you can't get from just any dessert!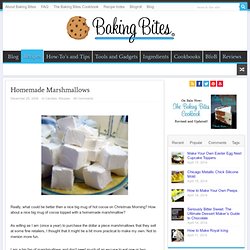 Ingredients 1 tablespoon vegetable or olive oil , 1 turn of the pan in a slow stream 2 tablespoons butter 3 tablespoons flour 1 1/2 cups whole or 2 percent milk 3 cups shredded white cheddar cheese 1/2 teaspoon nutmeg, ground or freshly grated 1/4 teaspoon ground cayenne pepper , a couple pinches Salt 1 pound elbow macaroni , cooked 8 minutes or to al dente , with a little bite to it Directions Heat a medium, deep skillet over medium heat.
Macaroni and Cheddar Cheese Recipe : Rachael Ray
White Cheddar Macaroni And Cheese Recipe - Food.com - 239427
Crockpot Simple Short Ribs
This one is going to be nice and short. Just wanted to give a huge shout-out to my awesome friend Tim from Big Tim's Primal Journey . That links to his Facebook page, I need everyone to go give him a huge high five and like, this man has cured himself of Type II Diabetes and is not longer really big Tim, he is shrinking daily.
Ingredients 2 skinless and boneless chicken breasts, butterflied and then cut in half Sea salt and freshly ground black pepper All-purpose flour, for dredging 6 tablespoons unsalted butter 5 tablespoons extra-virgin olive oil 1/3 cup fresh lemon juice 1/2 cup chicken stock 1/4 cup brined capers, rinsed 1/3 cup fresh parsley, chopped Directions Season chicken with salt and pepper. Dredge chicken in flour and shake off excess.
Chicken Piccata Recipe : Giada De Laurentiis
This delicious smoothie will keep hunger at bay for hours while giving you LOADS & LOADS of Energy!!!
Chocolate Superfood Smoothie for Weight Loss and Energy |
Your Best Citrus Recipe - Week 126 - Contests - food52 - food community, recipe search and cookbook contests
I'm elbow-deep in roma tomatoes at the moment, but wanted to drop by with a few words on one of the ways I'm preserving these scrumptious gems. Long, slow roasting in a 200 degree oven. This treatment shrinks their mass, concentrates their flavor and transforms them into something savory and succulent.
Slow Oven-Roasted Roma Tomatoes - Food in Jars
Lemon and Rosemary Cake with Citrus Glaze recipe from food52
How to Make Pastrami - Smoked Corned Beef Brisket
Corned Beef and Vegetables - Crockpot Corned Beef With Veggies
Orange Julius Recipe « Paul Mayne
Seattle Sunset Curd recipe from food52
What To Do With Meyer Lemons
The Meyer Lemon: More Than A Pretty Face
100 things to do with a Meyer lemon
Light Pesto recipe
Veggies That Taste Good |
Chocolate Cherry Superfood Smoothie for Weight Loss |