Visual Novel
Access is denied.
Home - Bluebird's Illusion Guide
Last Updated on Jan 2009 1) Installing Files for East Asian Languages 2) Installing Togainu no Chi 4) Mounting the files in Daemon Tools 4a) Installing the Game 5) Checking Your Version of DirectX 5a) How to Update DirectX 6) Running Togainu no Chi 7) Playing Togainu no Chi 8) How to Get My PC Back to English 9) How to Get My PC Back to Japanese 10) Running Togainu no Chi With AGTH 11) Troubleshooting This guide is what I personally had to do to get Togainu no Chi to work when it first came out--so it's an old tutorial and specialized to the files I used. If you're running anything pre Windows XP, don't expect Togainu to run. If you're using Vista there's a Vista patch on the official website that you'll need to run to get the game to work (I don't have the link or the patch.
Togainu no Chi - Kill the King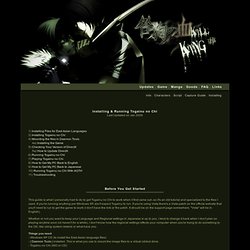 Index
insani.org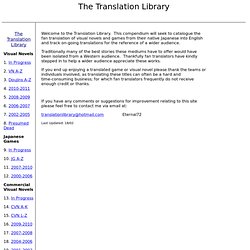 Welcome to the Translation Library. This compendium will seek to catalogue the fan translation of visual novels and games from their native Japanese into English and track on-going translations for the reference of a wider audience. Traditionally many of the best stories these mediums have to offer would have been isolated from a Western audience. Thankfully fan translators have kindly stepped in to help a wider audience appreciate these works. If you end up enjoying a translated game or visual novel please thank the teams or individuals involved, as translating these titles can often be a hard and time-consuming business; for which fan translators frequently do not receive enough credit or thanks.
Translation Library - Home
A Kiss for the Petals
Ren'Ai Archive : Home Page