Crowsourcing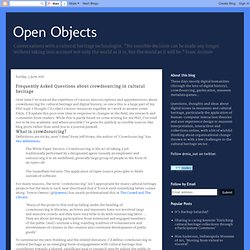 Over time I've noticed the repetition of various misconceptions and apprehensions about crowdsourcing for cultural heritage and digital history, so since this is a large part of my PhD topic I thought I'd collect various resources together as I work. I'll update this post over time in response to changes in the field, my research and comments from readers. While this is partly based on some writing for my PhD, I've tried not to be too academic and I've gone for publicly accessible sources like blog posts rather than send you to a journal paywall.
Frequently Asked Questions about crowdsourcing in cultural heritage
L'association Savoirs pour réussir accompagne depuis 3 ans des jeunes en situation d'illettrisme à Paris.
Savoirs pour réussir : lutter contre l'illettrisme grâce à la culture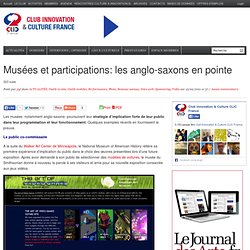 Musées et participations: les anglo-saxons en pointe
Les musées -notamment anglo-saxons- poursuivent leur stratégie d'implication forte de leur public dans leur programmation et leur fonctionnement . Quelques exemples récents en fournissent la preuve. Le public co-commissaire
Reflections on Click! by James Surowiecki Much of the critical reception of Click!
click
Foresight Engine