Advices
Get flash to fully experience Pearltrees
post written by: Marc Email When you stop chasing the wrong things you give the right things a chance to catch you. As Maria Robinson once said, "Nobody can go back and start a new beginning, but anyone can start today and make a new ending." Nothing could be closer to the truth. But before you can begin this process of transformation you have to stop doing the things that have been holding you back.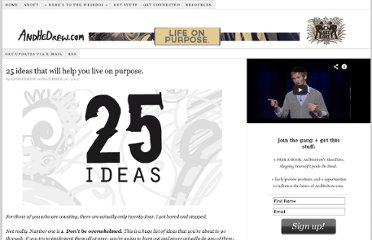 For those of you who are counting, there are actually only twenty-four. I got bored and stopped. Not really. Number one is 1. Don't be overwhelmed.
from "The Road to Resilience" American Psychological Association download PDF Make connections. Good relationships with close family members, friends, or others are important. Accepting help and support from those who care about you and will listen to you strengthens resilience. Some people find that being active in civic groups, faith-based organizations, or other local groups provides social support and can help with reclaiming hope.
I am pleased to introduce this guest article by a new friend John, the creator of HiLife2B , where he hopes to inspire people and to help them achieve their dreams. Follow him on Twitter: @janyasor 1.