Desserts
Chocolate Chip Cookies. For five years I've been using a chocolate chip cookie recipe I've tweaked and tested so many times that it has become my favourite chocolate chip cookie recipe.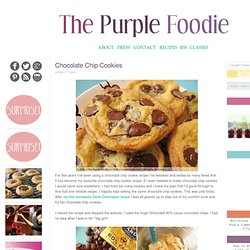 If I ever needed to make chocolate chip cookies I would never look elsewhere. I had tried too many recipes and I knew the pain that I'd gone through to find that one reliable recipe. I happily kept baking the same chocolate chip cookies. This was until today. After my first successful Dorie Greenspan recipe I was all geared up to step out of my comfort zone and try her chocolate chip cookies. Coconut Tres Leches Cake. Every dish that I make (and that subsequently appears on this here blog) is tried and tested by my toughest critic and ally: my husband, Brian.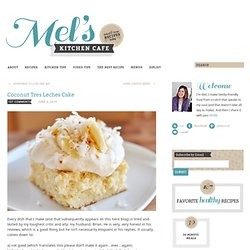 He is very, very honest in his reviews, which is a good thing but he isn't necessarily eloquent in his replies. It usually comes down to: Scrumptious Photography. I was very excited this week because the TWD recipe, chosen by Di of Di's Kitchen Notebook, called for raisins flamed in rum.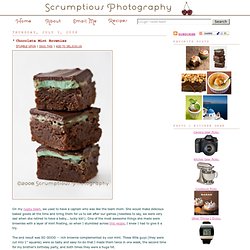 I figured that there would be some huge fireball in my kitchen, curling and rising and almost singeing the ceiling. As it turns out, the flame was tiny and blue and you couldn't see it unless you were looking straight down into the pan. Still kinda cool, but not nearly as dramatic as I'd imagined ;) Anyway, the rest of the recipe was pretty straightforward. I thought the cinnamon was a nice addition and gave the chocolate a little something to play against. Easter Cupcakes Baked in Real Egg Shells. I watched my Grandmother's face when she realized that I hadn't handed her a hard boiled egg but rather a cake baked inside a real egg shell.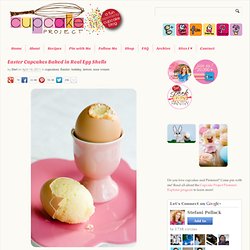 Her eyes were filled with wonder and I could envision what she must have looked like as a tyke the very first time she saw a red balloon float across the sky or the the trunk of a giant elephant spewing a stream of water. "Crack it on the table," I told her. Chocolate Mousse Cake | Sugar Duchess. There is a time for choosing the easy road.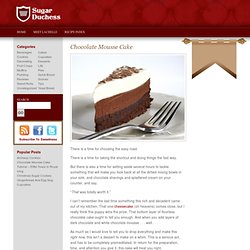 There is a time for taking the shortcut and doing things the fast way. But there is also a time for setting aside several hours to tackle something that will make you look back at all the dirtied mixing bowls in your sink, and chocolate shavings and splattered cream on your counter, and say, "That was totally worth it." I can't remember the last time something this rich and decadent came out of my kitchen. That one cheesecake (oh heavens) comes close, but I really think this puppy wins the prize. One Bowl Vanilla Cupcakes For Two. Let's face it: sometimes we all need a dessert that only makes two servings.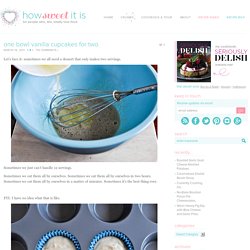 Sometimes we just can't handle 12 servings. Sometimes we eat them all by ourselves. Sometimes we eat them all by ourselves in two hours. Sometimes we eat them all by ourselves in a matter of minutes. Red Velvet Crêpes. I rolled my eyes at the red velvet cake trend, but now I can't get enough.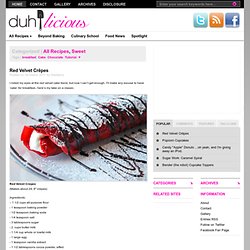 I'll make any excuse to have 'cake' for breakfast– here's my take on a classic. Red Velvet Crepes (Makes about 24, 8″ crepes) Ingredients: – 1 1/2 cups all-purpose flour - 1 teaspoon baking powder - 1/2 teaspoon baking soda - 1/4 teaspoon salt - 3 tablespoons sugar - 2 cups butter milk - 1 1/4 cup whole or lowfat milk - 1 large egg - 1 teaspoon vanilla extract - 1 1/2 tablespoons cocoa powder, sifted - 1 tablespoon red food color gel - 2 tablespoons unsalted butter, melted + 2 tablespoons cooking oil (for pan)
---