Places
Roadside Attractions - Weird Roadside Attractions at WomansDay.com. If you've ever gone on a road trip, chances are you've driven past a few unusual tourist attractions.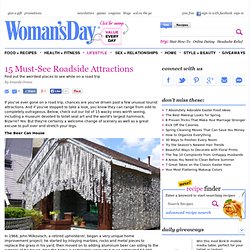 And if you've stopped to take a look, you know they can range from odd to completely outrageous. Below, check out our list of 15 wacky ones worth seeing, including a museum devoted to toilet seat art and the world's largest hammock. Bizarre? Yes. Unclaimed Baggage Center. Pamukkale – Turkey's Cotton Castle. In Turkish the name literally means Cotton Castle and it is easy to see why it was given that.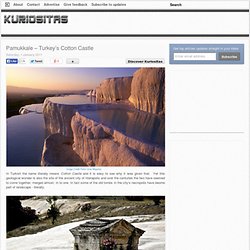 Yet this geological wonder is also the site of the ancient city of Hierapolis and over the centuries the two have seemed to come together, merged almost, in to one. In fact some of the old tombs in the city's necropolis have beome part of landscape - literally. The site itself is a series of travertines and hot springs. The travertines here have a concentric appearance and are almost sheer white giving the area an ethereal, other worldly appearance. 12 bizarre real-life places that are stranger than science fiction. Science fiction is home to some fantastic societies, from Cloud City to Bartertown.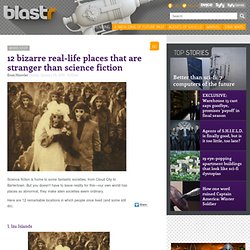 But you doesn't have to leave reality for this—our own world has places so abnormal, they make alien societies seem ordinary. Here are 12 remarkable locations in which people once lived (and some still do). 1. Izu Islands. 10 Most Terrifying Places on Earth. Creepy There are places on this planet that are stranger than the most alien landscapes we have ever imagined.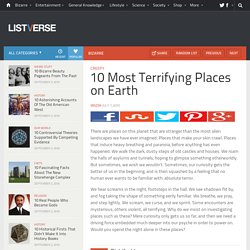 Places that make your skin crawl. Places that induce heavy breathing and paranoia, before anything has even happened. Top 10 Interesting Ghost Towns Around The World. There are many reasons why cities are abandoned, because the economic activity that supported it has failed, or due to natural or human-caused disasters such as a flood, government action, uncontrolled lawlessness or war.
Some abandoned ghost towns are now tourist attractions, while others might be dangerous or illegal to visit. Anyone else here fascinated by them? Meet 10 of the most fascinating ghost towns from around the world. 10 - Bodie, California. Atlas Obscura's Ten Most Popular Places for 2010. As we wind down the final days of 2010, we're looking at the places that have captured our attention this year.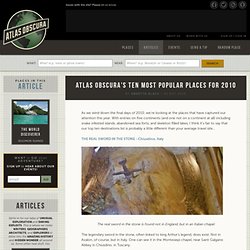 With entries on five continents (and one not on a continent at all) including snake infested islands, abandoned sea forts, and skeleton filled lakes, I think it's fair to say that our top ten destinations list is probably a little different than your average travel site... THE REAL SWORD IN THE STONE - Chiusdino, Italy The real sword in the stone is found not in England, but in an Italian chapel.
---