Get Backlinks Traffic Network Colaborate
E-Teaching Discussions. <div style='width: 100%; padding-top: 10px; padding-bottom: 10px; font-size: 11px; top: 0px; left: 0px;background-color:#FFFEEC;border:solid 1px #EEEEBC;'><span style="padding: 6px;"> Javascript is disabled on your browser.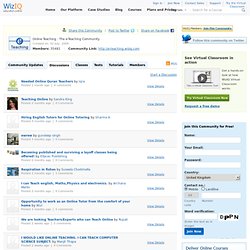 Enable JavaScript to use this site. <a href=' target='_blank' class='ulink'>Learn more</a></span></div> Discussion Forum - Online Tutoring. Get your free report on How To Start An Online Tutoring Business.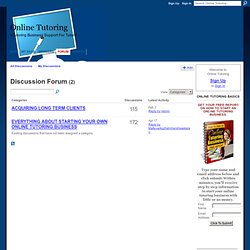 Type your name and email address below and click submit. Within minutes, you'll receive step by step information to start your online tutoring business with little or no money. Oxford Journals | Humanities | ELT Journal. Home. Online Magazines (ESL and EFL-Related):Linguistic Funland TESL/ESL/EFL/Language/Linguistics Links. [Main Page | Bookstore | Search | Links Page | Submit a Site | Contact | Site Map ] 11 Links in the category "Online Magazines (ESL and EFL-Related)" EnglishZine Dr Finger's Blog Go English student magazine Inspiration Lane.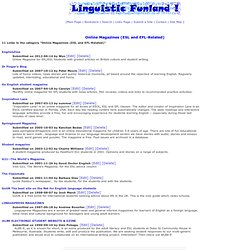 Advertise Free | Teflnet. With 150,000+ unique visitors per month Teflnet is the world's premier independent website dedicated to TEFL teachers.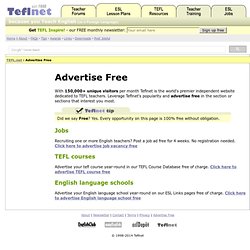 Leverage Teflnet's popularity and advertise free in the section or sections that interest you most. Did we say Free? Yes. Every opportunity on this page is 100% free without obligation. Sites Home. Great Blogs for Language Learners. The following is a collection of blogs by language learners and language experts.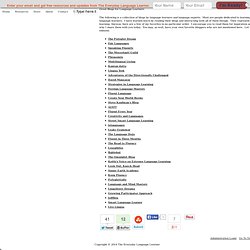 Most are people dedicated to learning more than one language. Most are not necessarily everyday language learners. I have learned much by reading their blogs and interacting with all of them though. They represent a wide variety of ideas, methods and opinions on language learning. Anyway, here are a few of my favorites in no particular order. How many words do I need to know? The 95/5 rule in language learning, Part 1/2 | lingholic. A very common question that people ask when starting the study of a foreign language is "How many words do I need to know in order to be conversationally fluent for everyday talk in X language?"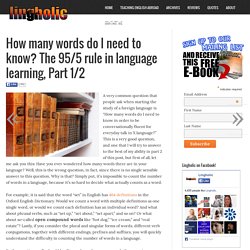 This is a very good question, and one that I will try to answer to the best of my ability in part 2 of this post, but first of all, let me ask you this: Have you ever wondered how many words there are in your language? Well, this is the wrong question, in fact, since there is no single sensible answer to this question. Why is that? Simply put, it's impossible to count the number of words in a language, because it's so hard to decide what actually counts as a word. For example, it is said that the word "set" in English has 464 definitions in the Oxford English Dictionary. Interviews Archives - Language Mastery | Language Mastery. Interview with Susanna Zaraysky Susanna Zaraysky is a self-proclaimed "language geek", a speaker of 7 languages, and the author of "Language Is Music: Over 100 Fun & Easy Tips to Learn Foreign Languages".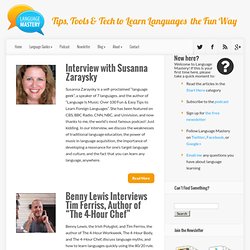 She has been featured on CBS, BBC Radio, CNN, NBC, and Univision, and now thanks to me, the world's most famous podcast! Just kidding. In our interview, we discuss the weaknesses of traditional language education, the power of music in language acquisition, the importance of developing a resonance for one's target language and culture, and the fact that you can learn any language, anywhere. Steal My Blog, Start a Revolution. I have a problem.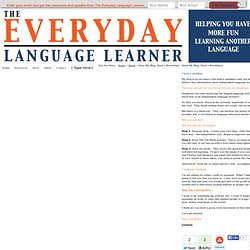 My blog is an exclusive club where members only are allowed in. The secret password is the English language. If you don't have it, you don't get in. This is a problem because I believe that information about independent language learning should be available to those who need it most. The ESL Network - English as a Second Language Schools and Resources. For Students Dave's ESL Cafe Everyone knows this one as the 'original' ESL content site.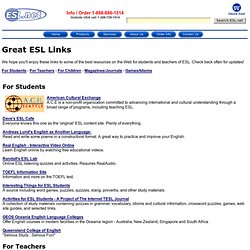 Plenty of everything. Blogs | Teflnet Blogregator. Forums • Index page. It is currently 24 Apr 2014, 10:39 General Teacher Discussion For general discussion between teachers - or use one of the forums below for more specific topics.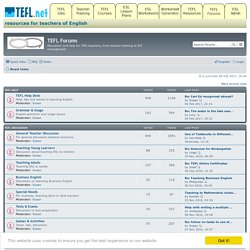 Moderator: Susan 474 Topics 1438 Posts Last post by MarinaA 19 Apr 2014, 10:47 Teacher Training Discussion Discussion about courses, qualifications and teacher training. Teflnet. The Daily English Show. Write for us | ETp. New contributorsWe are always looking for fresh ideas that will appeal to our readers. Whether you are an experienced writer or a practising teacher with something to say, we would like to hear from you.
We cannot promise to publish your article, but we do promise to read it carefully! General guidanceThe best advice we can give is 'Read ETp'. Modern English Teacher - the journal for English Language Teaching. Vote for your favorite Language Learning Blog 2012. Here is the alphabetically sorted list of the Top 100 Language Learning blog that qualified for the voting phase (read more about how the competition works). Click the button next to the name of the blog you want to vote for and click "vote" at the bottom of the poll! You can only vote once in each category. Make sure to vote for the other categories as well! Vote for your favorite Language Learning Blog 2012! Follow Us. There are many ways you can follow Oxford University Press English Language Teaching. Find useful articles, tools and resources; connect with teachers, trainers and authors anywhere; watch interviews, talks and demonstrations; and read exclusive articles by the biggest names in ELT.
Follow us on Twitter If you have a Twitter account already, follow us at @OUPELTGlobal. Videos Teach English as a Foreign Language. Submit A Guest Article! Real English ESL Videos & Lessons. Real English is a Registered Trademark of The Marzio School. Internet TESL Journal (For ESL/EFL Teachers) How To Learn English || How to Learn English FREE ebook download. Hello there! If you want to improve your English, today is your lucky day because I am giving away a BIG part of my work for FREE. It contains dozens of tips and techniques anyone can start using RIGHT NOW to get better in English and practice more easily.
So, without further ado, here is the FREE edition of my book. Free ESL Materials.com | Add URL | Submit Site. Study English with fun, free ESL video quizzes.
---