MENA Region
Next month, Palestinians are expected to seek statehood at the United Nations. It's a stunt that won't accomplish much for anybody, but it's more constructive than throwing rocks at Israeli cars — or, on the Israeli side, better than expanding illegal settlements. A prominent Israeli politician, Isaac Herzog, has shrewdly suggested that Israel actually offer, with conditions, to vote in favor of Palestinian statehood at the United Nations. Yet the American House of Representatives voted 407 to 6 to call on the Obama administration to use its diplomatic capital to try to block the initiative, while also threatening to cut the Palestinians' funding if they proceeded to seek statehood. Similarly, when Israel stormed into Gaza in 2008 to halt rocket attacks, more than 1,300 Gazans were killed , along with 13 Israelis, according to B'Tselem, a respected Israeli human rights group.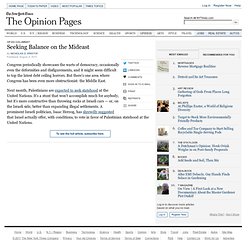 Seeking Balance on the Mideast
Arabs angry over Syria crackdown but governments silent
A rude Arab awakening
Marwan Bishara, Al Jazeera's senior political analyst, answers questions about the current escalation - and what some see as setbacks - surrounding the uprisings in Libya, Syria, and Yemen. How do you explain the fact that since the upheavals erupted several months ago, the Libyan, Yemeni and Syrian regimes have continued their repression unabatedly - while in Egypt and Tunisia the regimes fell quickly? The transformations in Egypt and Tunisia raised expectations of swift change elsewhere, but when the Arab Spring turned into a hot summer, it led to disappointment and doubt. In reality, the early Arab Spring was exceptional by all standards when it led to the ousting of a combined 54 years of dictatorship in Tunisia and Egypt within the course of a few weeks.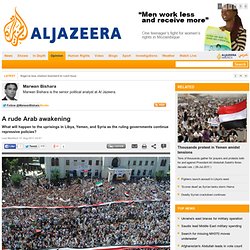 Keffiyeh makers in Hebron turn to social media
James Zogby: Iran's Freefall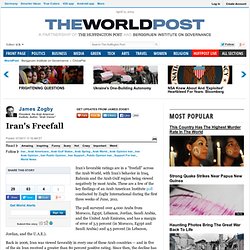 Iran's favorable ratings are in a "freefall" across the Arab World, with Iran's behavior in Iraq, Bahrain and the Arab Gulf region being viewed negatively by most Arabs. These are a few of the key findings of an Arab American Institute poll conducted by Zogby International during the first three weeks of June, 2011. The poll surveyed over 4,000 Arabs from Morocco, Egypt, Lebanon, Jordan, Saudi Arabia, and the United Arab Emirates, and has a margin of error of 3.5 percent (in Morocco, Egypt and Saudi Arabia) and 4.5 percent (in Lebanon, Jordan, and the U.A.E.). Back in 2006, Iran was viewed favorably in every one of these Arab countries -- and in five of the six Iran received a greater than 80 percent positive rating.
Most Arab States and Arab media have chosen to remain silent about the brutal crackdown by the Syrian regime against unarmed civilian protesters. The international stance has been disappointing but the shameful Arab silence is baffling. The impotent Arab League had given the green light for the no-fly zone over Libya and supported the UN Security Council Resolution 1973 which called for the protection of civilians in Libya. Yet the same Arab League has not taken any steps to protect the civilians in Syria. The Arab League's silence is interpreted by many as backing a murderous regime and giving it the green light to continue with its brutal abuse of the Syrian people.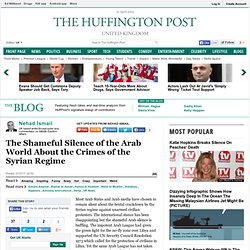 Nehad Ismail: The Shameful Silence of the Arab World About the Crimes of the Syrian Regime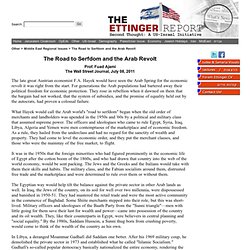 The Ettinger Report - The Road to Serfdom and the Arab Revolt
Prof. Fuad Ajami The Wall Street Journal, July 08, 2011 The late great Austrian economist F.A. Hayek would have seen the Arab Spring for the economic revolt it was right from the start.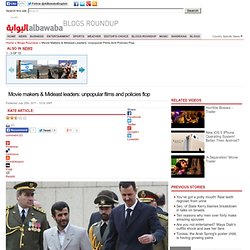 Movie makers & Mideast leaders: unpopular films and policies flop
Poor leaders, like poor film makers, make blundering decisions that can result in less fans and supporters from the public and citizens and can be suicide for their careers. Ahmadinejad had an uprising on his hands when re-elected 2009. Bashar al-Assad is now passing punishment in place of reforms. Top Self-Defeating Moves in the Middle East Comparing movie makers to country leaders- when they flop, they flop, and really miss the mark.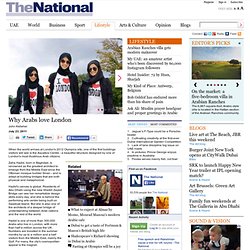 When the world arrives at London's 2012 Olympics site, one of the first buildings visitors will see is the Aquatics Centre - a beautiful structure designed by one of London's most illustrious Arab citizens. Zaha Hadid, born in Baghdad, is renowned as the greatest architect to emerge from the Middle East since the Ottoman mosque builder Sinan - and is adept at building bridges that are both physical and metaphorical. Hadid's canvas is global. Residents of Abu Dhabi using the new Sheikh Zayed Bridge can see her remarkable design skills every day, and she is behind the performing arts centre being built on Saadiyat Island.
Why Arabs love London
Above the Fray: Escaping the Isra... JPost - Opinion - Columnists
While Prime Minister Binyamin Netanyahu insists that the Palestinians recognize Israel as a Jewish state, his policies are encouraging a mass exodus of Jews from the country.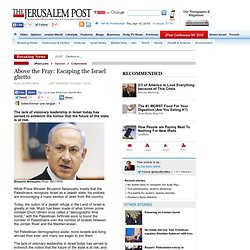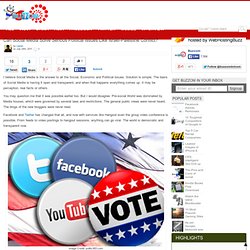 by Leplan on July 24th, 2011 I believe Social Media is the answer to all the Social, Economic and Political issues. Solution is simple. The basis of Social Media is having it open and transparent, and when that happens everything comes up. It may be perception, real facts or others.
Can Social Media Solve Serious Political Issues Like Israel-Palestine Conflict?
24 July 2011 Last updated at 00:43 ET By Cordelia Hebblethwaite BBC News Deeb is a banker by day and a rapper by night Music and revolutions have a long history. Hip hop in the Arab world does not. But as the Arab Spring turns to summer, is hip hop emerging as one of the drivers of the revolution?
Is hip hop driving the Arab Spring?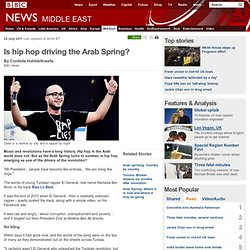 America in trouble in the Middle East
By James J.
Business :: Lebanon :: Beirut ranked 4th most expensive Mideast city
BEIRUT: Beirut was ranked the fourth most expensive city in the Middle East and the 75th in the world, according to the annual survey on the cost of living in 214 cities worldwide by Mercer Human Resource Consulting. It also considered Beirut to be the 15th most expensive city among the Upper Middle Income Countries included in the survey, as reported by Lebanon This Week, the economic publication of the Byblos Bank Group. Beirut was the 80th most expensive city worldwide and the fourth most expensive in the Arab world in 2011.
Social networking new craze among Middle East hoteliers - Travel & Hospitality
Social networking sites are proving highly popular among Middle East hoteliers looking to get on board with region's the online marketing craze. Websites such as Facebook, Twitter, LinkedIn and Youtube are gaining increasingly more attention from both value and luxury hotels, often playing a pivotal role in their wider marketing campaigns. According to hotel managers, the sites' ability to communicate with thousands of potential customers makes them an effective medium for raising brand awareness, increasing customer interaction and plugging promotions.
by Swati on July 9th, 2011 Use of the Arabic Facebook interface has skyrocketed to reach 10 million users. It's expected that within a year Arabic will overtake English to become the most popular Facebook language in the region, according to Jerusalem Post , one of Israel's best-selling English Daily. Spot On Public Relations, a Middle East ern publicity agency, specializing in social media , conducted a study which revealed that Arabic Facebook has grown about 175% a year, double the overall rate of the mushrooming use of Facebook worldwide. In some countries, like Algeria, it grew a whopping 423% annually. According to this research, 56% of Facebook users in Egypt (3.8 million) opt for the Arabic language version.
Arabic to beat English as the most popular Facebook Language in Arab
Imad Naffa (imadnaffa) Twitter tweets related to: Middle east, Women, Sites, Necessity, Tnw and more
Arab-Social-Media-Report.pdf
Social Media & the Arab Spring~March 2011
Internet & Broadband- MENA
Interactive Media, SM in MENA
The Digital Experiment: Youtube Success or "don't pretend you don't like free stuff" Posted by Reem on July 28, 2011 · Leave a Comment Note: "Reem's Digital Experiment" is a series on www.interactiveme.com where I put digital marketing formulas to the test. For this first series, I am going to attempt to create a "successful Youtube Channel by a blogger in the Middle East". Many of my clients have asked how to do this effectively and while I often reference popular "success stories", they aren't my own. This is because there are so few successful youtube channels...
Arab Entrepreneurs Forum