Articles
Get flash to fully experience Pearltrees
If Muammar al-Qaddafi falls, as seems increasingly likely, he will land with the rending crash of an immense, rigid object, like the statue of Saddam Hussein pulled down in Baghdad's Firdos Square. This is not because, despite his own delusions, Qaddafi mattered to the world remotely as much as Saddam did. Rather, it's because the Jamahiriya, or stateless society, he fostered in Libya constitutes the last of the revolutionary fantasies with which Arab leaders have mesmerized their citizens and justified their ruthless acts of repression since the establishment of the modern Arab world in the years after World War II.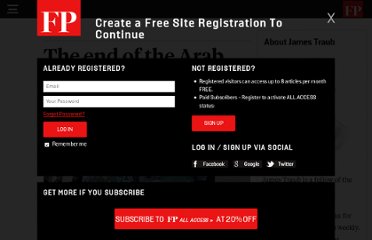 Some have already taken to calling the events in the Middle East "the Arab 1848."
Article brought some new and interesting concepts and I liked how they tied with the countries pool of educated talent and GDP, etc. Another way to look at it. by imadnaffa Mar 4
Very interesting, thought-provoking. by vcochran Mar 4
The world's 50 richest Arabs are worth a total of just over $245bn, an 18 percent increase on the same figure just over a year ago, the Arabian Business Rich List 2010 reveals.