1
Create a Stylish Contact Form with HTML5 & CSS3. Follow this step by step process to create your own stylish contact form completely out of HTML5 and CSS3.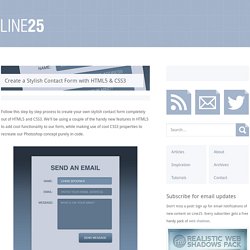 We'll be using a couple of the handy new features in HTML5 to add cool functionality to our form, while making use of cool CSS3 properties to recreate our Photoshop concept purely in code. The design we'll be building features all the things that make a rich interface; gradients, highlights and shadows! We'll create a visual concept in Photoshop first of all, but when it comes to building the form we'll recreate every effect with HTML5 and CSS3. Box. Search is one of the most important part of any website.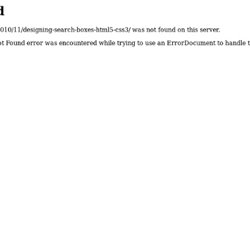 Here, I will show a few practical techniques for designing search forms and a few tricks to build usable and good-looking search functionality. Smashing Magazine did an excellent piece on Search Boxes which inspired me to write this post. Instead of listing various types of designs, I will show you how to build them! Let's get started! Here, with the help of three simple examples, allow me to show how to code search boxes with HTML & CSS and how to spice things up with a bit of Javascript. Browser support. 40 Fresh Html5 Tutorials And Cheat Sheets For Web Developer. Published on Thu, Aug-25-2011 by Dainis The development of a web design and need a function that should be developed to make various kinds of programming applications should be used on various platforms.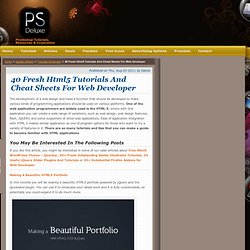 One of the web application programmers are widely used is the HTML 5, where with this application you can create a wide range of variations, such as web design, web design features, flash, JQUERY, and some supporters of other web applications. Ease of application integration with HTML 5 makes similar application as one of program options for those who want to try a variety of features in it. There are so many tutorials and tips that you can make a guide to become familiar with HTML applications. Slideshow. Martin Angelov You've probably heard a lot about the new HTML5 canvas element.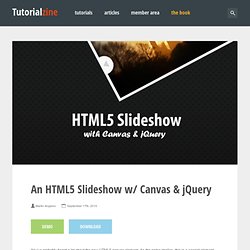 As the name implies, this is a special element that allows us to create and modify graphics. In addition, we can also use it like any other element on the page – apply jQuery animations on it, listen for events and integrate it deeply into our layouts. HTML5 & CSS3 – What You Should Know. HTML5, in conjunction with CSS3, will be a major alteration of how web pages are built once it is fully implemented.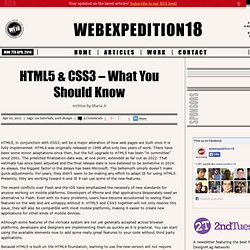 HTML4 was originally released in 1999 after only two years of work. There have been some minor adaptations since then, but the full upgrade to HTML5 has been "in committee" since 2001. Create a Grid Based Web Design in HTML5 & CSS3. Follow this step by step walkthrough of the making of a sleek website design for an eyewear brand in HTML5 and CSS3.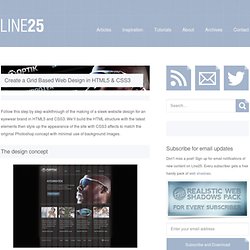 We'll build the HTML structure with the latest elements then style up the appearance of the site with CSS3 affects to match the original Photoshop concept with minimal use of background images. The design we'll be coding up is for a fictional eyewear brand named OPTIK. If you're interested in seeing how the design concept was created in Photoshop, head over to Blog.SpoonGraphics so see part one of the tutorial. CSS3 tooltips – Red Team Design. If your icon or button has insufficient text or none at all, or it just needs some additional explanation, then you surely need a CSS3 tooltip for it.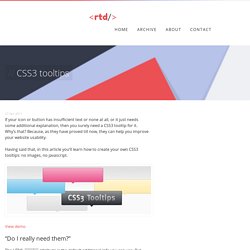 Why's that? Because, as they have proved till now, they can help you improve your website usability. Having said that, in this article you'll learn how to create your own CSS3 tooltips: no images, no javascript. How to create a cool and usable CSS3 search box – Red Team Design. In this new article, you'll learn how create a cool and usable CSS3 search box using the HTML5 placeholder attribute.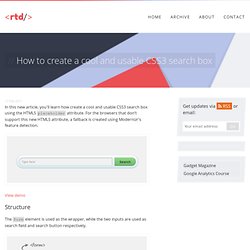 For the browsers that don't support this new HTML5 attribute, a fallback is created using Modernizr's feature detection. View demo Structure. Create a page flip effect with HTML5 canvas. Net magazine is the number one choice for the professional web designer and developer.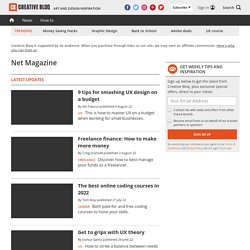 It's here that you find out about the latest new web trends, technologies and techniques – all in one handy package. Each issue boasts a wealth of expert tips and advice, including in-depth features and over 30 pages of advanced front- and backend tutorials on subjects as diverse as CSS, HTML, JavaScript, WordPress, PHP, and plenty more. net compiles the hottest new sites from around the web, and being the voice of web design, our mission is to source the best articles written by the best people in the industry and feature interviews and opinions crammed with inspiration and creative advice.
In short, If you're serious about web design and development, then net is the magazine for you. Build a Neat HTML5 Powered Contact Form. In this tutorial, we are going to learn how to create a swanky HTML5 AJAX powered contact form.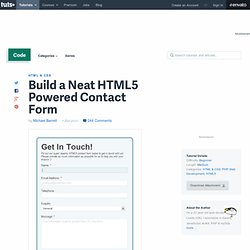 The form will use some of the new HTML5 input elements and attributes, and will be validated using the browser's built-in form validation. We will use jQuery and Modernizr to help out with the older browsers, and PHP on the server side to validate the input. Step 1: Getting Started To begin, we need to setup our directory and files. Making a Beautiful HTML5 Portfolio. Martin Angelov In today's tutorial we will be making a beautiful HTML5 portfolio powered by jQuery and the Quicksand plugin.
You can use it to showcase your latest work and it is fully customizable, so potentially you could expand it to do much more. The HTML The first step is to write down the markup of a new HTML5 document. How to Code a Clean Website Template in HTML5 & CSS3. Last week on MediaLoot we posted a tutorial on designing a clean homepage template using Adobe Fireworks, the result was a sleek web page concept that we're now going to imagine that we have shown to our client, and they have just given us the go ahead to start coding it up into HTML and CSS! Premium Members Get Source Files Premium members can download the source files for this tutorial here. Alright, without any further ado, let's get started on this thing! To refresh your memory here is the design we created last week. Fullscreen Slideshow with HTML5 Audio and jQuery.
In today's tutorial we'll create a fullscreen photo slideshow to illustrate a New York picture series. We will add sounds with the HTML5 audio element in order to give life to the gallery and try to recreate the ambient of this vibrant city. View demo Download source In today's tutorial we'll create a fullscreen photo slideshow to illustrate a New York picture series. Creating a HTML5 & CSS3 Single Page Web Layout. Creating a HTML5 & CSS3 single page template Today we will create HTML5 web template with combination with CSS3 and jQuery. Current template will contain header area (with logo and navigation menu), promo area (I will use jQuery Nivo Slider), center area with some content, bottom area (which you can use for footer links as example), and footer itself.
---