Disney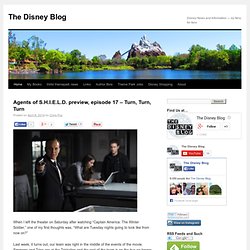 Agents of S.H.I.E.L.D. preview, episode 17 – Turn, Turn, Turn When I left the theater on Saturday after watching "Captain America: The Winter Soldier," one of my first thoughts was, "What are Tuesday nights going to look like from now on?" Last week, it turns out, our team was right in the middle of the events of the movie. Simmons and Tripp are at the Triskelion and the rest of the team is on the bus no longer trusting each other as the bus is mysteriously redirected and heading straight for Victoria Hand, who may or may not be the Clairvoyant (though I'm guessing she's got her own agenda). This week's episode starts right where the last one ended as the team continues to fall apart in mistrust and the truth about S.H.I.E.L.D. is revealed. Between the story-lines that they've been building since the show started and the aftermath of The Winter Soldier, Agents of S.H.I.E.L.D. has a lot of going on and I am looking forward to it.
Wow. I almost can't believe this is my last post on this site. Feels a little unreal and kind of sad. My first (clunky) post, back in November 2007, was short so I will try to keep this one as short as possible too. As I wrote in December, I have absolutely loved every minute of my blogging experience here, first when this was The Pixar Blog, and for the past couple of years as Big Screen Animation.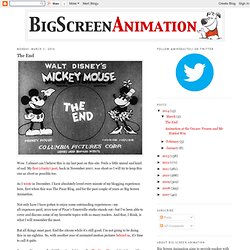 Fuck Yeah Disney Moments
DisneyVoiceGuy.com - Demos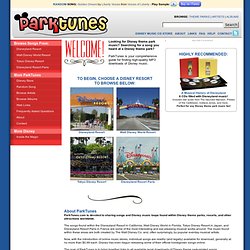 About ParkTunesParkTunes.com is devoted to sharing songs and Disney music loops found within Disney theme parks, resorts, and other attractions worldwide. The songs found within the Disneyland Resort in California, Walt Disney World in Florida, Tokyo Disney Resort in Japan, and Disneyland Resort Paris in France are some of the most interesting and ear-pleasing musical works around. The music found within these areas are both created by The Walt Disney Co. and, often surprisingly, by popular everday musical artists. Now, with the introduction of online music stores, individual songs are readily (and legally) available for download, generally at no more than $0.99 each. Disney has even begun releasing some of their official homegrown songs online.
jasperp's disney music
MegaUpload - Disney's SpectroMagic mp3
DCP (Disney College Program)