Stuff
The man who made a forest. Best Movies (of All-Time) The best movies evoke tears, laughter, terror, reminiscence, and/or mystery in a truly personal way.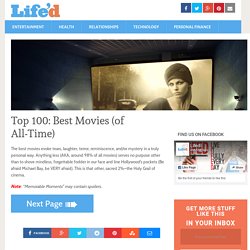 Anything less (AKA, around 98% of all movies) serves no purpose other than to shove mindless, forgettable fodder in our face and line Hollywood's pockets (Be afraid Michael Bay, be VERY afraid). This is that other, sacred 2%—the Holy Grail of cinema. Note: "Memorable Moments" may contain spoilers. 100. Pirates of the Caribbean: The Curse of the Black Pearl (2003) How Different Animals See The World; Animal Vision. How Animals See The World: Horse Vision:Horses and similar animals such as zebras have their eyes pointing sideways (as opposed to straight ahead) in order to give them outstanding peripheral vision.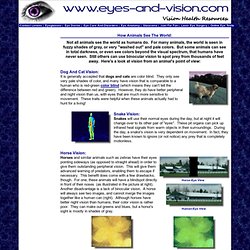 This will give them advanced warning of predators, enabling them to escape if necessary. This benefit does come with a few drawbacks, though. For one, these animals will have a blindspot directly in front of their noses (as illustrated in the picture at right). Another disadvantage is a lack of binocular vision. How Do they See? Views Through the Eyes of 7 Animals. For centuries, humans were in the dark about what and how other animals see.
Recent scientific investigation has revealed an amazing world of vision diversity. Like the dragonfly – its brain works so fast that it sees movements as if in slow motion. Or the pigeon – which is capable of detecting more subtle gradations of color than the most advanced computer program. Or the snake – there is no escaping heat vision. Read on to see how animals see the world. 25 Beautifully Illustrated Thought-Provoking Questions. Post written by: Marc Chernoff Email A question that makes you think is worth asking… At the cusp of a new day, week, month, or year, most of us take a little time to reflect on our lives by looking back over the past and ahead into the future.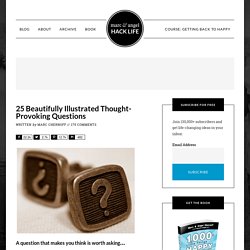 We ponder the successes, failures and standout events that are slowly scripting our life's story. A bees-eye view: How insects see flowers very differently to us. By MICHAEL HANLON Last updated at 08:52 08 August 2007 To the human eye, a garden in bloom is a riot of colour.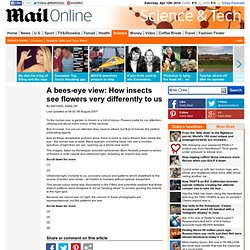 Yellowstone National Park. Yellowstone National Park Grand Canyon of Yellowstone Location of Yellowstone in the United States Location Park County , Wyoming.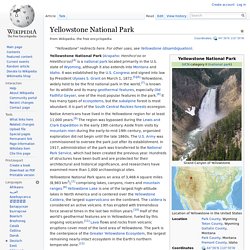 The Nature Of Consciousness. The legacy lives on at alanwatts.com I find it a little difficult to say what the subject matter of this seminar is going to be, because it's too fundamental to give it a title.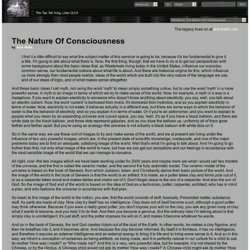 I'm going to talk about what there is. Now, the first thing, though, that we have to do is to get our perspectives with some background about the basic ideas that, as Westerners living today in the United States, influence our everyday common sense, our fundamental notions about what life is about. And there are historical origins for this, which influence us more strongly than most people realize. Ideas of the world which are built into the very nature of the language we use, and of our ideas of logic, and of what makes sense altogether. Levels of Consciousness. In the book Power vs.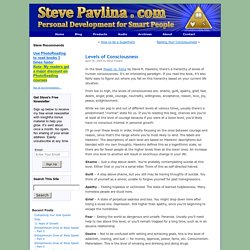 Force by David R. Hawkins, there's a hierarchy of levels of human consciousness. It's an interesting paradigm. Auroville. Auroville (City of Dawn) is an experimental township in Viluppuram district in the state of Tamil Nadu, India, near Puducherry in South India.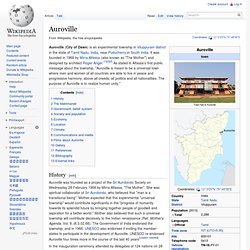 It was founded in 1968 by Mirra Alfassa (also known as "The Mother") and designed by architect Roger Anger.[1][2][3] As stated in Alfassa's first public message about the township, "Auroville is meant to be a universal town where men and women of all countries are able to live in peace and progressive harmony, above all creeds, all politics and all nationalities. The purpose of Auroville is to realize human unity. " History[edit] Auroville was founded as a project of the Sri Aurobindo Society on Wednesday 28 February 1968 by Mirra Alfassa, "The Mother". She was spiritual collaborator of Sri Aurobindo, who believed that "man is a transitional being". Deoxy.com.
---