Data
The Great War. World War One changed everything. 100 years ago the First World War broke out.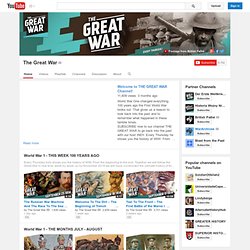 That gives us a reason to look back into the past and to remember what happened in these terrible times.SUBSCRIBE now to our channel THE GREAT WAR to go back into the past with our host INDY. Every Thursday he shows you the history of WWI: From the beginning to the end. Together we will follow the Great War in real time, week by week, so by November 2018 we will have constructed the ultimate history of the First World War. » SOURCESVideos: British PathéPictures: Picture Alliance » JOIN THE COMMUNITY! WordNet Search - 3.1. Help.
Pearltrees videos
Arithmetic/Mathematics. Charts / Timelines / Maps. Economics. Education. History. Information. Language.
Lists
Music. Organize (data) Politics. Psychology. Technology.
---