Psyc
How to Hack Your Brain. @septentriones: Haha, what you're saying is actually quite indeed close to correct, though there is a bit more.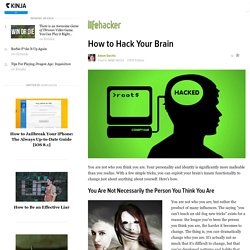 We are a culmination of our experiences, but that doesn't mean that our minds cannot advance further than that, for all that is required is the idea of an experience, for example, I have never been sledding down a mountain. However, I can imagine a sled, imagine a mountain, and myself in motion, so I can build the idea of the experience. If you can transcend your own personal experiences and create new ones idly, your potential for knowledge is increased 10fold.
13 Simple Steps To Get You Through A Rough Day. Reaction_version5.swf (Oggetto application/x-shockwave-flash) Psychology 140, 001|Spring 2010|UC Berkeley - Download free content from UC Berkeley. 75 Ways to Show Love - For Healthy Relationships | Self Improvement Saga - StumbleUpon.
---