Cursos
Universidade XTI - Curso de JavaScript (47 aulas)
Universidade XTI - Curso de JAVA 7 (116 aulas)
Ementa do Curso de Java Standard Edition 7 : Introdução ao Java, Hardware e Software, Instalação e Configuração do JDK, Java Development Kit, JEE, JME, JSE, Hello World, Fundamentos e Sintaxe Java, Variáveis, Tipos Primitivos, Garbage Collector, Constantes, final, Wrapper Classes, Scanner, JOPtionPane, Operadores matemáticos, de comparação, lógicos e de atribuição, Desafios, Array, Lógica de Programação, AutoBoxing, Eclipse, Orientação a Objetos, OO, Pacotes package, Modificadores de Acesso, Argumentos Variáveis varargs, Sobrecarga, Construtores, Herança, Polimorfismo, Exceções, Assertions, Debug no Eclipse, String, Expressões Regulares, I/O, Serialização, Date, Calendar, GUI, javax.swing, Eventos, Listeners, Collection, Thread, Classes Aninhadas, Classes Anônimas, Recursividade, Documentação, Annotations, Reflection, Socket, Redes, Teste, JUnit, JDBC, Batch, System, Runtime e Transação, Programação para Desktop e Backend.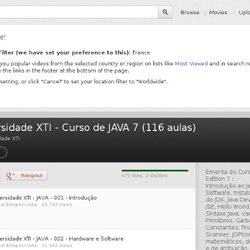 Curso de C
Teaching the main languages of the world, Multilanguage teaching, Learn the languages anywhere in the world
Design and Analysis of Algorithms I
Neste curso, você verá toda a base sólida e necessária para se tornar um desenvolvedor de sites dentro dos padrões W3C. Um curso conceitual e prático, integrando textos e vídeo-aulas, com conteúdo com foco nas principais e mais usadas propriedades do CSS.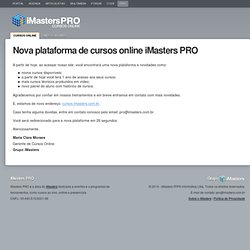 Curso Desenvolvendo layouts com Webstandards - iMasters PRO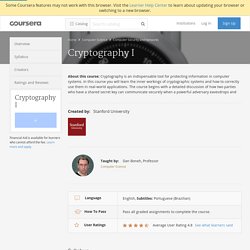 Cryptography is an indispensable tool for protecting information in computer systems. This course explains the inner workings of cryptographic primitives and how to correctly use them. Students will learn how to reason about the security of cryptographic constructions and how to apply this knowledge to real-world applications.
Login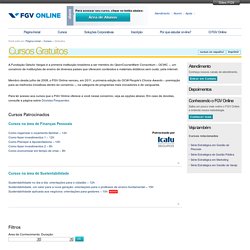 A Fundação Getulio Vargas é a primeira instituição brasileira a ser membro do OpenCourseWare Consortium – OCWC –, um consórcio de instituições de ensino de diversos países que oferecem conteúdos e materiais didáticos sem custo, pela internet. Membro desde julho de 2008, o FGV Online venceu, em 2011, a primeira edição do OCW People's Choice Awards – premiação para as melhores iniciativas dentro do consórcio –, na categoria de programas mais inovadores e de vanguarda. Para ter acesso aos cursos que o FGV Online oferece a você nesse consórcio, veja as opções abaixo.
Numbers n' Strings - Getting Started with Programming
Softblue - Qualidade em Cursos On-Line
Prof. Antonio Passos