Digital agency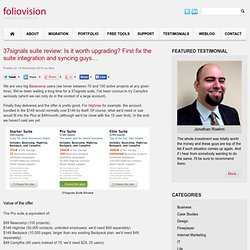 We are very big Basecamp users (we hover between 70 and 100 active projects at any given time). We've been waiting a long time for a 37signals suite. I've been curious to try Campfire seriously (which we can only do in the context of a large account). Finally they delivered and the offer is pretty good. For Highrise for example, the account bundled in the $149 would normally cost $149 by itself. Of course, what we'd need or use would fit into the Plus at $49/month (although we'd be close with the 15 user limit).
37signals suite review: Is it worth upgrading? First fix the suite integration and syncing guys… | Foliovision
See why thousands of companies choose activeCollab as their team collaboration and project management tool. Your 30-day free trial includes immediate, unlimited access to full-feature, cloud-based activeCollab. Free trial quick facts: Start using activeCollab immediately Get to work with an unlimited number of team members, clients and projects Sign up without a credit card or contract Absolutely no obligations or restrictions Enjoy full access to all of our features and add-ons!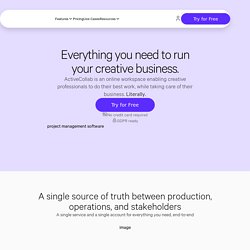 Recorded Webinars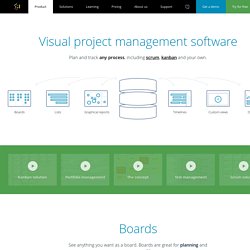 Meet Targetprocess 3 Agile Project Management Software for Scrum and Kanban Kanban
Product: Free Community Edition, On-Demand and On-Site Editions | TargetProcess
Enterprise Social Software | Socialtext Products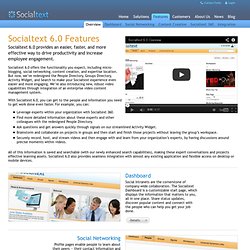 Socialtext 6.0 offers the functionality you expect, including micro-blogging, social networking, content creation, and expertise location. But now, we've redesigned the People Directory, Groups Directory, Activity Widget, and Search to make your Socialtext experience even easier and more engaging. We're also introducing new, robust video capabilities through integration of an enterprise video content management system. With Socialtext 6.0, you can get to the people and information you need to get work done even faster. For example, you can:
A Google Enterprise Blog year-end post takes a look at the most popular apps of 2010 in the Google Apps Marketplace. If you've been watching the "Top Installed" list on the Marketplace for a while, this list probably won't surprise you. The top three categories were: Project Management, CRM and Accounting and Finance. Are you a Google Apps user?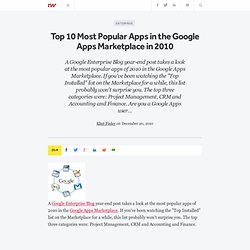 Top 10 Most Popular Apps in the Google Apps Marketplace in 2010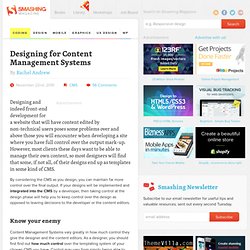 Designing for Content Management Systems - Smashing Magazine
Advertisement Designing and indeed front-end development for a website that will have content edited by non-technical users poses some problems over and above those you will encounter when developing a site where you have full control over the output mark-up. However, most clients these days want to be able to manage their own content, so most designers will find that some, if not all, of their designs end up as templates in some kind of CMS.
Design for CMS-powered web sites: How to design for dynamic content management systems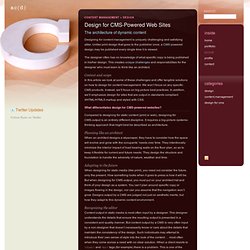 The architecture of dynamic content Designing for content management is uniquely challenging and satisfying alike. Unlike print design that goes to the publisher once, a CMS powered design may be published every single time it is viewed. The designer often has no knowledge of what specific copy is being published in his/her design. This creates unique challenges and responsibilities for the designer who must learn to think like an architect. Context and scope
Apps Marketplace - Customer Management
This post originally appeared on the American Express OPEN Forum, where Mashable regularly contributes articles about leveraging social media and technology in small business. With the emergence of excellent open source content management systems (CMS) in recent years, a business seeking to develop a professional online presence rapidly at a reasonable cost is a reality. Drupal, an open source CMS used by large corporations and governmental organizations such as CNN, AOL, WhiteHouse.gov, Harvard and many others, is a wonderful option for businesses needing a powerful website without the typical costs of having one made from scratch.
10 Free Drupal Themes for Small Business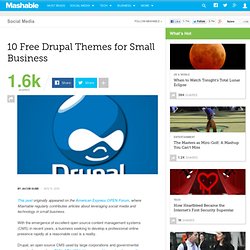 Roadmap - Features - Basecamp Integration
Basecamp extras and integrations via the API
20 basecamp alternatives for Project Management | Drup.org
Online Project Management Software, Group Productivity: Pelotonics
Find Yourself Struggling to Track Down Old Information? It's maddening and a huge waste of time! Pelotonics will be your new bestfriend for it provides your team with a trusted system to securely manage communications, organize files, as well as assign and track deliverables. Who Needs Pelotonics?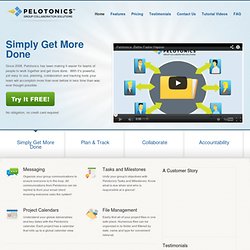 Documentation > Drupal Drupal is one of leading content management systems for organizing and displaying website content. With Artisteer you instantly design professional Drupal themes without having programming skills or knowing Photoshop, Dreamweaver, HTML, CSS and other web design technologies.
drupal theme generator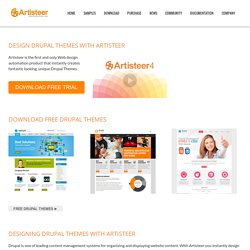 Flexibility Theme for WordPress
site creation automatisation
Collaborate with Your Team & Clients Eliminates email hell and puts everything in one place Using Teamwork.com, your team will know what they have to do, when it must be done and who needs to do it. They'll know exactly where to look to find and store everything they need. And so will your clients. Whether it's the head office or your latest lead, your clients can keep up to date with what's going on without having to bug you; something you'll both feel better about.
Apps Marketplace - Gcamp
Finally a way to interface with Basecamp project management from your Google Apps Gmail interface. Ever wanted to create a task in Basecamp using the body of an email message right from your email? With Gcamp you can: