Webzines et assimilés
C'est encore plus humiliant la deuxième fois. On se dit a priori qu'on s'est encanaillé la première, comme un connard de précieuse qu'on est, que s'il a fini dans le top de fin d'année c'est qu'il faudrait se poser la question d'un besoin compulsif d'une franchouillarderie imposée dans l'exercice... On besogne laborieusement les premières écoutes, traîne les pieds, se dit que bordel c'est du néo, quoi, merde ! avec pour l'aggraver tout ce qui peut aggraver dans le metal, le gros son goguenard, les niaiseries médiévalisantes discount, la rammsteinerie tout aussi bon marché...
Satan Owes Us Money
Les Notules Métalliques
nota bene : depuis ma dernière notule consacrée à ce groupe, je suis en mesure d'affirmer la véracité de cette rumeur : Kelly Nickels est bien le neveu de Pierre Perret. Concernant le zizi, tout ce qu'on peut dire est que si l'un l'a beaucoup chanté, l'autre l'a beaucoup... montré ! Pour finir, Nickels n'est pas qu'un bon bassiste, c'est aussi un chanteur terrible, à écouter sur le morceau Nothing Better to Do (Vicious Circle). Well, this is what I call a truly campy ad.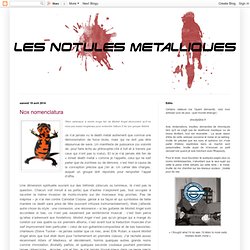 CARBONIZED CELLS ' zine
J'avais déjà interviewé cet excellent groupe de Heavy/Thrash dans le 1er numéro de mon zine (interview bientôt disponible ici même) et j'ai décidé de remettre le couvert suite à la sortie de leur 2eme album, A Tale of Decadence. Un disque qui met en évidence les qualités de composition et l'originalité du combo Alsacien après un premier opus efficace mais beaucoup moins homogène. Cette fois ci, c'est Joêl, le guitariste, qui s'est collé aux réponses et ça tourne évidemment beaucoup autour de son instrument fétiche, de ses influences. Bonne lecture. Salut Joël ! Qu'est-ce que tu écoutes de beau ces jours ci ?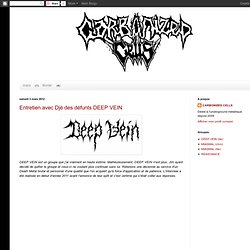 Salut la Meute, on ouvre les volets, on aere un peu : il est temps de mettre fin à l'hibernation du double foetus avec un petit digest bien velu des disques microsillons qui m'ont échauffé la nuque pendant l'hiver. Premier post de 2013 et premier bilan : si l'année semble avoir mis le cap sur le goth, le garage et la surf music, on n'oublie pas les basiques avec du lourd grindcore et un renouveau hardcore crust des plus douillet. Comme un paquet de petites pleureuses sont venues me dire que mon bilan était trop long et qu'il n'y avait pas de lien, j'ai glissé les bandcamp/facebook des artistes dans le titre de l'album, pour vous faciliter la tâche. Mot-dièse assistanat. Baptists - Bushcraft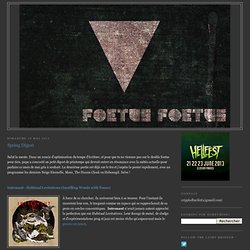 fœtusfœtus
Reparlons un peu de (((WITXES))). Il est assez stupéfiant de constater que pour son deuxième album intitulé A Fabric of Beliefs, ce one-man-band basé à Lyon a bénéficié de l'aide et de l'expérience d'une maison de disques aussi prestigieuse que Denovali*. Ce n'est pas qu'ici on soit hyper fanatique de ce label arty-dark un peu prétentieux mais on reconnait volontiers que Denovali a su se forger une réelle identité et fait presque toujours preuve d'une cohérence certaine dans ses choix de productions. Résultat, le catalogue de Denovali est l'un des plus prestigieux en matière de musiques sombres, expérimentales mais aussi metal/hardcore tendance le cœur en bandoulière**.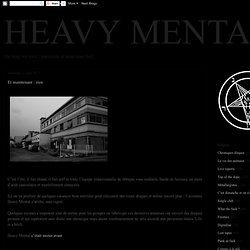 HEAVY MENTAL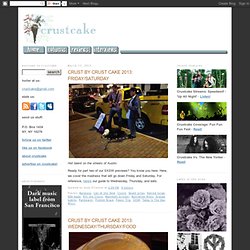 Your faithful and intrepid protagonists, Van and Andy, once again braved the seasonably-for-Central-Texas warm weather and choking dust of a November weekend in Austin to throw themselves upon the altar built yearly unto the god Fun. Three times is He named, and three days and three nights didst they sacrifice eardrums and livers in His honor. (Well, Van could only sacrifice for two, since he had to work on Friday.)
crustcake - METAL BLOG: NEWS, REVIEWS, INTERVIEWS, MP3s AND MORE
Common Day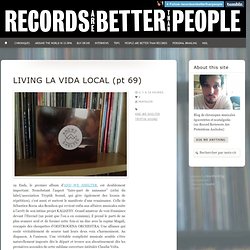 RECORDS ARE BETTER THAN PEOPLE
10. MIA Matangi Un des disques les plus brutal que j'aurais entendu cette année.
Home
Link Bloodstock Festival stream / 2013-08-09 05:53 Hey, we're gonna try something new. As many of you may know, this weekend is the Bloodstock Festival in the UK.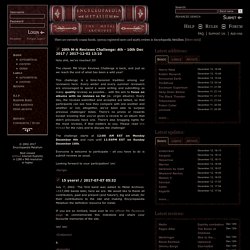 BLABBERMOUTH.NET
Nightfall In Metal Earth : Chroniques reviews metal heavy progressif black death doom gothique
A year in retrospect I should introduce this short retrospect by admitting I haven't been wholly productive during this year in terms of reviews or features. Between the political turmoil of my country following Chávez's death and my time consuming day job, there was little I could do to fix it. However, I'll assume this feature as a Winter...
LURKER | Underground & Independent Art.
Just so I can say I fucking warned you and don't have to deal with the usual deluge of bullshit which comes with the territory: That said, I thought I'd give you fuckers a look at the new Wholy Failure album. If you liked the last record (Avalon and Everything After), you might like the second half of this record, as it's the dark, moody post rock/post punkish vibe of the prior. The first half is just fucking weird.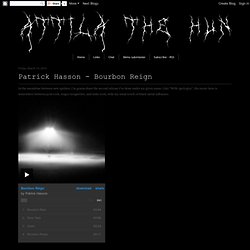 Attila the Hun
CVLT Nation
Earlier neofolk was sometimes called "apocalyptic folk," a phrase seen on at least one early Current 93 flyer that seemed to sum up early bands' stripped down, back-to-basics acoustic approach to making doomy, and quite often occult-tinged, music(k). One of the longest-running current podcasts of this style is in fact the aptly-named "Aural Apocalypse: A Soundtrack for the Final Days" (a podcast around since at least 2008, hosted by the amazing Merrick Testerman!). The early grand trifecta of neofolk was Death in June, Current 93, and Sol Invictus, and those 3 bands had members circulating between them quite often. One of the few American bands that carries forward in that early, dark, postpunk, and guitar-strumming vein is Chicago's Et Nihil. It's been mentioned elsewhere that they are one band that put the apocalyptic rightfully back into the "apocalyptic folk" genre tag. Their debut LP, ONUS, is evidence of that fact.
The Bone Reader
Unspoken + An interview with Phillip Cope of Kylesa Through the years, Kylesa has grown in leaps and bounds as measured by each of their successive recordings. With Spiral Shadow, released 2010, the band focused their chimerical energies and ascended to new heights, satisfying long-time fans and achieving a broader recognition at the same time.
Exclusive Youth Forgotten premiere of "Eyes On The Prize" We at BlowTheScene.com are stoked to kick off 2014 with an exclusive song stream from one of Cleveland's fiercest rising…Read More Year End Top Photos of 2013 pt III Our exclusive photo galleries have become an integral part of Blow The Scene throughout our history, due in no small…Read More
Blow The Scene - Music News, Band Interviews, Art, Concert Photos, and much more!
Pig Destroyer at Gwar-B-Q 2013 (more by Josh Sisk) Versus at Chickfactor 20 (more by Dominick Mastrangelo) Browse our full NYC show calendar for all of tonight's shows.
BrooklynVegan
Noise magazine
Eklektik - De Sillons en Syllabes
Métal, Indus, Rock, Pop, Hardcore, ... |News, chroniques, MP3, Vidéos, Interviews, ...|
www.nextclues.com
Perte & Fracas
XSILENCE.NET          . Le Webzine Communautaire du Rock Indépendant .
W-Fenec : Webzine Alternatif & Indépendant. [Rock Metal Indus]
Guts Of Darkness › Le webzine des musiques sombres et expérimentales : rock, jazz, progressif, metal, electro, hardcore...
Webzine et communauté dédié aux musiques METAL et dérivés - Since 1999
Slow End > D-day stands for Doomsday
The Sleeping Shaman - The Heavier Than Thou Webzine
Doom-metal.com
Dr. Doom's Lair
D.F.F.D - Doom Forever Forever Doomed
The Obelisk