Webzines et assimilés
Satan Owes Us Money
Les Notules Métalliques
CARBONIZED CELLS ' zine
fœtusfœtus
HEAVY MENTAL
crustcake - METAL BLOG: NEWS, REVIEWS, INTERVIEWS, MP3s AND MORE
Common Day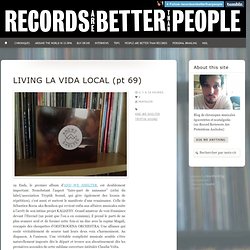 RECORDS ARE BETTER THAN PEOPLE
10. MIA Matangi Un des disques les plus brutal que j'aurais entendu cette année.
Home
BLABBERMOUTH.NET
Nightfall In Metal Earth : Chroniques reviews metal heavy progressif black death doom gothique
LURKER | Underground & Independent Art.
Attila the Hun
CVLT Nation
The Bone Reader
Blow The Scene - Music News, Band Interviews, Art, Concert Photos, and much more!
BrooklynVegan
Noise magazine
Eklektik - De Sillons en Syllabes
Métal, Indus, Rock, Pop, Hardcore, ... |News, chroniques, MP3, Vidéos, Interviews, ...|
www.nextclues.com
Perte & Fracas
XSILENCE.NET          . Le Webzine Communautaire du Rock Indépendant .
W-Fenec : Webzine Alternatif & Indépendant. [Rock Metal Indus]
Guts Of Darkness › Le webzine des musiques sombres et expérimentales : rock, jazz, progressif, metal, electro, hardcore...
HELLFEST 2014 - l'affiche (presque) complète !!! Après une première annonce, le HELLFEST révèle quasiment toute l'affiche de l'édition 2014 plus de 6 mois avant l'événement !! Pass 3 jours disponibles à 190€ et pass à la journée à 81,50€. http://www.hellfest.fr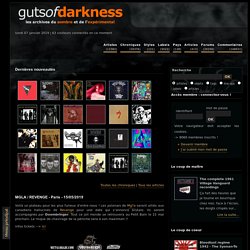 Webzine et communauté dédié aux musiques METAL et dérivés - Since 1999
Slow End > D-day stands for Doomsday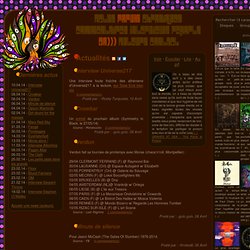 Voir · Écouter · Lire · Au pif Mêler doom extrême et electro-dark , voilà un pari qui, jusqu'à présent et à ma connaissance, n'avait jamais été relevé par quiconque....heureusement qu'il y a toujours des petits malins prêts à sortir des sentiers battus (ou en l'occurence de leurs fôrets démoniaques) pour amener au public avide de nouveautés sa dose d'inconnu. En l'occurence, nos héros du jour répondent à l'énigmatique enseigne de Woods of Belial, viennent de Finlande (ô la belle surprise!) et ont apparemment décidé qu'il fa (...)WOODS OF BELIAL - Deimos XIII Failure Le groupe devrait se reformer en 2014, avec le line-up originel.2 commentaire(s)
The Sleeping Shaman - The Heavier Than Thou Webzine
Doom-metal.com
Dr. Doom's Lair
D.F.F.D - Doom Forever Forever Doomed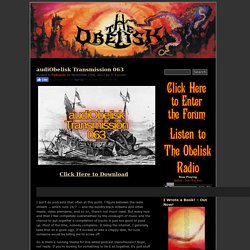 I've been trying to get this one on the page for a couple weeks now — really since last year if you want to go back that far — and I finally just decided to do it. Granted, it's already 2014, but I'm pretty used to being behind the times, so I hope you'll indulge me on this one. The thing is, of course we already did the Top 20 Albums of 2013, but that leaves an awful lot out in terms of quality shorter releases. Demos, singles, EPs, splits — whatever it might be — there's a lot more to the story of a year in music than who's putting out what full-length.
The Obelisk