Blogs
what is reality anyway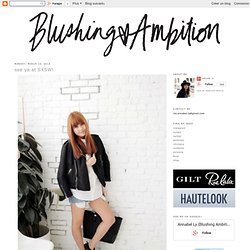 Oh hey, Happy New Year! I've been sitting on this NY Resolutions post for the past week without any real intent to post but when Refinery29 and Clearasil challenged me to express how I am attempting to win the day. So yeah, why not? It was an interesting experience to collect these goal and hopefully start moving towards them ASAP.
Rosa-Fiona Bettina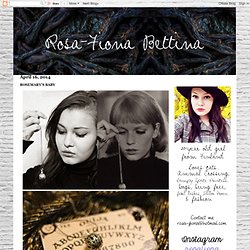 Have an amazing new year! Here is the make up post I promised to do some time ago. This is not a tutorial, I just put make up on my face without any imagination, really.
If you've been reading my blog for a while, you'll know I'm a big fan of Asos- they supply me with all of my midi pencil skirts, dresses, and white tees. Recently, they sent over a box of their newest arrivals for spring so I tried on a few of my favorites for some quick photos... Wearing the Farleigh slim jean with a satin top and Alexander Wang mules. Paired the mesh sweatshirt with my vintage Levi's jacket, white jeans, and Air Force 1s. Cinched a white button-down with their hinged leather belt.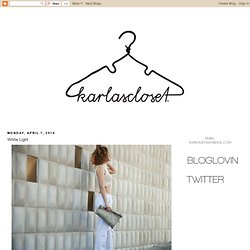 Flashes of Style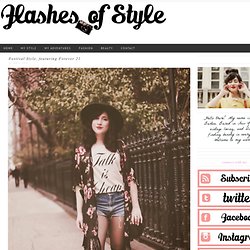 Okay so it's spring. Where is the sunshine and warmth, NYC?! Since it is clearly not appropriate for cut-offs and crop-tops, I channeled a bit of spring by wearing florals in my outfit. Groundbreaking, I know haha.
Anna Dello Russo Bryanboy Elin Kling FaceHunter Fashiontoast Industrie Magazine Mr. Blasberg Sea of Shoes Style Bubble Newsletter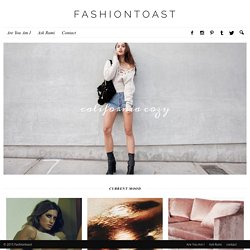 Picture by Mattias Swenson LOVE. Surprisingly enough I didn't really do much shopping during my stay in Stockholm, but one thing I brought back with me to NY was this awesome leather jacket from the Swedish brand Hunkydory. Love the fit + the large silver buttons!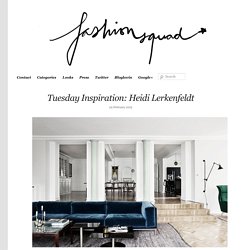 atsuii.
Le Blog de Sushi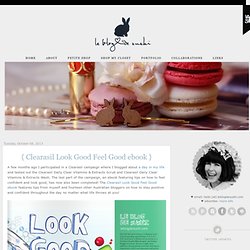 A few months ago I participated in a Clearasil campaign where I blogged about a day in my life and tested out the Clearasil Daily Clear Vitamins & Extracts Scrub and Clearasil Daily Clear Vitamins & Extracts Wash. The last part of the campaign, an ebook featuring tips on how to feel confident and look good, has now also been completed! The Clearasil Look Good Feel Good ebook features tips from myself and fourteen other Australian bloggers on how to stay positive and confident throughout the day no matter what life throws at you!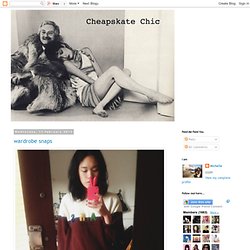 Cheapskate Chic
all photos from: Masahiro Sanbe Photography Considering Norwegian Wood is now on Blu Ray DVD and I dumped my super dumb boyfriend, it's about time things move on from 2011 to worthier pursuits - like growing my hair. The above photos illustrate how I want my hair to be by the end of this year, long voluminous and full of kinks.
Thursday March 28, 2013 Instagram: mmmxhm I finally have them! And just a stone-throws away from the originals. In case you missed these in stores like me or cannot find them on eBay, I've included a link to a few on sale around the net. Click away!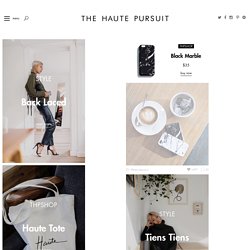 Fashion Geek's Closet
Life lately has been a series of wild unexpected turns, I guess days of unfluctuative swing driven by routine and lacking highlights never last that long. All will be fine if you fuel your fire enough to catch up with all those, or even better if you manage to get ahead of them. One thing I reaped from what has been so far is you cannot fight time.. heck, you cannot even argue or negotiate with it. It is ruthless, much like a king of a natural selection arena.
One thing I can tell you, I hate maternity clothes. Maybe I would like them if I took a traveled in time to 2005, but for the most part that's impossible. Getting ready for 400 fashion bloggers can be a nightmare when everything fits wonky, and maternity clothes aren't my jam. However, I figured to invest in a few good dresses and headed down to Pea in The Pod. Luckily they had a beautiful Ksenia dress by BCBG (which also comes in regular size.. or maybe works as both?)