Appetizers/Snacks
Cucumber Feta Rolls | Easy Holiday Appetizer. Cucumber Feta Rolls [Holiday Recipe Exchange] Appetizers and Snacks, Holiday Recipes, Recipe Exchange | 40 comments I don't know about the rest of you, but I really feel like the Thanksgiving and Christmas holiday season snuck up on me this year.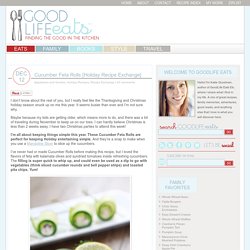 It seems busier than ever and I'm not sure why. Maybe because my kids are getting older, which means more to do, and there was a bit of traveling during November to keep us on our toes. I can hardly believe Christmas is less than 2 weeks away. Antipasto Kabobs. TWO POSTS IN TWO DAYS???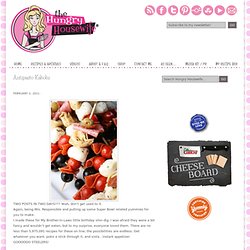 Yeah, don't get used to it. Again, being Mrs. Responsible and putting up some Super Bowl related yummies for you to make. I made these for My Brother-In-Laws little birthday shin-dig. I was afraid they were a bit fancy and wouldn't get eaten, but to my surprise, everyone loved them. Cowboy Sushi. I know that foods differ by region, ethnicity and family.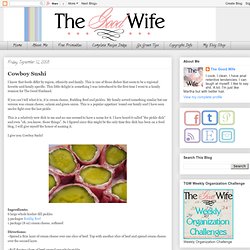 This is one of those dishes that seem to be a regional favorite and family specific. This little delight is something I was introduced to the first time I went to a family reunion for The Good Husband. If you can't tell what it is, it is cream cheese, Budding Beef and pickles. My family served something similar but our version was cream cheese, salami and green onion. Baked Zucchini Sticks and Sweet Onion Dip: that bloomin' zucchini! Today, class, it being late July and all, we're going to examine our zucchini facts: •Zucchini is always at the end of any A-to-Z food list; •Zucchini and fruitcake are the undeserving targets of many a joke; •The zucchini plant literally grows like a weed, making it absolutely ubiquitous in vegetable gardens across America; •And for that reason, enterprising cooks have discovered ways to turn it into muffins, and cake, and pancakes, and… Baked Zucchini Sticks.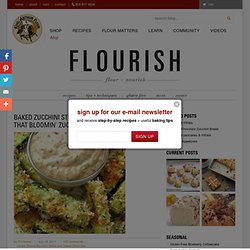 You know that onion appetizer that came into bloom back in the late '80s? Outback Steakhouse claims it invented the "Bloomin' Onion" back in 1988, and it wasn't long before quasi-fast food restaurants adopted it as the hottest appetizer since artichoke dip baked in a bread bowl. Afternoon Snack: Dip Strawberries in Yogurt & Freeze, and You Get This Amazing Snack: Vitamin G: Health & Fitness. Thursday, 9/15/2011 at 2:02PM by Sarah Jio Health and fitness writer.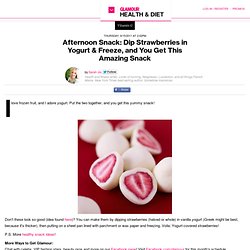 Lover of running, Nespresso, Lululemon, and all things French. Mama. New York Times best-selling author. Sometime insomniac. Entertaining / cute mini appetizers.
---