Social Media
Get flash to fully experience Pearltrees
It took several years to see #hashtags linked properly on Twitter. I'm glad to see Google+ provide initial support so soon after launch! Hashtags are a great tool for helping distributed conversations collate on a moment's notice, and help people to discover content previous invisible to them. For example, fellow Googler + Scott Zuccarino (who also happens to work on this feature!) recently discovered incredible photos being shared daily by the photo community on Google+ using the following hashtags (this list was collated by + Darrell Hudson ): • #SelflessSunday, #SelfySunday, #SacredSunday
Frau @frolleinb auf twitter gibt zum Besten: "Bin so glücklich, dass meine Sitznachbarin ENDLICH aufgegessen hat. #ICE"; Andreas checkt sich in Erlangen im CineStar ein und kommentiert: "Mittwochs einen Blue Cheese Burger + Pfirsich Tee für kleines Geld" und Sarah kehrt ihr Innerstes nach Außen und postet auf Facebook: " die toilette is heut nacht mein bester freund geworden…magen-darm…:(:( " (darauf folgen 20 Kommentare mit Tipps und Ratschlägen von ihren Freunden!). Die heutige Gesellschaft ist so transparent und extrovertiert wie zuletzt im Mittelalter, als Herrscher ihre Gäste auf der Toilette empfingen und Geschäfte jeglicher Art besprochen und erledigt wurden.
Werbewoche: PR bedeutet heutzutage nicht mehr nur, Pressemeldungen zu verfassen, die vom Vorstand des Unternehmens vor der Freigabe noch drei Mal umgeschrieben werden, einen Internetauftritt zu betreuen und vielleicht ein paar E-Mails zu beantworten. PR 2.0 ist Dialog auf allen Kanälen, oft mit sehr kurzen Reaktionszeiten. Was bedeutet das für Öffentlichkeitsarbeiter?
Die 7 wichtigsten Aufgaben eines Community Manager – führende Experten geben Auskunft Autor des Artikels: Matias Roskos Aktuell bin ich mit den Vorbereitungen für die neuen Kurse an der Social Media Akademie beschäftigt, speziell mit dem neuen Lehrgang " Community Manager SMA ". In diesem Zusammenhang habe ich einige namhafte Community Manager Deutschlands zur Rolle des Community Managers befragt. Noch immer ist das Aufgabengebiet selten klar umrissen und wird in vielen Unternehmen unterschiedlich ausgelegt. Und viele Manager und Markenverantwortliche können mit diesem ganz neuen Berufsprofil noch nicht wirklich etwas anfangen.
Die hier vorgestellten Dienste werden nach den Kriterien Usability, Filteroptionen und Ergebnisqualität mit Noten von 1 (schlecht/nicht vorhanden) bis 10 (sehr gut) bewertet. 1. Socialmention ( http://socialmention.com ) Socialmention durchsucht über 100 Plattformen wie Facebook, Twitter, FriendFeed, YouTube, Digg und Google.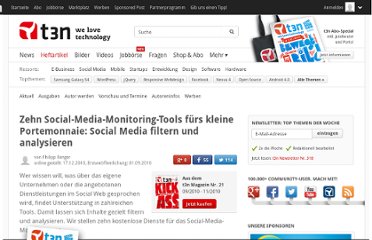 Social media refers to the means of interactions among people in which they create, share, and exchange information and ideas in virtual communities and networks. [ 1 ] Andreas Kaplan and Michael Haenlein define social media as "a group of Internet-based applications that build on the ideological and technological foundations of Web 2.0 , and that allow the creation and exchange of user-generated content . [ 2 ] Furthermore, social media depend on mobile and web-based technologies to create highly interactive platforms through which individuals and communities share, cocreate, discuss, and modify user-generated content. It introduces substantial and pervasive changes to communication between organizations, communities and individuals. [ 3 ] Social media differentiates from traditional/industrial media in many aspects such as quality, [ 4 ] reach, frequency, usability, immediacy and permanence. [ 5 ] There are many effects that stem from internet usage.