Information architecture
our vision | The Otherland Group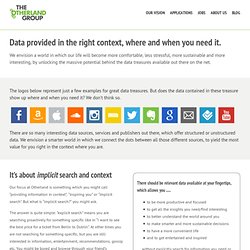 There should be relevant data available at your fingertips, which allows you … to be more productive and focusedto get all the insights you need/find interestingto better understand the world around youto make smarter and more sustainable decisionsto have a more convenient lifeand to get entertained and inspired … without explicitly search for information you need or might find useful, interesting and inspriring! Connecting the dots to create more value for all of us.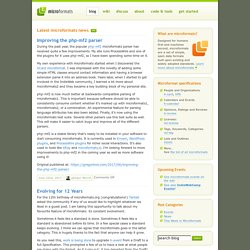 Last week the microformats.org community celebrated its 7th birthday at a gathering hosted by Mozilla in San Francisco and recognized accomplishments, challenges, and opportunities. Humans First: Admin Emeriti & New Admins The microformats tagline "humans first, machines second" forms the basis of many of our principles, and in that regard, we'd like to recognize a few people and thank them for their years of volunteer service as community admins:
Im Juni sind Christian und ich zufällig mit David Maciejewski von Technikwürze ins Gespräch gekommen: Da beide Podcasts über die Zeit etwas eingeschlafen sind, haben wir uns (virtuell) zusammen gesetzt und uns entschieden, beide Projekte zusammen zu legen und zukünftig nur noch einen Podcast zu betreiben, diesen dafür aber wieder etwas häufiger. Da die Technikwürze älter ist, mehr Hörer hat und ein breiteres Spektrum bedient, wird der OpenWeb-Podcast mit der aktuellen Folge (Technikwürze 187 – Metainformationen und Semantisches Web) in der Technikwürze aufgehen. Ich werde weiterhin versuchen aktuelle "OpenWeb"-Themen zu behandeln (vielleicht schaut ja auch Christian ab und zu vorbei), aber die Jungs von der Technikwürze auch bei anderen Themen unter die Arme greifen. Ich würde mich freuen wenn ihr uns unterstützt und fleißig Themen vorschlagen würdet.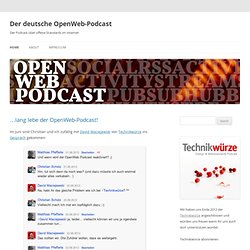 Der deutsche OpenWeb-Podcast | Der Podcast über offene Standards im Internet
Das Resource Description Framework (RDF, engl. sinngemäß "System zur Beschreibung von Ressourcen") bezeichnet eine technische Herangehensweise im Internet zur Formulierung logischer Aussagen über beliebige Dinge (Ressourcen). Ursprünglich wurde RDF vom World Wide Web Consortium (W3C) als Standard zur Beschreibung von Metadaten konzipiert. Mittlerweile gilt RDF als ein grundlegender Baustein des Semantischen Webs.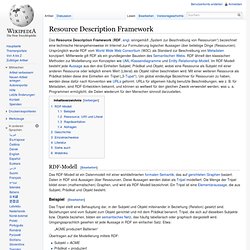 Resource Description Framework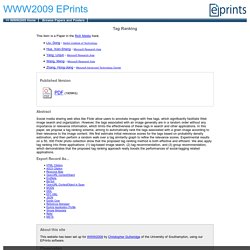 This item is a Paper in the Rich Media track. Abstract Social media sharing web sites like Flickr allow users to annotate images with free tags, which significantly facilitate Web image search and organization.
Tag Ranking - WWW2009 EPrints