Information architecture
Our vision | The Otherland Group. There should be relevant data available at your fingertips, which allows you … to be more productive and focusedto get all the insights you need/find interestingto better understand the world around youto make smarter and more sustainable decisionsto have a more convenient lifeand to get entertained and inspired … without explicitly search for information you need or might find useful, interesting and inspriring!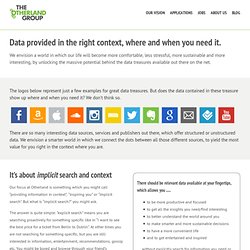 Connecting the dots to create more value for all of us. Microformats. hCard Creator. Der deutsche OpenWeb-Podcast | Der Podcast über offene Standards im Internet. Resource Description Framework. Das Resource Description Framework (RDF, engl. sinngemäß "System zur Beschreibung von Ressourcen") bezeichnet eine technische Herangehensweise im Internet zur Formulierung logischer Aussagen über beliebige Dinge (Ressourcen).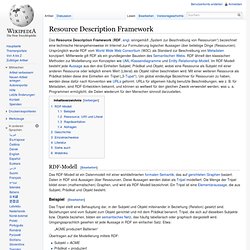 Ursprünglich wurde RDF vom World Wide Web Consortium (W3C) als Standard zur Beschreibung von Metadaten konzipiert. Mittlerweile gilt RDF als ein grundlegender Baustein des Semantischen Webs. Tag Ranking - WWW2009 EPrints.
---