Information architecture
our vision | The Otherland Group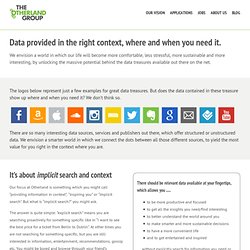 There should be relevant data available at your fingertips, which allows you …
This user interface, and the code behind it, is provided as an example for the benefit of microformat open standards developers, and to demonstrate the clear one to one correspondence between microformat fields and microformat code. The code generated by this interface may be used for semantic web pages, structured blogging, or any other application that requires markup that is simultaneously human presentable and machine readable.
hCard Creator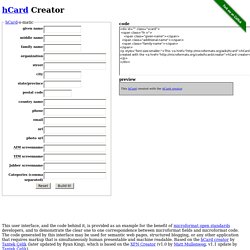 Der deutsche OpenWeb-Podcast | Der Podcast über offene Standards im Internet
Das Resource Description Framework ( RDF , engl. sinngemäß "System zur Beschreibung von Ressourcen") bezeichnet eine technische Herangehensweise im Internet zur Formulierung logischer Aussagen über beliebige Dinge (Ressourcen). Ursprünglich wurde RDF vom World Wide Web Consortium (W3C) als Standard zur Beschreibung von Metadaten konzipiert. Mittlerweile gilt RDF als ein grundlegender Baustein des Semantischen Webs .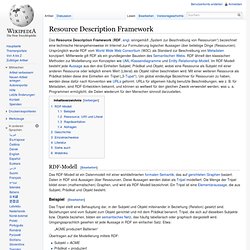 Resource Description Framework
Tag Ranking - WWW2009 EPrints