Arts
Wayne White. Indiemapper - Free yourself from GIS. A selection of graphic projects. Matthew Ritchie | The Hard Way | The Watchers. Bright stupid confetti. Slightly random. Adolf Wölfli: Home. COLLECTION » Blog. La dent et l'Ours Hydrocéphale Avant que Noémie Sauve ne présente son travail lors de son exposition personnelle Être confondu le 20 mars 2014, nous allons faire un petit tour et visiter son atelier à Montreuil.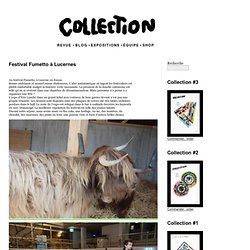 On discute de sujets variés : de l'écologie, de l'animal dans un milieu transformé par l'Homme, de l'adaptation et des tensions entre sauvage et domestiqué. Noémie Sauve dessine beaucoup d'animaux hybrides mais pas si chimères que ça (c'est simplement qu'on ne sait plus ce qui est naturel ou non, alors à quoi bon dire que ce sont des chimères ?).
Elle utilise du crayon de papier avec un traitement soigné comme une gravure ponctuée de couleurs fluos et de paillettes. Noémie Sauve travaille différents médiums: du dessin, de la sculpture (en bronze, en ciment, en terre émaillée, en marbre…), de la peinture, de la photographie : des mises en scènes disconographiques mais aussi de l'architecture improvisée et des spectacles chantés. New Page 1. The Atlas Coelestis (1742) of Johann Gabriel Doppelmayr. Johann Gabriel Doppelmayr (also spelled Doppelmair, Doppelmaier or Doppelmayer) was the son of the Nuremberg merchant Johann Siegmund Doppelmayr (1641-1686) and was born on 27 September 1677 (many early sources incorrectly give his year of birth as 1671).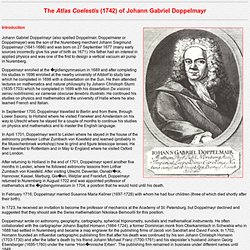 His father had an interest in applied physics and was one of the first to design a vertical vacuum air pump in Nuremberg. Doppelmayr enrolled at the gidiengymnasium in 1689 and after completing his studies in 1696 enrolled at the nearby university of Altdorf to study law which he completed in 1698 with a dissertation on the Sun. He then attended lectures on mathematics and natural philosophy by Johann Christoph Sturm (1635-1703) which he completed in 1699 with his dissertation De visionis sensu nobilissimo, ex camerae obscurae tenebris illustrato.
He continued his studies on physics and mathematics at the university of Halle where he also learned French and Italian.
---