Arts
Wayne White
Matthew Ritchie | The Hard Way | The Watchers
Walking through fields alone, listening to music through headphones, I suddenly remembered a screenshot I had taken whilst watching some BBC art documentary several months ago. I couldn't remember what the film was about or who the painting was by, I could only remember the words, which read: In the dim, 4pm, November light, the fields I was walking through, to take a break from writing at my computer, seemed in comparison (to everything inside of the computer) to be, just that; completely ordinary. Everything was grey and dying and there was barely any movement, just the occasional murder of crows flying overhead, somewhat ominously. I returned to my screen and googled the painting.
bright stupid confetti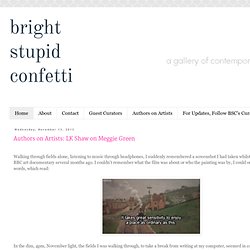 Slightly random
Adolf Wölfli: Home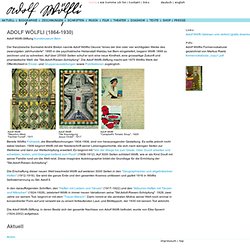 Adolf Wölfli-Stiftung Kunstmuseum Bern Der französische Surrealist André Breton nannte Adolf Wölflis Oeuvre "eines der drei oder vier wichtigsten Werke des zwanzigsten Jahrhunderts". 1895 in die psychiatrische Heilanstalt Waldau bei Bern eingeliefert, begann Wölfli 1899 zu zeichnen und zu schreiben. Auf über 25'000 Seiten schuf er sich eine neue Kindheit, eine grossartige Zukunft und phantastische Welt: die "Skt.Adolf-Riesen-Schöpfung". Die Adolf Wölfli-Stiftung macht seit 1975 Wölflis Werk der Öffentlichkeit in Einzel- und Gruppenausstellungen sowie Publikationen zugänglich. Bereits Wölflis Frühwerk, die Bleistiftzeichnungen 1904-1906, sind von herausragender Gestaltung.
Ludovic Boulard Le Fur, dont nous suivons méticuleusement le travail depuis des années, expose ses derniers travaux à la galerie Celal ces prochains jours (exposition EXTENSION, en compagnie de Popay et Paola Delphin). C'est le moment de voir ou revoir les bois gravés qu'il avait montré au centre d'art de Pontault-Combault « Les Passerelles » en avril 2013. Dernièrement nous avions vu passer sur le site de Frédéric Magazine (ici, ici, ici ou là) ou sur son flickr, une nouvelle série de petits formats aux formes végétales. C'est l'occasion d'en montrer une partie et de poser quelques questions à Ludovic à propos de ses derniers travaux… L'année dernière, tu montrais l'installation « Brûle Monsieur Carnaval » à la Cour Carrée de Pontault-Combault (77). Aujourd'hui tu montres certains de ces bois gravés à la galerie Celal, peux tu nous raconter l'histoire de ces bois ?
COLLECTION » Blog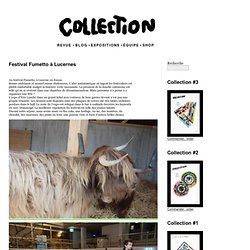 New Page 1
Johann Gabriel Doppelmayr (also spelled Doppelmair, Doppelmaier or Doppelmayer) was the son of the Nuremberg merchant Johann Siegmund Doppelmayr (1641-1686) and was born on 27 September 1677 (many early sources incorrectly give his year of birth as 1671). His father had an interest in applied physics and was one of the first to design a vertical vacuum air pump in Nuremberg. Doppelmayr enrolled at the gidiengymnasium in 1689 and after completing his studies in 1696 enrolled at the nearby university of Altdorf to study law which he completed in 1698 with a dissertation on the Sun. He then attended lectures on mathematics and natural philosophy by Johann Christoph Sturm (1635-1703) which he completed in 1699 with his dissertation De visionis sensu nobilissimo, ex camerae obscurae tenebris illustrato. He continued his studies on physics and mathematics at the university of Halle where he also learned French and Italian.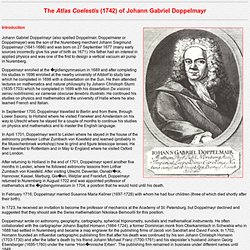 The Atlas Coelestis (1742) of Johann Gabriel Doppelmayr