Spatial européen
La France et l'Allemagne dans le spatial européen. Deuxième conférence-débat du cycle franco-allemand sur les hautes technologies organisée par le Cerfa et la Chambre Franco-Allemande de commerce.Intervenants :Alain Bories, directeur de la Stratégie et du Développement, OHB Technology AG,Johannes von Thadden, directeur des Affaires publiques, EADS Astrium Germany,Bernhard von Weyhe, responsable Relations Médias, European Space Agency (ESA).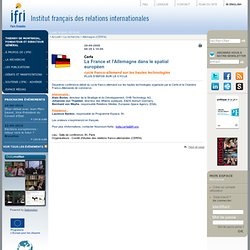 Présidence : Laurence Nardon, responsable du Programme Espace, Ifri. Les orateurs s'exprimeront en français. European Space Agency. EADS Astrium. OHB System ENG - Space Systems + Security. OHB System AG is a mid-size German space technology company and a subsidiary of the OHB Group.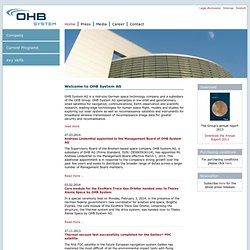 OHB System AG specializes in low-orbit and geostationary small satellites for navigation, communications, Earth observation and scientific research, leading-edge technologies for human space flight, models and studies for exploring our solar system as well as reconnaissance satellites and instruments for broadband wireless transmission of reconnaissance image data for greater security and reconnaissance.
---