Blogs
PONARS Eurasia
Радиостанция "Эхо Москвы" / Блоги
Russia Blog
Pavel Baev's Blog - PRIO
Russian strategic nuclear forces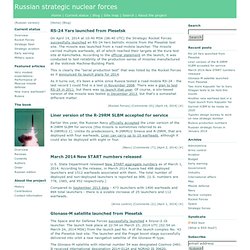 In April 2010, Rosnadzor, the regulatory body of the Russian government, issued a directive that ordered an environmental assessment of a very interesting project - "construction of facilities of the A35-71 launcher with a space head section at the Object 307 site ("создание комплекса ракеты-носителя А35-71 с космической головной частью на объекте 370"). This very brief phrase in a routine bureaucratic document raises quite a few questions - what are exactly the "A35-71 launcher", its "space head section", and "Object 370"? The short answer is that we don't really know.
Russian Military Reform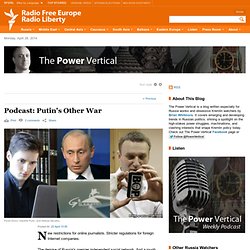 I t began with a roar and it ended with a whimper. As 2012 wound down in Russia, the soaring expectations for change that accompanied the civic awakening and mass protests at the year's dawn had clearly faded. But the social, economic, and political forces that spawned them will continue to shape the landscape well into the new year.
The Power Vertical
Window on Eurasia
Russia: Other Points of View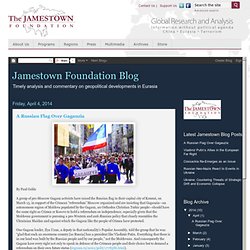 Militant Leadership Monitor - February Issue February 28, 2013 This issue of Militant Leadership Monitor includes in-depth portraits of Tripoli's Hussam Abdullah Sabbagh, Hamas Political Bureau Chief Khalid Meshaal, Egypt's Muhammad al-Zawahiri and the Toulouse gunman Muhammad... Category: Report
Eurasia Blog - The Jamestown Foundation
Deux ans après le début du « printemps arabe », l'on assiste davantage à une désintégration des Etats au Proche-Orient qu'à une « transition », que l'on voudrait démocratique, ou à une prise du pouvoir, dont on redoute qu'elle profite aux éléments islamistes les plus radicaux. Le cas de la Syrie est le plus évident, puisque le soulèvement spontané et pacifique du printemps 2011 s'est vite transformé en guerre civile, en raison de la résistance acharnée du régime, soutenu par ses alliés en Iran et en Russie. Si Bachar el Assad ne contrôle plus une bonne partie du territoire syrien, il est toujours à la tête d'une armée redoutable, qui assure son maintien au pouvoir à Damas. Il s'apparente, de plus en plus à un chef de milice -solidement appuyée sur la minorité alaouite- parmi d'autres milices. La Syrie est en phase avancée de démembrement.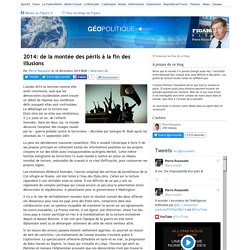 The Cable | FOREIGN POLICY