S Recipes
Vietnamese Meatballs | Simple Comfort Food. I do not know what came over me on this recipe, but I think I was thinking of the Thai fish balls I made some time ago.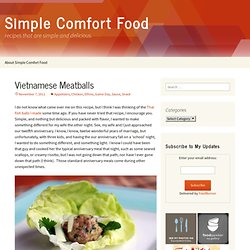 If you have never tried that recipe, I encourage you. Simple, and nothing but delicious and packed with flavor, I wanted to make something different for my wife the other night. Easy & Delicious Guacamole Recipe | With Style and Grace. This makes me happy. very happy.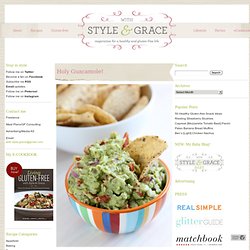 What also makes me happy is seeing the expression on my husband and friends faces when they dip in. Truth be told, it's how I make friends. During the summer, I'll make a big batch of this and my husband and I will sit out on the patio, drinking corona, eating chips and guac, laughing, something crying and dreaming [aloud]. It's the little things in life.
Arabic Lentil Soup. Sweet Sadie's Baking: Stollen. As I started writing about this month's challenge...I started thinking back to the beginning of my blog.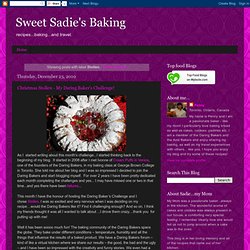 It started in 2008 after I met Ivonne of Cream Puffs in Venice, one of the founders of the Daring Bakers, in my baking class at George Brown College in Toronto. She told me about her blog and I was so impressed I decided to join the Daring Bakers and start blogging myself. For over 2 years I have been pretty dedicated each month completing the challenges and yes... I may have missed one or two in that time...and yes there have been failures... Spaghetti Carbonara with Roasted Garlic | Sortachef. The woman at the desk was sympathetic but unable to help.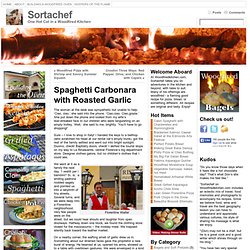 'Ciao, ciao,' she said into the phone. 'Ciao,ciao. Ciao,grazie.' She put down the phone and looked from my wife's tear-streaked face to our children who were languishing on an empty trolley. Homemade Pop-Tarts. April 29, 2011 | Print | E-mail | Filed under pastry Ever since I made the happy discovery that I can eat nutella, a whole new world has opened up to me.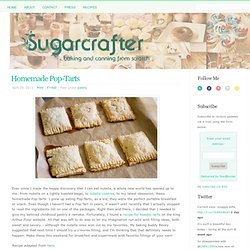 From nutella on a lightly toasted bagel, to nutella cookies, to my latest obsession, these homemade Pop-Tarts. I grew up eating Pop-Tarts; as a kid, they were the perfect portable breakfast or snack. Even though I haven't had a Pop-Tart in years, it wasn't until recently that I actually stopped to read the ingredients list on one of the packages. Right then and there, I decided that I needed to give my beloved childhood pastry a remake. Pretzel Bites with Homemade Honey Mustard | Some Kitchen Stories Pretzel Bites with Homemade Honey Mustard | What happens when a writer and a photographer get together to make delicious food.
Julia looked at her new friend doubtfully.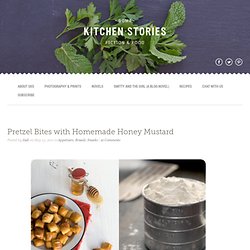 "And where am I supposed to sleep?" The little shell gave her a look as if he was trying to shrug his shoulders. He couldn't, of course. He was a shell. MAKING THE PERFECT PIE CRUST. Everyone has their favorite pie crust recipe.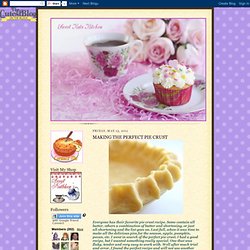 Some contain all butter, others a combination of butter and shortening, or just all shortening and the list goes on. Last fall, when it was time to make all the delicious pies for the season, apple, pumpkin, pecan, etc. I went in search of the perfect pie crust. I had a good recipe, but I wanted something really special. Veuillez patienter… Homemade pop tarts. I never had a Pop-Tart until college.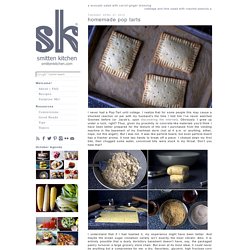 I realize that for some people this may cause a shocked reaction on par with my husband's the time I told him I've never watched Goonies before (or Jacob's, upon discovering the internet). Obviously I grew up under a rock, right? A Virtual Picnic For the Planet (recipe: Pressed Sandwiches) Sugar Plum: Hot Cross Buns. Sinkers or Floaters? The Secret to Fluffy and Airy Matzo Balls for your Matzo Ball Soup. « There are few things more comforting than a bowl of homemade soup and one of my favorites is Matzo ball soup.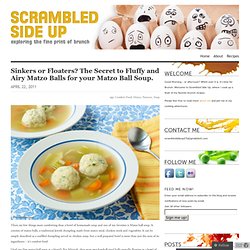 It consists of matzo balls, a traditional Jewish dumpling made from matzo meal, chicken stock and vegetables. It can be simply described as a unfilled dumpling served in chicken soup, but a well prepared bowl is more than just the sum of its ingredients – it's comfort food. I had my first matzo ball soup at a friend's Bar Mitzvah, they were two baseball sized balls proudly floating in a bowl of chicken broth.
I will admit that at first glance it wasn't much to look at, nor did it look too enticing and frankly I was concerned that the matzo balls would be really tough and bland. Blindly, Patiently. | A Sweet Spoonful. What I'm about to tell you doesn't make a whole lot of sense.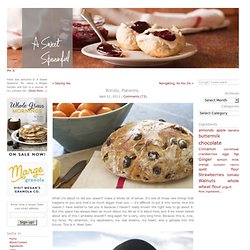 It's one of those rare things that happens to you and that's so much bigger than you — it's difficult to put it into words. And the reason I have waited to tell you is because I haven't really known the right way to go about it. Mobile Alabama Bed and Breakfast, Mobile AL Bed and Breakfast. New York-Style Crumb Cake. I am always on the hunt for a great crumb cake recipe and since crumb cake is a pretty big thing to this [former] New York girl, finding just the right recipe is really important to me. See, I watched many a crumb cake pass through the hands of family and friends while I grew up.
It was the dessert of choice to bring to someone's house when you were going for coffee and usually it was an Entemann's cake. When Entemann's came out with their "Ultimate Crumb Cake" years ago, it was the best thing since sliced bread - loads of big crumbs with a fresh and soft yellow cake underneath is what has driven people crazy for years and I'm thrilled to say that I've found a recipe that meets my high expectations. Cook's Illustrated has pulled together a super easy and fantastic recipe for this beloved cake and I'm so excited to share it with you today! Dark Chocolate & Raspberry Buttercream Cake with Ganache Drizzle.
I have a bit of a dilemma. Okay, I have a big, big dilemma: this cake is sitting 6′ away from me in the fridge right now, and I'm trying to resist it! You'd think I'd be used to sitting in arms' reach of cake all day long, but sometimes, well, maybe often, it's almost impossible not to sit down to the entire thing with a fork and just go to it. The thing is, as much as I joke about the amount of cake I eat, I also take a break from the sweets now and again, to make sure I stay healthy & fit. Sadly, now is one of those times! I did take a few bites, to makes sure it all tasted great, but that's all. Sunday Brunch: Simple Fish Cakes. [Photograph: Sydney Oland] Editor's note: Each Saturday morning we bring you a Sunday Brunch recipe. Why on Saturday? How to Make Greek Yogurt. Make your own regular or Greek yogurt at home with this easy method. Next to salad in a jar, homemade fat-free Greek yogurt is one of my most powerful weapons in the war against extra poundage.
I eat it a minimum of twice a day–with my breakfast cereal and as an afternoon snack. It's satisfying. (Similar to milk–see Got Milk?) It has luxuriously creamy texture.It's mild.It's full of calcium and protein (See more extensive discussion about protein here.)It's good for the digestive system.It lends itself to many flavor variations.It's inexpensive when you make it yourself. Sprinkled with Flour: Chai Panna Cotta with Honey Jelly- DB Challenge. Mini Ginger Almond Cheesecakes › shutterbean. "I've never had almond cheesecake before!" My neighbor exclaimed after she stuffed her THIRD mini ginger almond cheesecake into her mouth. "Same here," I muttered through my mouth full of cheesecake. We were standing around a plate of mini ginger almond cheesecakes on my kitchen island as if we were two college students huddled over a bong. You can be rest assured, we were just making sure to test each and every cheesecake for quality assurance!
Stephanie Cooks. Asian. The Gardening Season Swan Song: Roasted Green Tomato Salsa. - Something Edible. Recipe -- Arnhem Girls Cookies | Savour Fare. Easy Pumpkin Cheese Danish and a Cookbook Giveaway! Rustic sourdough: the secret to making amazing bread at home [5 ingredients | simple baking] Gingerbread cupcakes. | Sweet Girl Confections. Dorie's Favorite Pecan Pie. Spatulas, Corkscrews & Suitcases: Tuesdays with Dorie. Sweet Life Kitchen. Savory Soup Recipes Blog. Seriously Soupy. Sporkorfoon.com/ Project Food Blog Entry: A Star Is Born: Snack Girl! Project Food Blog Entry: Off to Iraq! Falafel sandwich w/tahini sauce.
Recipes — Savvy Eats. Potato Bread. Sweet Potato Whoopie Pies with Maple Marshmallow Creme. Just the Recipes - Something Edible. Shesimmers.
---