S Recipes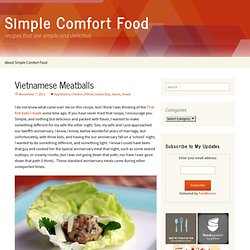 Vietnamese Meatballs | Simple Comfort Food
I do not know what came over me on this recipe, but I think I was thinking of the Thai fish balls I made some time ago. If you have never tried that recipe, I encourage you. Simple, and nothing but delicious and packed with flavor, I wanted to make something different for my wife the other night.
This makes me happy. very happy. What also makes me happy is seeing the expression on my husband and friends faces when they dip in. Truth be told, it's how I make friends. During the summer, I'll make a big batch of this and my husband and I will sit out on the patio, drinking corona, eating chips and guac, laughing, something crying and dreaming [aloud]. It's the little things in life.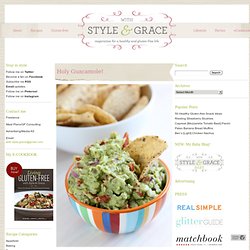 Easy & Delicious Guacamole Recipe | With Style and Grace
Sips and Spoonfuls: Arabic Lentil Soup
As I started writing about this month's challenge...I started thinking back to the beginning of my blog.
Sweet Sadie's Baking: Stollen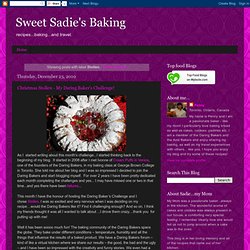 Spaghetti Carbonara with Roasted Garlic | Sortachef
The woman at the desk was sympathetic but unable to help.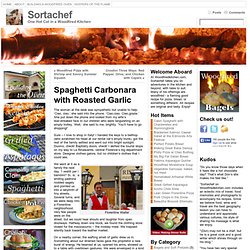 April 29, 2011 | Print | E-mail | Filed under pastry Ever since I made the happy discovery that I can eat nutella, a whole new world has opened up to me.
Homemade Pop-Tarts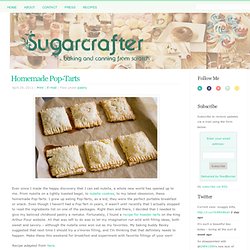 Pretzel Bites with Homemade Honey Mustard | Some Kitchen Stories Pretzel Bites with Homemade Honey Mustard | What happens when a writer and a photographer get together to make delicious food.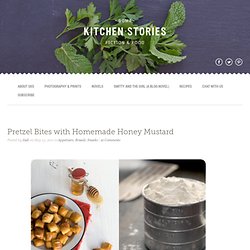 May 13, 2011 by Judi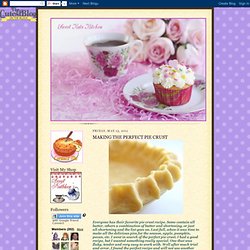 MAKING THE PERFECT PIE CRUST
Everyone has their favorite pie crust recipe.
Veuillez patienter…
I never had a Pop-Tart until college. I realize that for some people this may cause a shocked reaction on par with my husband's the time I told him I've never watched Goonies before (or Jacob's, upon discovering the internet). Obviously I grew up under a rock, right?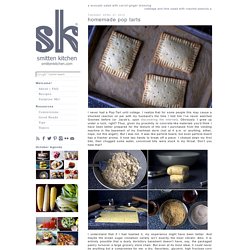 homemade pop tarts
A Virtual Picnic For the Planet (recipe: Pressed Sandwiches)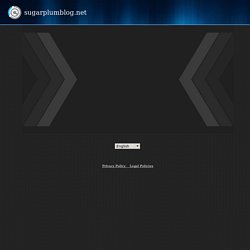 Good Friday everyone! Or do I say Happy Good Friday? Are you excited for Easter Sunday? I love celebrating Easter with my family and can't wait. I also love Reese's Peanut Butter Eggs, too. Those are my favorite things to eat on Easter.
Sugar Plum: Hot Cross Buns
There are few things more comforting than a bowl of homemade soup and one of my favorites is Matzo ball soup.
Sinkers or Floaters? The Secret to Fluffy and Airy Matzo Balls for your Matzo Ball Soup. «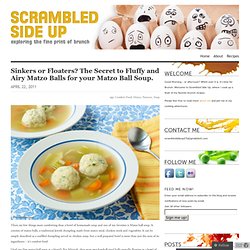 Blindly, Patiently. | A Sweet Spoonful
What I'm about to tell you doesn't make a whole lot of sense. It's one of those rare things that happens to you and that's so much bigger than you — it's difficult to put it into words. And the reason I have waited to tell you is because I haven't really known the right way to go about it.
Mobile Alabama Bed and Breakfast, Mobile AL Bed and Breakfast
I am always on the hunt for a great crumb cake recipe and since crumb cake is a pretty big thing to this [former] New York girl, finding just the right recipe is really important to me. See, I watched many a crumb cake pass through the hands of family and friends while I grew up. It was the dessert of choice to bring to someone's house when you were going for coffee and usually it was an Entemann's cake. When Entemann's came out with their "Ultimate Crumb Cake" years ago, it was the best thing since sliced bread - loads of big crumbs with a fresh and soft yellow cake underneath is what has driven people crazy for years and I'm thrilled to say that I've found a recipe that meets my high expectations. Cook's Illustrated has pulled together a super easy and fantastic recipe for this beloved cake and I'm so excited to share it with you today!
New York-Style Crumb Cake
I have a bit of a dilemma. Okay, I have a big, big dilemma: this cake is sitting 6′ away from me in the fridge right now, and I'm trying to resist it!
Dark Chocolate & Raspberry Buttercream Cake with Ganache Drizzle
[Photograph: Sydney Oland] Editor's note: Each Saturday morning we bring you a Sunday Brunch recipe. Why on Saturday?
Sunday Brunch: Simple Fish Cakes
How to Make Greek Yogurt
Make your own regular or Greek yogurt at home with this easy method. Next to salad in a jar, homemade fat-free Greek yogurt is one of my most powerful weapons in the war against extra poundage.
Sprinkled with Flour: Chai Panna Cotta with Honey Jelly- DB Challenge
Mini Ginger Almond Cheesecakes › shutterbean
Stephanie Cooks
Asian
The Gardening Season Swan Song: Roasted Green Tomato Salsa. - Something Edible
Recipe -- Arnhem Girls Cookies | Savour Fare
Easy Pumpkin Cheese Danish and a Cookbook Giveaway!
rustic sourdough: the secret to making amazing bread at home [5 ingredients | simple baking]
gingerbread cupcakes. | Sweet Girl Confections
Dorie's Favorite Pecan Pie
Spatulas, Corkscrews & Suitcases: Tuesdays with Dorie
Sweet Life Kitchen
Savory Soup Recipes Blog
Seriously Soupy
sporkorfoon.com/
Project Food Blog Entry: A Star Is Born: Snack Girl!
Project Food Blog Entry: Off to Iraq! Falafel sandwich w/tahini sauce
Recipes — Savvy Eats
Potato Bread
Sweet Potato Whoopie Pies with Maple Marshmallow Creme
Just the Recipes - Something Edible
shesimmers