Non Electronic Game Design
This is a solitaire story game - you read one numbered section after another. Each describes a new situation, or provides rules about the choices and actions you can make. There are plenty of events and situations, so each game will be a new, fresh experience.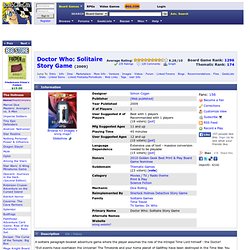 Doctor Who: Solitaire Story Game
RPGNow.com - The leading source for indie RPGs
How to Succeed or Fail on Kickstarter | Purple Pawn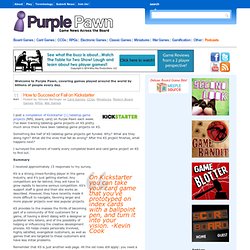 I post a compilation of Kickstarter [1] tabletop game projects (RPG, board, card) on Purple Pawn each week. I've been tracking tabletop game projects on KS pretty much since there have been tabletop game projects on KS. Something like half of KS tabletop game projects get funded. Why?
Gaming Unplugged Since 2000
s(ans)R(andom).com