Films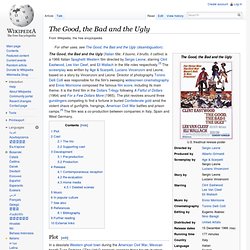 The Good, the Bad and the Ugly ( Italian title: Il buono, il brutto, il cattivo ) is a 1966 Italian epic Spaghetti western film directed by Sergio Leone , starring Clint Eastwood , Lee Van Cleef , and Eli Wallach in the title roles respectively. [ 3 ] The screenplay was written by Age & Scarpelli , Luciano Vincenzoni and Leone, based on a story by Vincenzoni and Leone. Director of photography Tonino Delli Colli was responsible for the film's sweeping widescreen cinematography and Ennio Morricone composed the famous film score , including its main theme. It is the third film in the Dollars Trilogy following A Fistful of Dollars (1964) and For a Few Dollars More (1965). The plot revolves around three gunslingers competing to find a fortune in buried Confederate gold amid the violent chaos of gunfights, hangings, American Civil War battles and prison camps. [ 4 ] The film was a co-production between companies in Italy, Spain and West Germany.
The Good, the Bad and the Ugly
Clinton " Clint " Eastwood, Jr. (born May 31, 1930) is an American film actor, director, producer, composer, and politician. Eastwood first came to prominence as a supporting cast member in the TV series Rawhide (1959–1966). He rose to fame for playing the Man with No Name in Sergio Leone 's Dollars trilogy of spaghetti westerns ( A Fistful of Dollars , For a Few Dollars More , and The Good, the Bad and the Ugly ) during the late 1960s, and as Harry Callahan in the Dirty Harry films ( Dirty Harry , Magnum Force , The Enforcer , Sudden Impact , and The Dead Pool ) throughout the 1970s and 1980s.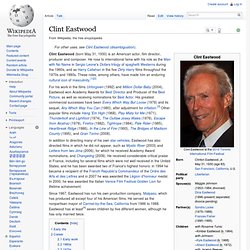 Clint Eastwood
Sergio Leone ( Italian: [ˈsɛrdʒo leˈoːne] ; January 3, 1929 – April 30, 1989) was an Italian film director , producer and screenwriter most associated with the " Spaghetti Western " genre. Leone's film-making style includes juxtaposing extreme close-up shots with lengthy long shots . His movies include The Last Days of Pompeii , The Colossus of Rhodes , the Dollars Trilogy ( A Fistful of Dollars , For a Few Dollars More and The Good, the Bad and the Ugly ), Once Upon a Time in the West , Duck, You Sucker!
Sergio Leone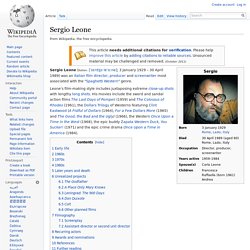 Ghost in the Shell ( 攻殻機動隊 , Kōkaku Kidōtai ? , literally "Mobile Armored Riot Police") , also known as The Ghost in the Shell , is a Japanese seinen manga series written and illustrated by Masamune Shirow . The manga was serialized in Young Magazine and was followed by a sequel, Ghost in the Shell 2: Man-Machine Interface ( 攻殻機動隊2 , Kōkaku Kidōtai 2 ? ) and a collection of manga chapters previously unreleased, titled Ghost in the Shell 1.5: Human-Error Processor ( 攻殻機動隊1.5 , Kōkaku Kidōtai 1.5 ? ) serving as an interquel. Each series was later published as its own tankōbon volume by Kodansha .
Ghost in the Shell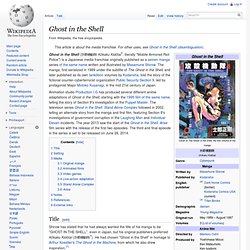 Mamoru Oshii (押井 守 Oshii Mamoru ; born August 8, 1951 in Tokyo ) is a Japanese filmmaker , television director , and writer . Famous for his philosophy-oriented storytelling, Oshii has directed a number of popular anime , including Urusei Yatsura 2: Beautiful Dreamer , Ghost in the Shell , and Patlabor 2: The Movie . He also holds the distinction of having created the first ever OVA , Dallos . For his work, Oshii has received and been nominated for numerous awards, including the Palme d'Or and Golden Lion .
Mamoru Oshii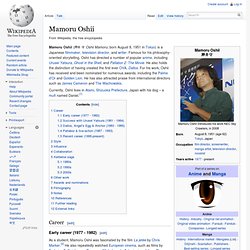 Kenji Kawai ( 川井 憲次 , Kawai Kenji ? ) , born April 23, 1957 in Shinagawa , Tokyo , is a Japanese music composer , for motion pictures, anime movies , video games and televised programs. He has contributed to the musical scores for numerous films from Japan and other countries in Asia, working in film genres as diverse as anime , horror , sci-fi and historical epic . Among his credits are Tsui Hark 's The Seven Swords and Wilson Yip 's Ip Man ; Mamoru Oshii's films The Red Spectacles , StrayDog: Kerberos Panzer Cops , Ghost in the Shell , Mobile Police Patlabor and Avalon ; the anime adaptations of Rumiko Takahashi's Ranma ½ and Maison Ikkoku ; the live-action adaptation of Gantz ; and Hideo Nakata's films Ring , Ring 2 , Chaos , Dark Water and Kaidan .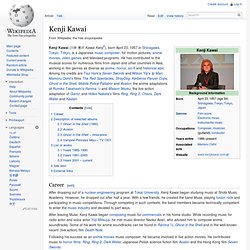 Kenji Kawai
Ghost in the Shell (film)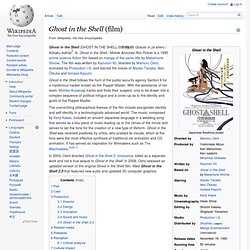 Ghost in the Shell ( GHOST IN THE SHELL/攻殻機動隊 , Gōsuto In Za Sheru/Kōkaku Kidōtai ? , lit. Ghost in the Shell / Mobile Armored Riot Police ) is a 1995 Japanese anime science fiction film based on manga of the same name by Masamune Shirow .
Saving Private Ryan
Saving Private Ryan is a 1998 American epic war film set during the invasion of Normandy in World War II . It was directed by Steven Spielberg and written by Robert Rodat . Noted for its graphic and realistic portrayal of war, the film is especially notable for the intensity of its opening 27 minutes, which depicts the Omaha Beach assault of June 6, 1944. The film follows United States Army Rangers Captain John H. Miller ( Tom Hanks ) and his squad ( Tom Sizemore , Edward Burns , Barry Pepper , Vin Diesel , Giovanni Ribisi , Adam Goldberg and Jeremy Davies ) as they search for a paratrooper , Private First Class James Francis Ryan ( Matt Damon ), who is the last-surviving brother of four servicemen.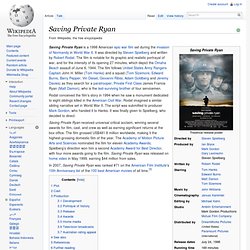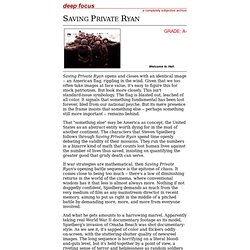 Saving Private Ryan
Saving Private Ryan opens and closes with an identical image -- an American flag, rippling in the wind. Given that we too often take images at face value, it's easy to figure this for stock patriotism. But look more closely. This isn't standard-issue symbology. The flag is blasted out, leached of all color. It signals that something fundamental has been lost forever, bled from our national psyche.
Steven Allan Spielberg (born December 18, 1946) [ 5 ] is an American film director, screenwriter, producer, and studio entrepreneur. In a career of more than four decades, Spielberg's films have covered many themes and genres. Spielberg's early science-fiction and adventure films were seen as archetypes of modern Hollywood blockbuster filmmaking. In later years, his films began addressing humanistic issues such as the Holocaust , the Transatlantic slave trade , war , and terrorism . He is considered one of the most popular and influential filmmakers in the history of cinema. [ 6 ] He is also one of the co-founders of DreamWorks movie studio.
Steven Spielberg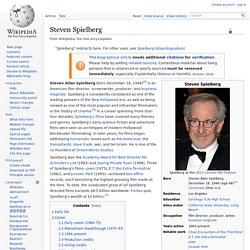 The Big Sleep is a 1946 film noir [ 1 ] [ 2 ] directed by Howard Hawks , the first film version of Raymond Chandler 's 1939 novel of the same name . The movie stars Humphrey Bogart as detective Philip Marlowe and Lauren Bacall as the female lead in a film about the "process of a criminal investigation, not its results." [ 3 ] William Faulkner , Leigh Brackett , and Jules Furthman co-wrote the screenplay. In 1997, the U.S.
The Big Sleep (1946 film)
Humphrey DeForest Bogart (December 25, 1899 – January 14, 1957) [ 1 ] [ 2 ] was an American actor [ 3 ] and is widely regarded as an American cultural icon . [ 4 ] [ 5 ] In 1999, the American Film Institute ranked Bogart as the greatest male star in the history of American cinema. After trying various jobs, Bogart began acting in 1921 and became a regular in Broadway productions in the 1920s and 1930s. When the stock market crash of 1929 reduced the demand for plays, Bogart turned to film. His first great success was as Duke Mantee in The Petrified Forest (1936), and this led to a period of typecasting as a gangster with films such as Angels with Dirty Faces (1938) and B-movies like The Return of Doctor X (1939). Bogart's breakthrough as a leading man came in 1941, with High Sierra and The Maltese Falcon .
Humphrey Bogart
Lauren Bacall ( pron.: / ˌ l ɔr ə n b ə ˈ k ɔː l / ; born Betty Joan Perske , September 16, 1924) is an American film and stage actress and model , known for her distinctive husky voice and sultry looks. She first emerged as leading lady in the Humphrey Bogart film To Have And Have Not (1944) and continued on in the film noir genre, with appearances in Bogart movies The Big Sleep (1946), Dark Passage (1947), and Key Largo (1948), as well as a comedienne in How to Marry a Millionaire (1953) with Marilyn Monroe and Designing Woman (1957) with Gregory Peck . Bacall has also worked on Broadway in musicals, gaining Tony Awards for Applause in 1970 and Woman of the Year in 1981. Her performance in the movie The Mirror Has Two Faces (1996) earned her a Golden Globe Award and an Academy Award nomination. In 1999, Bacall was ranked #20 of the 25 actresses on the AFI's 100 Years... 100 Stars list by the American Film Institute .
Lauren Bacall