Films
Olly Moss. The Good, the Bad and the Ugly. The Good, the Bad and the Ugly (Italian title: Il buono, il brutto, il cattivo) is a 1966 Italian Spaghetti Western film directed by Sergio Leone, starring Clint Eastwood, Lee Van Cleef, and Eli Wallach in the title roles respectively.[3] The screenplay was written by Age & Scarpelli, Luciano Vincenzoni and Leone, based on a story by Vincenzoni and Leone.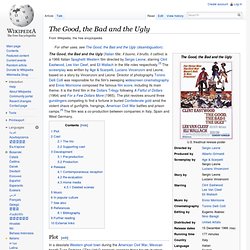 Director of photography Tonino Delli Colli was responsible for the film's sweeping widescreen cinematography and Ennio Morricone composed the famous film score, including its main theme. It is the third film in the Dollars Trilogy following A Fistful of Dollars (1964) and For a Few Dollars More (1965). The plot revolves around three gunslingers competing to find a fortune in buried Confederate gold amid the violent chaos of gunfights, hangings, American Civil War battles and prison camps.[4] The film was a co-production between companies in Italy, Spain and West Germany. Clint Eastwood. Since 1967, Eastwood has run his own production company, Malpaso, which has produced all except four of his American films.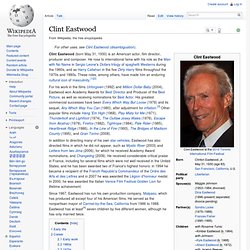 He served as the nonpartisan mayor of Carmel-by-the-Sea, California from 1986 to 1988. Eastwood has at least[4] seven children by five different women, although he has only married twice. Early life[edit] Sergio Leone. Sergio Leone (Italian: [ˈsɛrdʒo leˈoːne]; 3 January 1929 – 30 April 1989) was an Italian film director, producer and screenwriter most associated with the "Spaghetti Western" genre.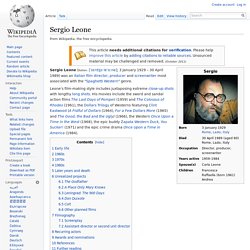 Early Life[edit] Born in Rome, Leone was the son of the cinema pioneer Vincenzo Leone (known as director Roberto Roberti or Leone Roberto Roberti) and the silent film actress Edvige Valcarenghi (Bice Waleran). Ghost in the Shell. Title[edit] Shirow has stated that he had always wanted the title of his manga to be "GHOST IN THE SHELL", even in Japan, but his original publishers preferred Kōkaku Kidōtai (攻殻機動隊?).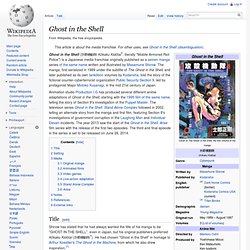 He had chosen "Ghost in the Shell" in homage to Arthur Koestler's The Ghost in the Machine, from which he also drew inspiration.[1] Setting[edit] Primarily set in the mid-twenty-first century in the fictional Japanese city of Niihama, Niihama Prefecture (新浜県新浜市, Niihama-ken Niihama-shi?) ,[Note 1] otherwise known as New Port City (ニューポートシティ, Nyū Pōto Shiti?) Mamoru Oshii. Currently, Oshii lives in Atami, Shizuoka Prefecture, Japan with his dog – a mutt named Daniel.[1] Career[edit] Early career (1977 - 1982)[edit] As a student, Mamoru Oshii was fascinated by the film La jetée by Chris Marker.[2] He also repeatedly watched European cinema, such as films by Federico Fellini, Ingmar Bergman, Michelangelo Antonioni, and Jean-Pierre Melville.[3] These filmmakers, together with Jean-Luc Godard, Andrei Tarkovsky and Jerzy Kawalerowicz,[4] would later serve as influences for Oshii's own cinematic career.[5]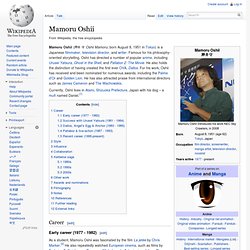 Kenji Kawai. Career[edit] Description of selected albums[edit] Ghost in the Shell (1995)[edit] Avalon[edit]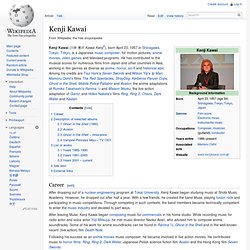 Ghost in the Shell (film) Ghost in the Shell follows the hunt of the public security agency Section 9 for a mysterious hacker known as the Puppet Master.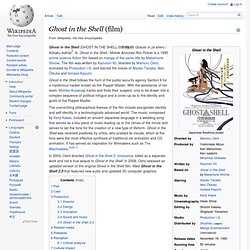 With the assistance of her team, Motoko Kusanagi tracks and finds their suspect, only to be drawn into a complex sequence of political intrigue and a cover-up as to the identity and goals of the Puppet Master. The overarching philosophical themes of the film include sex/gender identity and self-identity in a technologically advanced world. Saving Private Ryan. Rodat conceived the film's story in 1994 when he saw a monument dedicated to eight siblings killed in the American Civil War.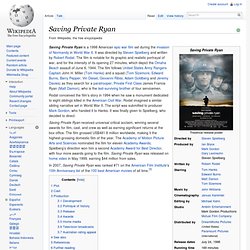 Rodat imagined a similar sibling narrative set in World War II. The script was submitted to producer Mark Gordon, who handed it to Hanks. It was finally given to Spielberg, who decided to direct. Saving Private Ryan received universal critical acclaim, winning several awards for film, cast, and crew as well as earning significant returns at the box office. Saving Private Ryan. Saving Private Ryan opens and closes with an identical image -- an American flag, rippling in the wind.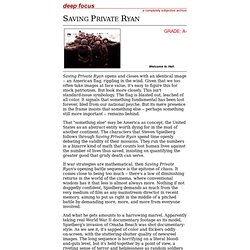 Given that we too often take images at face value, it's easy to figure this for stock patriotism. But look more closely. This isn't standard-issue symbology. The flag is blasted out, leached of all color. It signals that something fundamental has been lost forever, bled from our national psyche. Steven Spielberg. Steven Allan Spielberg (born December 18, 1946)[4] is an American film director, screenwriter, producer, and business magnate.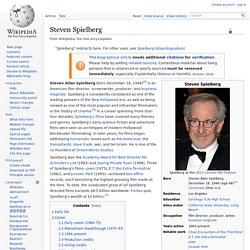 In a career of more than four decades, Spielberg's films have covered many themes and genres. Spielberg's early science-fiction and adventure films were seen as archetypes of modern Hollywood blockbuster filmmaking. In later years, his films began addressing humanistic issues such as the Holocaust, the transatlantic slave trade, war, and terrorism. He is considered one of the most popular and influential filmmakers in the history of cinema.[5] He is also one of the co-founders of DreamWorks movie studio. The Big Sleep (1946 film) The Big Sleep is a 1946 film noir[2][3] directed by Howard Hawks, the first film version of Raymond Chandler's 1939 novel of the same name. The movie stars Humphrey Bogart as detective Philip Marlowe and Lauren Bacall as the female lead in a story about the "process of a criminal investigation, not its results.
Humphrey Bogart. Humphrey DeForest Bogart (December 25, 1899 – January 14, 1957)[1][2] was an American actor[3] and is widely regarded as an American cultural icon.[4][5] In 1999, the American Film Institute ranked Bogart as the greatest male star in the history of American cinema. Early life[edit] Bogart was born on Christmas Day, 1899 in New York City, the eldest child of Dr. Belmont DeForest Bogart (July 1867, Watkins Glen, New York – September 8, 1934, Tudor City apartments, New York City) and Maud Humphrey (1868–1940). Belmont and Maud married in June 1898. Lauren Bacall. In 1999, Bacall was ranked #20 of the 25 actresses on the AFI's 100 Years... 100 Stars list by the American Film Institute.
In 2009, she was selected by the Academy of Motion Picture Arts and Sciences to receive an Academy Honorary Award "in recognition of her central place in the Golden Age of motion pictures. " Early life[edit]
---