Infographics
How To Lead A Creative Life [Infographic] | Fast Company. The 23 Best Infographics We Found In 2011 | Co.Design. 2011 was a huge year for infographic design.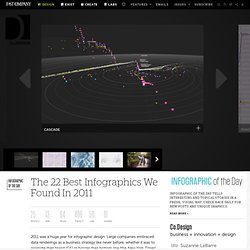 Large companies embraced data renderings as a business strategy like never before, whether it was to promote their brand (GE) or bolster their bottom line (the New York Times). Nowhere was that more evident than at Facebook. Timeline, the site's most ambitious redesign to date, brought the central tenet of data viz--organizing unwieldy bits and bobs into a compelling, visual narrative--to millions of people around the world.
As infographics go mainstream, infographic designers grow bolder. Some of the most tantalizing projects we came across this past year stretched our understanding of what a data visualization can be: It can be a set of interactive commuter-train maps plotted not according to distance but time. The Conversation Prism by Brian Solis and JESS3. Maga Design Blog. Cool Infographics - Blog. Column Five. Density Design. Visual graphics and visual histories. Infographics Archive | An infographic is a visual representation of information.
Infographics & Data Visualizations - Visual.ly.
---