Udenlandske
KWA KMP9 Thread Adapter by DangerWerx
Danger Werx MP9 14mm CCW Thread Adapter [DWMP9APTR] - $34.99 : Airsoft Extreme, The premier American retailer of replica toy airsoft guns.
EbairSoft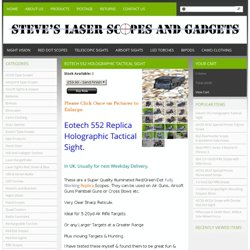 Eotech 552 Holographic Tactical Sight (G&P Eotech 552) By SW Bates | Telescopic Sights Waddington | Rifle Sights Lincoln | Gun Sights Lincoln | Laser Sights Waddington | Laser Pointers Waddington
Stock Available: 0 Please Click Once on Pictures to Enlarge. Eotech 552 Replica Holographic Tactical Sight. In UK, Usually for next Weekday Delivery.