Inspiration & Motivation
12 Speeches with Unconventional Advice - From Dismissing Logic in Business to Life Lessons From Rap. These speeches with unconventional advice offer alternative solutions to common problems in business and in life.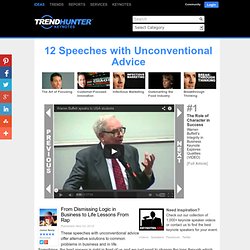 Sometimes, the best answer is right in front of us and we just need to change the lens through which we are looking to see it. From the ways CEOs manage their teams to the ways parents perceive a child falling behind in school, there is always a chance that one thing can mean something entirely different. Warren Buffett, who is one of the world's most successful investors, encourages students to focus on developing integrity as opposed to a resume stacked with flawless grades and impressive internships. Mills College 2012 Commencement: Luma Mufleh. Inspiration | Dynamic Hedge. Watch this video and forget about any excuse you've ever made in your life.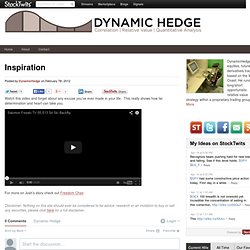 This really shows how far determination and heart can take you. For more on Josh's story check out Freedom Chair. Disclaimer: Nothing on this site should ever be considered to be advice, research or an invitation to buy or sell any securities, please click here for a full disclaimer. <a href=" Top 10 Best Entrepreneur Interviews from 2011 on Under30CEO. Amy Purdy: Living beyond limits. Guy Kawasaki: The Top 10 Mistakes of Entrepreneurs. Making Big Decisions and Mastering the Consequences.
My father-in-law Don McFadden told me a story about a big mistake he once made.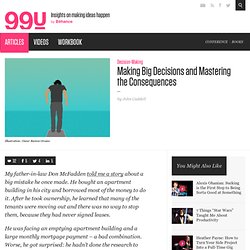 He bought an apartment building in his city and borrowed most of the money to do it. After he took ownership, he learned that many of the tenants were moving out and there was no way to stop them, because they had never signed leases. He was facing an emptying apartment building and a large monthly mortgage payment – a bad combination. Force Yourself to be Productive with Conditional Events. I'll be the first to admit it; doing stuff is difficult.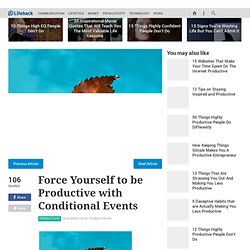 By "stuff", I don't mean eating, or playing video games, or doing easy things – nope, I'm talking about the things in life we decide we'll do because they're good for us or will help us improve. Every day, I find things that I'd like to in order to live a better life, such as doing a certain exercise every day, drinking enough water, or writing morning pages. 100 Must See Interviews With the World's Most Successful Entrepreneurs | Under30CEO.
At Under30CEO we think big.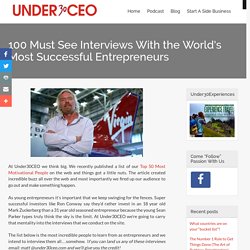 We recently published a list of our Top 50 Most Motivational People on the web and things got a little nuts. The article created incredible buzz all over the web and most importantly we fired up our audience to go out and make something happen. As young entrepreneurs it's important that we keep swinging for the fences. Super successful investors like Ron Conway say they'd rather invest in an 18 year old Mark Zuckerberg than a 31 year old seasoned entrepreneur because the young Sean Parker types truly think the sky is the limit. At Under30CEO we're going to carry that mentality into the interviews that we conduct on the site.
---