Comic Book Stuff
Jaimie Alexander Says Sif is in Thor 2 - ComingSoon.net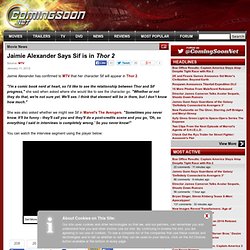 Source: MTV January 11, 2012 Jaimie Alexander has confirmed to MTV that her character Sif will appear in Thor 2 . "I'm a comic book nerd at heart, so I'd like to see the relationship between Thor and Sif progress," she said when asked where she would like to see the character go.
Thor 2 to Receive Robert Rodat Rewrite - ComingSoon.net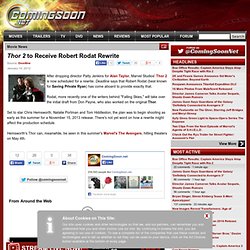 After dropping director Patty Jenkins for Alan Taylor , Marvel Studios' Thor 2 is now scheduled for a rewrite. Deadline says that Robert Rodat (best known for Saving Private Ryan ) has come aboard to provide exactly that. Rodat, more recently one of the writers behind "Falling Skies," will take over the initial draft from Don Payne, who also worked on the original Thor .
Source: Heather Newgen January 10, 2012 Maybe this isn't the biggest shocker, but Michael Fassbender told ComingSoon.net's SuperHeroHype tonight that he's pretty sure there will be another "X-Men" movie following a $353.6 million worldwide box office for X-Men: First Class . SuperHeroHype caught up with the in-demand actor tonight at the National Board of Review Gala in New York CIty, where he received the Spotlight Award for his roles in four 2011 movies, including "First Class," and Fassbender told us that he is indeed in!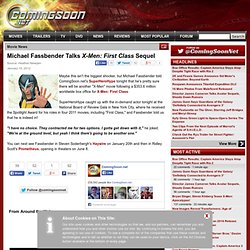 Michael Fassbender Talks X-Men: First Class Sequel - ComingSoon.net
His thought process for Superman Flyby Read more... The Zack Snyder action adventure opens on June 14 "There's so much of the movie that people don't know" Man of Steel is flying into theaters this summer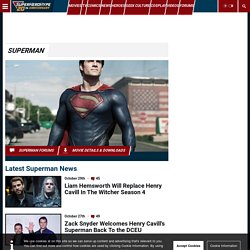 Superman Hype! - Superman Movie - Superman News - Superman Trailer - Superman Photos - Superman Comics